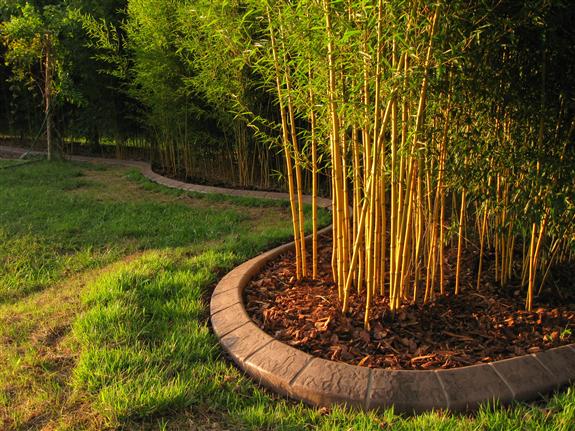 Bamboo fills the jungles of Southeast Asia; it's the food of the panda bear and the great plant of China, having been used for paper, buildings, musical instruments, food and more for thousands of years.
Though it is not native to Middle Tennessee, more and more homeowners are using the hardy plant, not only as a nice ornamental touch to their property, but as a living privacy barrier. Many bamboo varieties quickly grow to 20 feet and beyond. These stalks can be yellow, green or red, and be as small as a pencil or as large as four inches in diameter, and the tops of the hollow shoots fill with thick, green leaves.
While some plants can lose some leaves in the winter, plenty of species are fully capable of surviving the Tennessee cold.
Luckily, one doesn't have to reach out to the other side of the globe for specimens of the plant; in fact, Rutherford County is home to a farm that specializes in growing bamboo, Almaville Bamboo Company, located just off of State Route 840's Almaville Road Exit (Exit 47).
"There are 1,200 species of bamboo worldwide; of course we picked ours based on what we believed would grow best here," says ABC owner Chris Buker. "Not all species will do well in all conditions. The amount of space, shade/sun depth of soil, wind, etc., plays into it. The customer needs to talk to us in detail before buying.
"Many customers come back for more species. They just fall in love with their bamboo."
One happy customer put a few dozen plants in the ground back in the fall. Now, shoots are shooting.
"This plant is amazing. The shoots can literally grow a foot in one day," he said. "We can't wait to see what our row of bamboo will look like in a couple of years."
Most residential purchasers have a desire to hide something, Buker says, "be it a new construction site, an ugly building or an ugly neighbor (figuratively speaking, of course).
"I'm from East Tennessee, so the first thing that comes to mind for us would naturally be a moonshine still, but I digress," Buker says. "You can plant a line of new balled-in-burlap specimens in a row a few feet off of the property line, or you can plant around a particular privacy area (such as a patio, secret garden, hot tub or deck). That way your neighbor doesn't have to see every detail of your life."
The more plants, the quicker and thicker your lush privacy barrier grows.
"You balance your patience against your budget. Bamboo will grow together between the plants if you provide the right conditions, such as lots of mulch between plantings," Buker says.
Almaville Bamboo Company is not Buker's first exposure to small businesses. Shortly after completing his B.A. in psychology at the University of Tennessee in 1974, he began sales of pension and profit sharing plans for Aetna in Nashville. By 1979, he was a CLU and an enrolled agent with the Treasury. His estate planning and employee plan administration allowed him the opportunity to see the inside of many mid-state small businesses. Watching what caused them to flourish or dissolve gave insight into what would make an ideal business venture.
One of the most important ingredients he witnessed was hard work (and long hours). In order to justify doing that, there would have to be one more thing: fun. And he claims that he now has that abundantly.
"Trading starched white shirts for dirt under your fingernails is the easiest way I have found for dropping your blood pressure," he says. "I like what Paul told the folk at Thessalonica, 'Make it your ambition to lead a quiet life: You should mind your own business and work with your hands, just as we told you, so that your daily life may win the respect of outsiders and so that you will not be dependent on anybody (NIV).'
"It is such a delight to work with people who are seriously considering changing their backyard into an oasis of privacy," Buker continues. "We can show them examples of just what awaits them. The smiles they display as we walk into a small grove with a hidden teahouse, or my wife's garden surrounded by a wall of gorgeous iridescently golden-stemmed plants is just fun! You saw that some of our largest plants are on the far side of the creek which we refer to as "paradise." The sign on the bridge leading over says 'Sola Gratia.' Explaining that metaphor to those who don't get it right off is a joy too." (translation: "by grace alone")
Buker says he first explored the idea of growing bamboo after seeing the plant grow taller than 40 feet in the Yorktown, Va., area.
"Research was difficult because there are no definitive books on our area—microclimates are critical for selecting the right plant. It turns out that all those years researching tax codes paid off when doing the research on plant material," he says. "Thankfully, Richard Waldron (now deceased) of St. Augustine, Fla., was willing to haul me around parts of Florida and Georgia to teach me, advise as needed and even help collect plants. He was retired and had plenty of time. And like most people in the American Bamboo Society, he absolutely loved the plants."
Bamboo is a very determined plant, evidently; one that can even do well in the rocky soil of Rutherford County.
"There are very few evergreen plants that can do well in shallow soil, and sometimes you don't know you have a chunk of rock hidden one foot below the hole you just dug. I'm sure you've seen 10-15 percent dead trees in a line of evergreens planted for privacy. That would not have been the case with bamboo. When a tree starts out fine and three years later hits rock—well, you know what it looks like. By comparison, we have had bamboo growing in eight inches of soil on top of a solid slab of rock. It is a very ecologically efficient plant."
However, he stresses that his experience in bamboo ranching has not been easy.
"It's probably easier than dairy farming (which is what this property once was used for), but we figure we had about 8,000 man hours in before we made our first dollar. All you have to do is drive to McMinnville and look around to see that the nursery business is tough. There are many abandoned nurseries there. Some of those folks were our friends. We are blessed to be in a niche that is underserved," Buker says.
While there's plenty of competition in the bamboo market with mail-order companies for smaller plants, "They can't touch us on the specimen (more mature) plant pricing, Buker says. "One field specimen will fill in way faster than two smaller potted plants and will cost less than they would."
If you're interested in visiting Almaville Bamboo Company and learning more about the varieties of bamboo that can grow in Middle Tennessee, self-guided tour maps are available in a plastic container in the parking area for those who want to drop in, and more detailed tours can be arranged by appointment. For more information, visit abcbamboo.com or call (615) 907-2571.