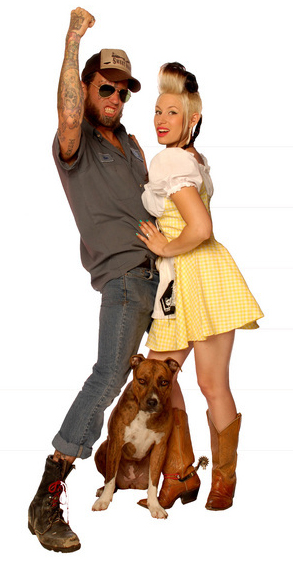 Down to play flattering-grit and inevitably Tennessean: it's difficult to meld together the reputation of Americana punk-country with a sweet stage presence and repertoire summoned by performing that particular brand with a true love, be it interest in the genre itself or a pretty lady alongside while playing it. This is the show seen orchestrated by the front man and front woman of the Nashville quartet Jason and the Punknecks, Jason and Polly Punkneck, backed by a rhythmic base, as the four drunkenly ramble this hybrid style of rockabilly like Tom Waits stuck his hand down party-day Johnny Cash's throat to scratch up his vocal cords, then invited June Carter up to belt out short bursts of accompaniment pertaining to punk-sentiments of contrasting whisky and wine or just the tattooed, "punky tonk" days spent on the road together in general. Jason and the Punknecks' raspy harmony tour in that rough fashion from venue to venue across the country and are eventually making their way into Murfreesboro for an intimate performance at The Boro Bar and Grill May 22 and 27, brought to you by Nocephus Entertainment.
According to their almost 10 year and running historic testimonial, lead vocalist, mandolin-player and guitarist Jason Punkneck created this band of ruffians in a reverse Bonnie and Clyde manner after saving quaffed guitarist, tambourine player and back-up vocalist Polly Punkneck from a burglary-in-progress at one of Hollywood, Calif.'s, many check-cashing stores, but in all actuality, their real tale is much better.
In 2002, Jason Price was found by Polly, a Kansas City native and travelling bluegrass musician, hanging by his skin from thick fish hooks in the back of a truck parked in Las Vegas for the sake of a world record (which he holds as the one hanging for the longest time) during a third season episode of Ripley's Believe It or Not. From there, she took him to Los Angeles to clean up his act and hone in on their current punk-country sound they've grown to share from coast to coast.
"She took me to L.A. and helped me find the true redneck inside of me," said Jason, according to Mark Wedel of the Kalamazoo Gazette, which began their decade-long love affair so far. Since then, the two have been inseparable on the lam from catastrophe and married, picking up bassist Adam Kowalski and drummer Nick Parisi along the way, as well as learning new instruments and many ways to drink for the act in order to form "this hierarchy of punk-country music icons . . . known for a rowdy show of drinkin' and smokin' pot [and] livin' between Heaven and Hell . . . You'll never know what to expect."
This is before they left L.A., but still their rambling gospel rolls from town to town, now, years down the road.
The live show's lineup consists of everything they've been capable of over the years. 2006's Outlaw Cuntry and 2008's Love Us or Hate Us: Hillbilly Rock and Roll CD, switches back and forth from angelic and devilish worlds in songs such as "The Devil Song" to "Better Part of Me." More recently, 2009's 5-track EP, One Shot, One Kill and their newest full-length album, Drinkin', Druggin', Jesus hold true to the same dichotic notions with songs such as "Jack and Wine" and "Heaven and Hell" sung while Polly high kicks, shaking tambourine-in-hand during Jason's transitional anecdotes saying, "Since we're on the subject, this is our first day of me going to church," leading into a rockabillied, high-tempo acoustic strumming held together by Kowalski and Parisi's rockabilly-standard snare/hi-hat drumming, thumping three-chord bass, and, then, Punkneck lyrics, "I talk to Jesus and I talk to God/They never seem to talk back/And I do all the things I'm supposed to do/trying to get this monkey off my back."
It's a conflicting nature that makes them so intriguing to the circuit of rockabilly fans collecting at every jump they've made in America. It's also the bond holding them together and ever-running. Keep an ear open for songs from Polly's 2012 solo album Hot, Cute, and Country, too, played with both Jason and the Punknecks and her side-project, The Hillbilly Harlots, based out of Nashville as well.
No matter which songs of theirs they play, though, it's not your usual bring-a-rain-jacket type punkabilly show. There's too much love on stage for there to be any beer spitting, blood-shed, or fists-a-flying, but the pace of the music may make patrons think there will be from time to time and they may try to drink you under the table during a break in the show.
They're seriously a non-stop touring ordeal and well worth an appreciative-from-both-sides attendance in light of their effort if you're a "punky-tonker" at heart.
There are hundreds of live performance videos on Youtube under the band's name but no official radio or television singles available yet. Past albums can be found at punknecks.com and their reverbnation page at reverbnation.com/jasonandthepunknecks. They also sell copies and merchandise, including Polly's own hand-sewn art, at their live shows.