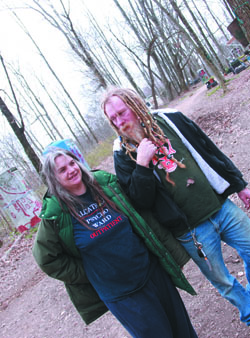 "Isn't that cute?"
A bearded, dreadlocked blonde man known simply as Hippie sits in a trailer and picks out a little tune on a guitar. Bottle caps hang from a mess of hair that would make you think he was a crazy lumberjack if you didn't know him.
Outside, a few black clouds hang over a cluster of teepees perched on a hilltop. A few drops of rain reach us through the trees. Dogs are trotting through the clearing; they look groomed and fed.
This ramshackle mountaintop campground is in the woods of Christiana, right off I-24 and halfway between Murfreesboro and Manchester.
Known as Hippie Hill, the place is often confused with The Farm in Summertown, Tenn, and followed by a trail of assumptions—that they're all drugged out Deadheads, that they're a cult, that they're jobless, that they stay holed up on the hill and never come down.
Last month, The Pulse visited Hippie Hill just to see what it's really like, and as it turns out, those assumptions are more than a little off-base.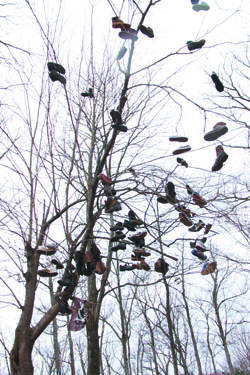 "If Jesus Christ came up here, I'd invite him in, ask him if he wanted something to eat, and in the springtime, he'd be working outside, planting the garden with the rest of us," Hippie says.
Hippie has overseen life on the hill with his wife, known to everyone as Mama Jeanie, for the past 12 years, offering food and shelter to kids who need it.
Both Hippie and Mama know what it's like to be homeless, which is what inspired Hippie Hill and kept them running the place for more than a decade. Kids that come to the hill are given help—whether it's help giving up drugs or help finding employment—and are taught how to live off the land as much as possible. They learn to sew, they learn to build. Everyone contributes. Everyone is treated the same.
There are people who stay at Hippie Hill just for the night, and there are people who are there to stay.
It's a steep climb to the earthy haven, though it's easy to find. A sign at the base of the hill proclaims their simple slogan: Helping Hungry Kids. Further up the path, a clutter of old cars, including a Volkswagen van, hide in the grass to the left. The final climb is potholed and easier on foot.
At the hill's summit, people are playing with their dogs, talking to each other or just milling around, sleepy-eyed. It's early still. Though the woody area has largely been cleared, tall trees loom over the hilltop.
The trailer where Hippie plucked the guitar sits near the entrance; further in, there is an array of trailers and teepees. Most of what you see is what they've built.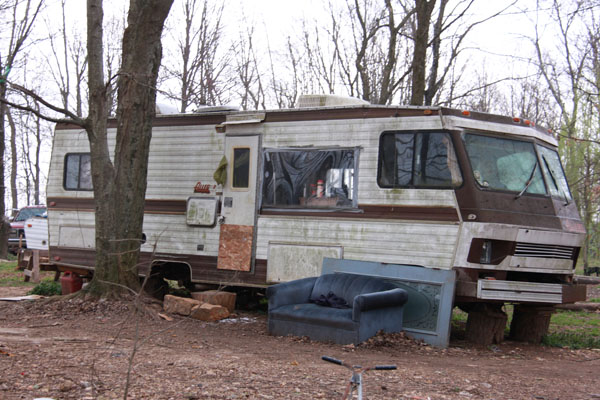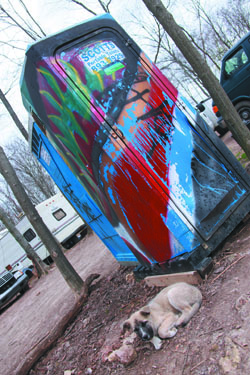 There are the trailers where most residents live, and there are teepees, one of which houses a pool table, that were built by people on Hippie Hill. There is a shack with a stove, oven and sink. On one side of the clearing, a shower house is under construction and nearly complete. Their port-o-potties, referred to as "shitters" around here, are emptied weekly. There is a garden, which is tended with everyone's help.
It's clear why Hippie would say Jesus Christ would help out at Hippie Hill—everyone there pitches in, because Hippie and Mama provide more than food and shelter; essentially, Hippie Hill is a family.
The family has been growing and changing for 12 years, since Hippie and Mama took up residence on the land (114 acres), which is owned by a close friend. From there, the pair proceeded with their project of helping kids who may not, though that isn't always the case, have anywhere else to go.
Some kids come to Hippie Hill lacking basic skills; one resident, Matt Humphries, who moved from Virginia and has lived on the hill for about four months, says he's seen kids who have never used a shovel or cut wood.
But those are the types of skills that are taught on Hippie Hill.
Drugs are not tolerated. Hippie and Mama are more than willing to help someone kick an addiction, but as Hippie says, the kids have to want to kick it. On the pathway to the hilltop, a sign prohibiting drug use hangs on a tree.
"We do not stand for that," says Teagarden, an older resident who has lived further down the hillside for years.
As we talk, two young visitors who were just passing through wave goodbye to their friends and head out. It sounds like last night was a rowdy one.
There's more than just youth on the hilltop, though; all ages reside or travel through the area. During The Pulse's visit, several homeschooled children were staying temporarily with their parents.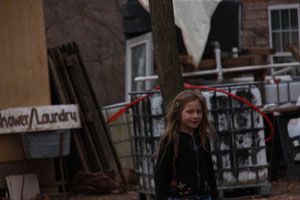 With so many people coming and going or putting down roots on the hill, I wonder how word has spread about Hippie Hill.
"Word of mouth," Mama says without hesitation.
Yes, it's a humble abode. They live through modest means. But people come there, they opt to live there, because they want to. And no one appears to be doing without the necessities. In the summer, there are air conditioners and fans in the trailers. In the winter, they have wood stoves in the trailers and the kitchen, as well as propane heaters and fire pits. And nobody goes unfed.
Mama turns to a resident named John Brittain, also known as Yohn.
"You ever go hungry?" she asks him.
He shakes his head. Yohn has lived on the hill for three years. He moved from North Carolina, where his parents reside, and he plans on returning someday.
Yohn is a booking agent, which brings up important aspects of life on the hill: art and music.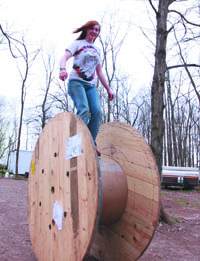 For 10 years, Hippie Hill has hosted a lot of concerts. Some are very impromptu jam sessions, others have showcased Murfreesboro greats like The Corbitt Brothers and The Great Barrier Reefs.
A well-built stage is centered in the clearing with a white sound booth recently built and situated not too far off. In June, Hippie Hill will be hosting its annual Afteroo, a week-long music fest right after Bonnaroo. In late March, they hosted their first Metal Fest.
Yohn talks about shows at Hippie Hill as we walk down a path on the hillside. We stop at the prayer circle, where residents come to meditate. Flat stones encircle a sort of shrine where people have stuck flowers, pictures.
On the edge of the hill, the scene is unreal. Pale green is pushing up through the tree branches and on the surrounding hills that curve below the mountain. Hippie refers to it as "God's view."

In the summer, the leaves are so thick they hide the view, and it's pitch-black at night. But now it's spring.
Living here, there must be something to it.
To learn more about Hippie Hill, visit www.hippiehilltn.com. See The Pulse calendar for shows at Hippie Hill or shows organized by Hippie Hill Productions. To contribute to Hippie Hill, donations can be sent to HHK, 8627 Burks Hollow Road, Christiana, TN 37037.