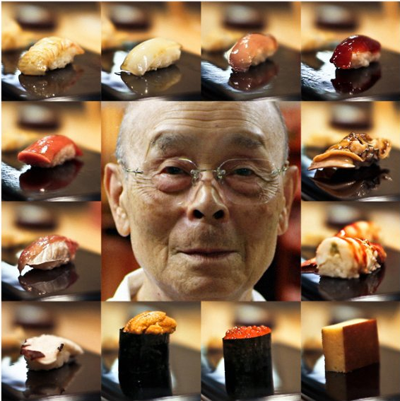 Jiro Dreams of Sushi is a fresh, delicate documentary by David Gelb that chronicles the astounding work of 86-year-old sushi master Jiro Ono, who runs a ten-seat restaurant in the basement of a Tokyo office building.
Jiro's peers and sons hold him in unmatched esteem for his consistent dedication to the sushi craft. His fish and rice merchants are hand-picked, trusted colleagues to Jiro. There must be an understanding of mutual reverence in order for Jiro to let you sell him fish. Even at his age, Jiro remarks, "I haven't reached perfection." Each day he creates new dishes, dreaming grand visions of rice, tuna and seaweed.
The film delves into the process of making sushi. In the opening, Jiro and his son, Yoshikazu, taste one of their dishes and are concerned. "How long has it been marinating?" Jiro asks. About five hours. "Not long enough. Let it soak in vinegar. We will taste it again before serving."
The film is beautifully shot and heartwarming, and the only source of conflict stems from Jiro's unreasonable standards for perfection. He places these standards on the heads of his two sons. His younger son has opened a restaurant of his own. Yoshikazu, however, says, "In our culture, the older son always takes the place of the father. It is what is expected of me."
A truly remarkable display, Gelb's documentary shows us every facet of sushi-making in pristine clarity, from live octopi and piles of giant tuna at the fresh market to the complex system of pressure and baskets, which keeps their rice at the perfect temperature and consistency.
Jiro is a shokunin, a traditional type of Japanese artisan who strives to accomplish the same task every single day, improving a little, yet never faltering. Consistency explains Jiro's calm jubilance, but his constant dissatisfaction with his own incredible skill makes him legendary.