America's love affair with automobiles continues in the movies with heightened romantic mythology. Here explored are man's power over the machine, the machine's power to drive man's ambitions, and the machine's ability to inspire the dark depths we dared never to go.
Drive (2011) is directed by Nicolas Winding Refn (Bronson, Valhalla Rising) and stars Ryan Gosling. The movie is an interesting conglomeration of styles, with nods to the past and present. True to his previous work, Refn's guidance renders a unique art house thriller. Gosling plays a stunt driver who supplements his income with crime. He exudes equal confidence in his convictions, as he does over the mastery of his machine.
Bellflower (2011) is directed by Evan Glodell, who also stars along with Tyler Dawson. Inspired by the vehicles from Road Warrior, two carefree lads are compelled to create fun and dangerous toys. Their appetites for women and spirits only serve as temporary distractions. Ultimately, even life changing events cannot dissuade their avocation. The stylized look of cross processing and tilt shift photography only serve to elevate the intrigue of this little gem.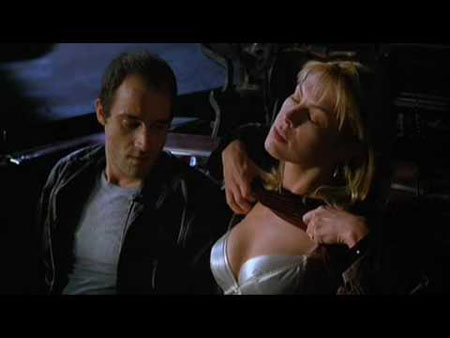 Crash (1996) is directed by David Cronenberg, and stars James Spader and Holly Hunter. A group of vehicular collision fetish seekers is discovered after Spader's character recovers from a near fatal car crash. Cronenberg's exploration of the subject is detached and unrestrained. The NC-17 rating allowed for the unlikely sexual proclivity to be displayed without judgement. Crash is a masterpiece from the height of the 1990's independent film movement and is both difficult and rewarding.
You can also find Living Room Cinema on Facebook and Tumblr.