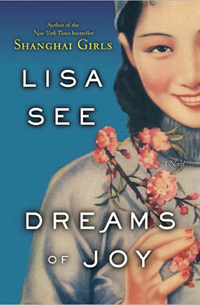 Review by Michelle Palmer
It's every parent's worst nightmare: you wake up, and your child is gone. In Lisa See's newest novel, that nightmare becomes a reality when Pearl realizes her beloved daughter, Joy, has disappeared, leaving a note saying she has moved to China to start a new life.
Set in 1957, Dreams of Joy is the follow-up novel to See's earlier book, Shanghai Girls. We rejoin sisters Pearl and May, who came to the United States 20 years earlier after fleeing war-torn China. Pearl's 19-year-old daughter Joy's life has been turned upside-down. The only father she's ever known has committed suicide, and she has learned several dark family secrets. In one blow, Joy realizes her entire upbringing has been based on a lie and that her biological father is alive and working as an artist in China.
Blind with grief, headstrong Joy takes all the money Pearl has saved for college and leaves for China to meet her father Z.G. Li and discover her heritage. She is ill-prepared for what she finds when she reaches her new homeland: rampant poverty, few jobs and a Communist regime that watches her every step. Back in California, Pearl knows exactly what obstacles Joy is facing and follows her daughter to China to bring her home.
The novel alternates between Pearl's viewpoint and Joy's, as both make their way through China during a time in Chairman Mao Zedong's rule known as the Great Leap Forward. Pearl's trip is fraught with bad memories and a growing fear that her daughter is in trouble. China is on the brink of a national disaster when Joy arrives, and as weeks turn to months, Joy takes up residence in the Green Mountain Commune, learns to farm and starts a family. As the Communist government's rules become more stringent and living conditions become unbearable, Joy's dreams of a future in China are dashed. Suddenly, Joy wants nothing more than to take her baby and go home.
Although Dreams of Joy is fiction, it is based in Chinese history. Lisa See meticulously researched this novel, traveling with fellow author Amy Tan through Shanghai and southern China so that she could learn first-hand about the Great Leap Forward. During the period from 1958–62, Chairman Mao decreed that all Chinese farmers work together in communes, and in his ignorance, he required procedures that would devastate crops. The resulting famine lasted for years, with a death toll reaching upwards of 45 million people. See's depictions of a country on the brink of starvation are heartbreaking; the images in this book will stay with you long after you read the last line.
See's writing is at once both lovely and heartbreaking, making this one of her best novels to date. Ultimately, Dreams of Joy is a kind of love story, a story of the unbreakable bond between mother and daughter. It's a story of families lost, broken, found and healed, and a novel not to be missed.
Michelle Palmer is an RTS One Book Committee member and author of the book blog, Turn of the Page.