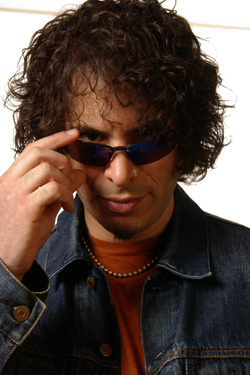 If you don't already know who Saul Zonana is, you should. He's a veteran progressive pop artist, songwriter, guitarist, bassist, and producer extraordinaire, whose music has been on the radio, whose songs have been featured in dozens of popular TV shows and films, who's traveled the world over for two decades performing, and who's  released nine of his own CDs and is about to release his tenth entitled Fix The Broken.
I first heard Saul's name in 2003 when his CD Waves was released and his song "Holiday" was in heavy rotation. I bought the CD and was immediately a fan. So naturally, when I was recently asked to cover Saul and his tenth solo release and tour, I was very excited. I found that not only has he put out great music ever since, but I also came to realize that he has quite a history in the music business.
Saul was born in 1967 in Queens, NY. He released his first album when he was 13 years old. He started to gig professionally before he was legally allowed to enter the clubs that he played.
"We used to paint a mustache on my face so the club owners would think I was older and wouldn't be scared to let me play when I was 15 years old," he recalls. By the time Saul was around 20 years old, he was touring Europe with bands such as Deep Purple and The Animals. In 1993 with his band, No Heroes, Saul became the first American singer to ever enter Red Square in Moscow, Russia, and put on a concert in front of 70,000 screaming fans as a part of the Chernobyl Festival. After signing their first record deal in 1996, Saul's band Luv Junkies was the most played band on college radio, and the record climbed to No. 4 on the Billboard Heat Seekers chart that year.
Right around that time, Saul became a member of legendary Kiss guitarist Ace Frehley's band. He toured the USA many times over with Ace Frehley before he left the band to continue making his own music. Shortly after that, Saul signed his first major record deal as a solo artist and released his debut album on TVT Records alongside bands like Nine Inch Nails and XTC. Soon he would also sign his first major publishing deal with Universal. As if that wasn't enough, Saul paused to become a member of one of my all time favorite bands, Crash Test Dummies, where again, Saul worked his way around the country performing with them.
In 2005, Saul joined forces with guitar icon, Adrian Belew. Saul released his album 42 Days, which was produced by Adrian, and then once again, hit the road with the Adrian Belew Power Trio for another two years as his opening act.
"Touring with Adrian allowed me to reach a whole new audience that seemed to really get what I was doing," Saul explains. "It helped tremendously. However, in the middle of all that touring, my son was born, and that changed everything."
Saul continued to tour and reach people with his music, but soon he would have to slow down.
"My son was missing me terribly. He was kissing pictures of me, and calling out for Daddy. I knew it was time to be home for a while."
Did that stop Saul from making music? Not at all. From his home studio, he would release yet another collection of great songs entitled Love Over Money. Around that same  time, Saul was featured in a critically acclaimed documentary about the music industry entitled Chasin' It, which aired on the Lifetime Network and PBS. Being a family man never seemed to slow Saul down when it came to being a prolific artist. His next release, Blue Monkey, was easily his most critically acclaimed CD to date, and is still a fan favorite.
There's a song on this CD entitled "What I'm Looking For," which is one of my all time favorite songs, period.
"The Blue Monkey album is very special. It was recorded with great friends, including Aaron Comess from the Spin Doctors, and something just clicked in the making of that album," Saul said. "People seem to love it. To this day, my live show includes several songs from that album."
After spending most of his life in New York, Saul now lives in Murfreesboro, Tenn.
"I always do my best to support the local scene here in Murfreesboro. For my newest project, I worked with MTSU students as well as taking the photos with Shacklett's Photography on the Square. I also play Mario Guitars which are made right here in Murfreesboro by Mario Martin."
Saul invited me to his beautiful home in the 'Boro, where we had a chance to sit down and talk. We sat in a room where I counted about 40 guitars.
My goodness! My first impression was that he is extremely funny. I spent most of my time laughing at his silly disposition. When I asked him what ultimately brought him to Murfreesboro, he replied, "I think it was an airplane." I also asked him how does one person write so many good songs? His response was, "Mainly with a pencil, so I can erase the bad stuff."
It became very interesting to me to realize that this guy who's accomplished so much really doesn't take himself that seriously. It was refreshing. We talked about his 2010 CD entitled Phatso, which was collaboration with Grammy-winning songwriter and producer Gordon Kennedy. We also talked about his brand new live album entitled It's Alive, which was recorded in New York only a few months ago and is also growing more and more popular among Saul Zonana's loyal fans. But it was when we started to discuss his newest music for his upcoming release entitled Fix The Broken that I noticed Saul perked up and became more serious.
"I view this next album as one of the most important things I've ever done. There's never been more opportunity surrounding an upcoming release than there is for this one. As an artist, every time I've ever produced a new album, I've always believed that it was better than the last one. However, it's the fans that will let you know how true that is. Personally, for me, these new songs are a culmination of all the skills I've developed after all these years as a songwriter, as a guitar player, as a producer and as a singer. I can only hope that people will agree. What I do know is that I'm going to do all I can to try to go beyond my existing fan base and gain some new friends and fans with this album. It's my tenth solo album. With it, I'll have over 100 songs on iTunes, and though I'm proud of that body of work, to me it feels like I'm just starting."
It's great to know that Saul Zonana lives here in Murfreesboro. It's also great to know that Saul isn't stopping any time soon. He's definitely still rocking after all these years. If you don't know who Saul Zonana is, you should.
For more information, visit saulzonana.com.