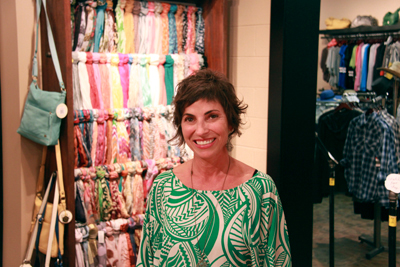 Murfreesboro businesswomen Judy Goldie has a passion for fashion, so much so that one hip little clothing shop on the Murfreesboro Public Square just isn't enough. She has two, Trendy Pieces and Bella's Boutique.
Located in a 200-year-old restored building, Trendy Pieces offers great deals on men's and women's clothing and accessories, while Bella's focuses strictly on business and casual apparel for the contemporary women. Shoppers can also find candles, jewelry, art and even some furniture pieces.
Goldie's career in the local clothing retail industry began in the late '80s when she opened Phase II, a consignment store, on Broad Street. That store has since closed its doors, but some of the employees still work for Goldie on the Square (both of the stores there sell new items only, by the way), and many Murfreesboro residents (including this writer) made a little spending money selling unwanted and ill-fitting items at Phase II.
Goldie stresses the importance of balancing a business's goals, plans and vision with an open mind that is flexible when opportunity knocks.
Murfreesboro Pulse: How did you get into the retail clothing business?
Judy Goldie: I have been a small business owner in Rutherford County for 24 years. I loved Phase II for 22 years. I have now owned and operated Trendy Pieces and Bella's Boutique on the Square for almost four years. Fashion has always been a passion!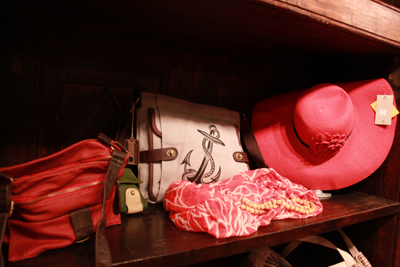 MP: What challenges have you overcome in starting and growing your business?
JG: In the past 24 years, we have seen Murfreesboro grow leaps and bounds. People have a lot of choices when shopping here in town. We encourage people to support your small, independently owned businesses.
MP: What businesses and people were an inspiration to you?
JG: There are so many people and businesses in Murfreesboro that inspire me. I feel those that offer incredible customer service inspire me the most. The best examples have been people that keep a positive attitude in all that they do. I also feel so many people take time to give back to the community, and this means so much too.
MP: What's your favorite part of running your business?
JG: I love the people I work with. All of our staff has worked with us from 5-15 years. I love going to market, selecting awesome trendy clothes and accessories for our customers to choose from. It is so much fun helping each person find the perfect fit of jean or the most beautiful dress for them to wear to an event. We have special people that come in every week. Our customers become dear friends.
Another favorite part of my job is our location! The buildings where Trendy Pieces and Bella's Boutique operate were built in 1810! The atmosphere in our wonderful historic downtown is a feeling that you cannot get anywhere else. We have renovated three buildings on the Square and love the feel of our space.
We love to give people the boutique experience without the boutique price. Having a great price point for men and women to enjoy is something we love and we are proud of.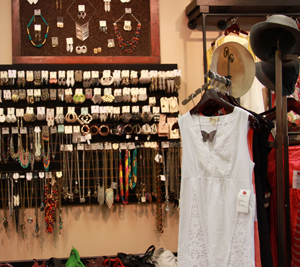 MP: What is your least favorite part?
JG: I love virtually everything about my job! I think the one thing we continue to try to improve on is balance! Keeping the balance between work, relationships and "me time" is a daily effort.
MP: Who are your customers?
JG: We have very diverse customers, and we love that! Having two boutiques side by side gives us an opportunity to buy a better selection to accommodate nearly everyone that comes our way. We also enjoy having a good selection for men at Trendy Pieces. People shopping with us are looking for more personalized service and unique items.
MP: What is your advice to someone starting a business?
JG: No. 1 is choose something you love. If you do this, your work never feels like work! Two is, if opening a retail type business, choose a great location.
MP: How do you get the word out about your stores and attract new customers?
JG: We use a lot of social media such as Facebook. We send out e-mail blasts periodically to offer our existing customers information on new arrivals, coupons or specials. We also have been participating in several fashion shows to benefit great causes such as The Beasley Foundation and United Way. Small businesses give more to the community on a weekly basis then anyone may realize. We get called on for a lot of donations, give bags for silent auctions, events, ads for school events and more. We also advertise in several local publications.
MP: Is there anything else Murfreesboro should know about Trendy Pieces and Bella's Boutique?
JG: We love our stores on the Square. We have an awesome selection of clothing items. For women we have great denim lines (we hear we have the best prices in town too!). We have fun tops, jackets, dresses. We have locally made jewelry, great purses and the most comfortable amazing shoes and sandals in town. We have cool sunglasses, floppy hats and a huge selection of jewelry.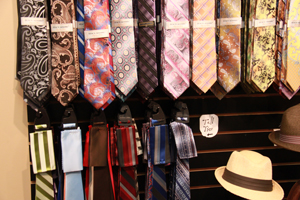 For the guys, we have suits for $99 and they are amazing! We have some of the most beautiful ties you will ever see. We only order two of each print so everyone in town will not have the same tie. Our prices on ties are $15.99 or two for $25. We carry a large selection of men's hats at Trendy Pieces!
We have great card lines, candles, homemade natural soaps and our stores are full of amazing gift items. We sell art too. We are more than just clothing stores.
We also love to get the word out about all of the wonderful shops and restaurants in our amazing historic downtown. We feel downtown is the heartbeat of Murfreesboro, and we encourage everyone to support it!
For more information, drop in the stores, located at 109 and 111 S. Church St., visit bellasboutiqueonthesquare.com and trendypieces.net or search for either store on Facebook.