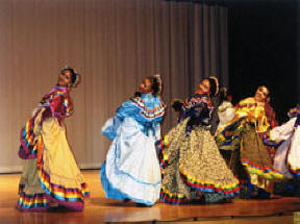 Steve Cates never expected Murfreesboro's International FolkFest to survive three decades, but this year marks its thirtieth birthday.
In 1982, Cates and his fellow Cripple Creek Cloggers, a group of Appalachian-inspired dancers, founded the festival after an international clogging tour struck a chord with them. The cloggers' visits to Europe inspired them to bring to Murfreesboro the diverse cultures—and dances—they'd discovered abroad.
"When we started International Folkfest in 1982, we had no 'grand plan.' We simply wanted our folks here in our area to experience what we were enjoying when we represented the US in international folkloric festivals in other countries. We started on a wing and a prayer . . . it was a real shoestring operation," Cates says.
The International Folkloric Society, an affiliated Murfreesboro non-profit formed in 1986, recruited friends, family and local supporters to expand the festival, which gradually became an annual event with support from sponsors Middle Tennessee Electric Membership Cooperation, Tennessee Arts Commission and the City of Murfreesboro.
The support has spread. In exchange for performances by visiting dancers and musicians, groups such as city schools, retirement homes, libraries and Boys & Girls Clubs have assisted FolkFest over the years and have provided an opportunity for the festival to achieve its purpose: to reach multiple demographics and promote appreciation for the arts.
According to Cates, FolkFest's foreign guests enjoy the exposure to new cultures as well.
"My favorite aspect is to see the groups' enjoyment of their stay here in our town and area. We really have so much to offer in the way of history, culture and natural beauty, and I like to see these people soak it all in. Most of them have never been to the US before and none of them have ever been to Tennessee," Cates says.
"I also enjoy seeing the audiences enjoy the music and dancing and costumes and appreciate the friendly comments they make to these visitors following performances."
This year, FolkFest runs from June 10 to June 16 and features approximately 140 musicians and dancers. Festival-goers will get to see, and possibly learn, dances from the Czech Republic, Puerto Rico, Belgium and Austria.
2012 International Folk Fest Schedule
Wednesday, June 13
Central Christian Church
404 East Main St., Murfreesboro
7 p.m.
Free
Thursday, June 14
Manchester Art Center
128 East Main St., Manchester
7 p.m.
$10, Reservations 931-728-3434
Friday, June 15
Patterson Park Community Center
521 Mercury Blvd, Murfreesboro
7 p.m.
$5
Saturday, June 16
Courthouse square, Murfreesboro
8:30 a.m.-1 p.m.
Free
To learn more about the hosts, visit www.cripplecreekcloggers.org. For more on this year's festival, visit www.mboro-international-folkfest.org. For additional information, contact Steve Cates at appdancer@aol.com.