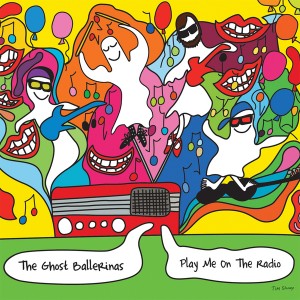 When indie band The Ghost Ballerinas were looking for the perfect cover for their album Play Me On the Radio, all they knew was that they wanted happy-looking art to reflect the tone of the record. Through Google, the band stumbled across the happiest picture they could have possibly found.
It was called "A Double Shot of Happiness" and was painted by a 22-year-old Australian artist named Tim Sharp.
When the band looked further into Sharp's work, they were surprised to find that the artist has an Autism Spectrum Disorder (ASD), a disorder that ranges from mild to severe and affects an individual's social and communication skills.
After learning of Sharp's disorder, "We came to love his work so much more, and we knew we had to get in contact with him," says Ghost Ballerinas bassist Justin Berry.
The band and Sharp developed a friendship through social networks, and Sharp designed The Ghost Ballerinas' album cover for free. In return, the band wrote a song called "Laser Beak Man," named after a character created by Sharp (the character is featured in a TV series as well).
But the band wanted to do more to not only thank their friend, but also to raise awareness about autism. Berry and his mother went out in search of related organizations in Middle Tennessee.
"It amazes me that there's really not that many," Berry says. "But then we went to the rec center in Shelbyville, and they hooked us up with Leta Frame."
Frame is the president of the Bedford County Association for Exceptional Students (BCAES) in Shelbyville. Her collaboration with the band resulted in the first annual I Am What I Am Music Festival & Benefit for Autism.
On Saturday, Aug. 18, the festival will kick off at the Shelbyville Agriculture Center at 10 a.m. with the annual Aut 2 Be Kids motorcycle ride for autism. Approximately 25 bands from the Middle Tennessee area, including The Buddy System, Static Revival and The Ghost Ballerinas, will perform, and there will be an antique car show.
The festival lasts until midnight. Proceeds will go to Aut 2 Be Kids, a club designed to provide kids with autism socializing opportunities and families dealing with autism.
"I'm hoping this time around next year, people take us seriously for the second time around as far as the donation part. We do have a certain goal; I want to raise $20,000," Berry says
Befriending Sharp and putting together the upcoming festival has opened Berry's eyes to Autism Spectrum Disorders, which he knew little about before the project.
"Meeting all the autistic kids while organizing the festival was life-changing for me. They love music. They understand the concept of art. They're intelligent people, and not everyone understands that," Berry says.
The festival is named after a song on The Ghost Ballerinas' EP Halfway There and is a title that Berry says "speaks for itself."
"I want the people that come in that don't know about autism to get a better understanding of it. Not only are we trying to raise money for Aut 2 Be Kids and autistic families in general, we want to raise awareness about autism, how it affects people's lives and how they can help out."
To learn more about the festival and Aut 2 Be Kids, visit: