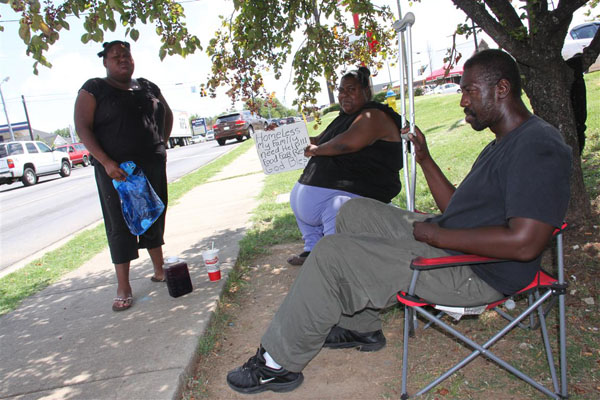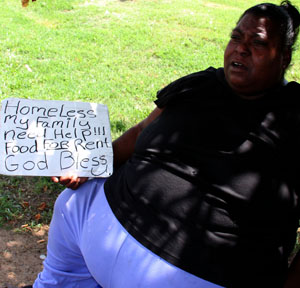 Each day Albert, Vanessa and their daughter, Shameka, ask for money from those passing by the Jackson Motel, at the corner of Medical Center Parkway and Broad Street.
"It's $45 a night to stay here," Albert says. "But they work with us. Sometimes it takes an extra hour for us to get the money.
"We've been here since November."
("Nine months, $45 per night, that's more than my mortgage!" I think to myself, observing that Albert's camping chair and Nikes are in better shape than my own.)
"We get food stamps, but they run out before the month is out," Vanessa said. "We have a daughter, and she can eat some food!"
("I wonder how much food you could buy if you sold that diamond ring," I then wondered, but politely agreed that times are indeed tough these days.)
"They make pretty good money out there," an acquaintance of the family said. "They do better than some who work 40 hours a week." He says he is sure the family gets $400-500 each month in food stamps. "My family tries to eat on about $350 each month," the observer says.
Albert tells a passerby that he has a job offer in Indiana, but has not been able to get up there. Meanwhile, his daughter asks a passenger in a nearby vehicle if they could spare a dollar.
"It's hard for me to stay on my feet for very long," Vanessa says, sitting on a cooler under a shadetree.
All in a day's work.
For more information on Albert, Vanessa and Shameka, visit them near the Checker's on the corner of Medical Center Parkway and Broad Street, or call them on their cell phone at (615) 617-9972.
Read what a local pastor with a heart for helping those in need has to say about the increase in panhandling here