The Train Daddy is rolling out the station and ready to hit you in the mouth with what's important, sports and family. It is a great time for an avid sports fan; the torch has been lit and the 2012 Olympics are rockin' and rollin' with everything from basketball to table tennis to field hockey. Every man in America loves the game of beach volleyball, it's the only sport where we prefer to watch the women's league rather than the men. I wonder why? The Train Daddy can explain: sexy 6-foot tall women in the best shape of their lives, running and jumping in the sand, and they all are half naked and almost all 100 percent sexy.
We also have football on the way baby, as teams all across the country practice and prepare, and as the famous Me Ma practices her 3-step shuffle. If you don't recall my past Me Ma issue a couple of years ago, well I am here to remind you that she is the heart that keeps the Titans alive and well. We also have a young Titan in training, the little man Dalin at a year and 4 months old is a pure Batson Boy and once he learns the word "touchdown", well it's on. Little Dalin is a beast he can throw stuff with the best of them and soon we will have him at age 2 running drills, a future first-round pick.
I believe in tradition and the supernatural and with the Me Ma shuffle and Dalin I am convinced a great season is ahead for the Titans. God Bless this country there is nothing better than sports and family.
So this past weekend I was on the campus of Alabama working an event in the athletic center. Don't worry, I was sporting my University of Tennessee gear and I got plenty of bad looks. I will say one thing, the people of Tuscaloosa are very passionate loyal and crazy fans. Winning does fuel the fire for that kind of atmosphere. I started thinking; what is more important, winning or loyalty? I never did answer my question. I figure both are important. If Alabama wasn't doing so well in football, would I see fewer Alabama hats and shirts and bumper stickers in Tuscaloosa? Every team has bandwagon fans, they only show up when things are great and at the first sign of trouble they are the first to turn away until things are once again great.
Penn State is dealing with a 4-year smack down on the football program. People there lived and breathed football, the whole town did. My sympathy goes out to those loyal Penn State fans. It's going to be many years before you're back on track, and of course all the bandwagon fans will jump ship. It's the loyal fans that make sports so passionate and great.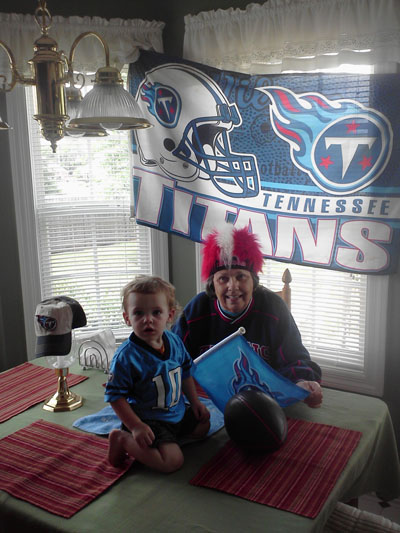 So, back to a very special woman, my friend and a true loyal fan, the 77-year-old Me Ma. If you have never heard off the Me Ma shuffle, well let me paint a picture for you, imagine it's 4th and goal and the Tennessee Titans are down by 6 as the last seconds of the 4th quarter come to an end. As we all gather around the TV, the Me Ma must stand up and as she shuffles her feet back and forth in a dance motion she must do it just right or the Titans won't score, she softly speaks words that only she and the football gods understand.
Finally the ball is snapped and Touchdown Titans! We all cheer the victory as we jump and scream and the Me Ma knows it was all her doing. She's already thinking to the next Sunday and trust me, she is sticking to the same dance move for as long as it produces victories; as soon as there is some bad juju, then she changes her step. So why did I just take up most of my article to tell you about this one lady? Well, it all comes back to loyalty and I have loyal readers and my loyal readers need to remember how damn important loyalty is. Whatever team you cheer for whatever team you represent or whatever matters to you personally, loyalty can't be bought and is a rare quality. So to the lovely Me Ma I will never forget you are the one who taught me how to play three-card poker at the casino, we have the same birthday, Nov 5, and your loyalty has inspired me personally.
The Olympics have just started as of press time and I love it all, every sport, every event, I don't care, competition is competition. I watch it all basketball to gymnastics to table tennis to water polo, sports competition on an international level is the best. It's just as exciting as the World Cup.
The US has a very exciting group of young boxers also, after an awful performance in the 2008 Olympics the team has a new coach and a new group of very young talent, keep an eye on them.
The NFL kicks off its regular season Sept. 5 with the defending Super Bowl champs the Giants hosting the Dallas Cowboys and will ultimately end on Feb. 3 at the Mercedes-Benz Superdome in New Orleans, Super Bowl Baby! If you learned anything from this article I hope you learned that loyalty is a pure quality and that friends, family and football are what keep the world going round.
God Bless this country and God Bless the Second Amendment. I love the quote "Outlaw Guns and Outlaws will have Guns". There are a lot of crazy people out there and that Colorado shooter, if I was your judge I can't put into words what your punishment would be. The Z-Train is out the station. CHOO, CHOO!