With the rise of the digital age, the audiences of the 21st century have become all too familiar with the concept of "micromovies"—independent short films shot on "low-fi equipment" that are featured on such websites as YouTube and Vimeo. With this surge of young amateur filmmakers, users of the aforementioned websites are presented with a problem as unique as the films themselves: an overabundance of content produced at the local level. So, where to start?
Enter Taylor Gentry. Fresh out of high school, Taylor recently released Revenge of the Monsters of Vanceingville, a sequel to his first movie, aptly titled The Monsters of Vanceingville. Something of a cinema buff himself, Gentry was inspired by the cultural significance of James Whale's partnered success of his 1931 classic Frankenstein and its sequel The Bride of Frankenstein, which Gentry feels surpassed the original in terms of production, writing and acting. Reconciling with the fact that he was a high-school student with a non-existent budget, Gentry used a formula for success given to him by many iconic filmmakers when they were first starting out: he put together a camcorder, left-over Halloween makeup and a cast and crew of very dedicated family and friends who were more than inspired by his drive and passion. Add into the mix a healthy dose of "Murphy's Law." Gentry started pre-production in December of 2010 and had to recast several parts at least three times, as well as deal with the sweltering heat of the summer. After this, our young filmmaker had a monster all of his own: a movie.
The film itself follows Count Drahoon, a child of the night who must repay a debt for borrowed lab equipment to a mad doctor. Utilizing the help of other monsters (whose inspirations will no doubt be recognized), Count Drahoon sets out to procure a new face for the doctor to whom he is indebted. Realizing its technical limitations, the film takes full advantage of its silver screen nature by making itself a black and white movie. By hiding the technical limitations under this creative blanket, we as viewers can focus on the emotional appeal of the narrative. It's a funny story that feels reminiscent of something a young Mel Brooks would have created. Ultimately, it is a movie that doesn't take itself too seriously and lets both the performers and the audience have fun.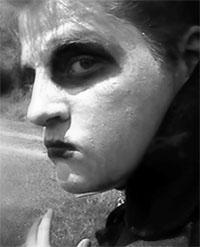 Last summer, the film was ready to be submitted to film festivals. Though faced with initial rejection, our young filmmaker was not daunted. He received a nomination for "Best High School Film," an impressive achievement considering how seriously high school A/V is taken, due in part to MTSU's SMARTI Awards program. He has since been accepted into the 6th Annual Trail Dance Film Festival in Duncan, Okla., as well as one of the biggest horror film festivals in the country, the Louisville based Fright Night Film Festival. As of presstime, Gentry is waiting to hear back from the Knoxville Horror Film Festival and the Atlanta Buried Alive Film Festival.
"Looking back, I truly am humbled by the impact of this film," Gentry reflects. "Of course, I don't mean that I've made a million-dollar blockbuster, but by being on the festival circuit, I have met people that I never would've met. The responses have been everything from a milldly amusing 'home movie' to something that has brightened someone's day. At the end of the day, however, people took the time to watch the film, whether they liked it or not."
You can keep up with Taylor Gentry and his latest film endeavors via his YouTube channel, "Camcorder Films."