In the middle of the afternoon on July 27, MTSU's Wright Music Building theater was buzzing with an atypical audience that was youthful and mostly female. This year's Southern Girls Rock 'n' Roll Camp attendees, which include girls from age 10 to 17, sat front and center, talking to one another, but keeping an eye on the brightly lit stage. A few parents of campers and camp volunteers peppered the seats to the left and right.
After a half hour of waiting, some gentlemen dressed all in black walked onstage, picked up their instruments and got a simple, buoyant country rhythm going for a minute or two. And finally, Wanda Jackson made her appearance.
Dressed in a hot reddish-pink shirt with her trademark fringe that stood out against her jet-black nest of hair and the necklace sparkling at her throat, the small woman commanded attention the second she opened her mouth and invited the girls to come stand in front of the stage.
"This first song was recorded in 1956," Jackson announced croakily, due to laryngitis. "It's a little bit country, and a little bit rock 'n' roll or rockabilly," she said, then launched into "I Gotta Know."
Chosen to perform for the end-of-camp show to benefit SGRRC, Wanda Jackson was a fitting choice as a piece of iconography for those women who love rock 'n' roll, but may also maintain a fascination with old country. That day, the building held a few dozen examples of those women, who listened as Jackson dished about her humble beginnings as a Maud, Okla., girl, a few songs in her long string of hits and the leg up given to her by Elvis Presley.
"You never know where your encouragement will come from, and you have to take it from whoever gives it to you," Jackson said, referring to Elvis, who persuaded her to write rock 'n' roll songs.
It was very much a chummy, intimate atmosphere as Jackson gave advice to her audience on writing good rock songs—"Just keep it simple. If you do that, it should work for ya"—and discussed her fling with Elvis. "He was a good kisser, and he was pretty cute . . . and I guess I was pretty cute, too."
One of her best was early in the set, her eerie, catchy 1961 song, "Funnel of Love," and the sexy Johnny Kidd party song, "Shakin' All Over," recycled many times over by many a rocking lady from Suzi Quatro to Those Darlins.
Of course, there was talk of Jack White, who's been known to collaborate with the female country and rock veterans. Last year, he helped put the spotlight back on Jackson by collaborating with her on her thirtieth studio album, The Party Ain't Over.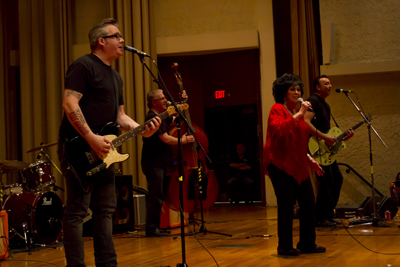 It's an appropriate title for Jackson, who at 74 has not lost her vocal touch; as is common in the rockabilly genre, her voice is sharp and tangible, riding between a nasally rasp and high-pitched squeal.
"Let's Have A Party" was at the tail end along with "Nervous Breakdown," pulling again from Jackson's last record. After the show, other audience members were asked to leave so the campers could have a private Q&A with Jackson, who was every bit the gracious, instructive rockabilly queen throughout her set.
Look for Wanda Jackson's upcoming album Unfinished Business in October 2012.