Recycle Rutherford and YP Project ReDirectory Encourage Students Recycling – Oct. 1–15
Recycle Rutherford and the Rutherford County Solid Waste Department, supported by YP, are encouraging Rutherford County students to recycle in the annual telephone book collection. Open to all public and private schools, students can collect used telephone books to win $200 cash prizes for their classrooms. The contest ends Oct. 15; the drawing for the winners will be held at the Recycle Rutherford semi-annual meeting Monday, Oct. 22, at 7 p.m. at the Rutherford County Courthouse. Locations for recycling are Haley Road Recycling Center (1140 Haley Road), Smyrna Town Hall (315 S. Lowry St.) and MTSU Recycling Center (1500 Greenland Dr.) (all places are open 24 hours). To become a member or request more information, visit recyclerutherford.org or contact recyclerutherford@yahoo.com or (615) 687-3497.
Fall Break Enrichment Workshop for Children – Oct. 1–5
Teach your children strong social skills to help them get the most out of life now and into their future. The overall message of this program is respect for yourself and others. This fun and exciting workshop helps develop confidence, self-esteem and socialization skills through classes such as Contemporary Etiquette, Health and Wellness, Setting Goals and Basic Modeling Techniques. This workshop will take place at the Center for the Arts, Oct. 1–5, from 10 a.m.–noon. For additional information, call Deborah Brewer at (615) 890-9563 or visit boroarts.org/education/classes.
Adventures in Architecture – Oct. 4
Get hands-on with blocks and legos while building things at the Oaklands Mansion (900 N. Maney Ave.). For $6 per child, children ages 3 and up can participate in an outdoor architecture scavenger hunt and walk to discover hidden secrets of the historic house's architecture. This event kicks off at 10 a.m. For more information, contact info@oaklandsmuseum.org, call (615) 893-0022 or oaklandsmuseum.org.
Remove the Foundation of Opportunity – Oct. 4, 11, 18, 25
This is a basic physical defense class for women only. All classes will be held at the Murfreesboro Police Department Annex Training Room from 6–9 p.m. R.A.D. (Rape Aggression Defense) teaches realistic self-defense tactics and techniques to give women options in the case of an attack. Class size is limited to 25 participants. For more information or to enroll, contact Officer Amy Norville at (615) 895-3874 or anorville@ct.murfreesboro.tn.us. Classes will be Oct. 4, 11, 18 and 25.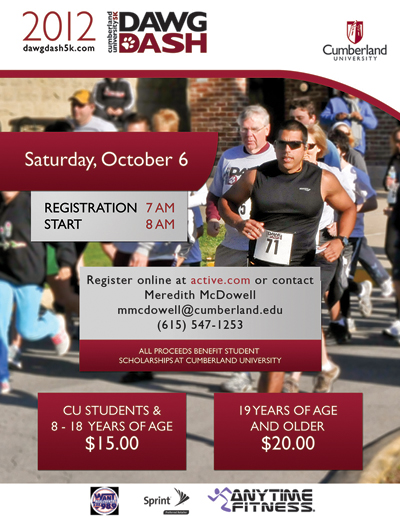 2nd Annual Heart of Tennessee Junior Meat Goat Classic – Oct. 5–6
Open to Tennessee youth only, pee-wee to senior high school categories experience showmanship, a skillathon and class placing at Tennessee Livestock Center (1720 Greenland Dr.). For more information, contact Mitchell Mote at mmote1@utk.edu or (615) 898-7710 or visit hotmeatgoatclassic.com.
Dawg Dash 5k – Oct. 6
Cumberland University's 3rd Annual Dawg Dash 5k Run/Walk will help kick off CU's homecoming weekend on Saturday, Oct. 6. Registration and check-in will be in front of Labry Hall on the Cumberland campus in Lebanon. The race begins at 8 a.m. For more information, contact Meredith McDowell at (615) 547-1253 or mmcdowell@cumberland.edu, or visit dawgdash5k.com. Registration is available at active.com.
MTSU Football Game – Oct. 6
Cheer the Blue Raiders on to victory as they take on University of Louisiana-Monroe at 2:30 p.m. at Johnny "Red" Floyd Stadium on the MTSU campus. Tickets available at the stadium ticket office or at any Ticketmaster location. Contact MTSU at (615) 898-2109 or 1-888-YES-MTSU. For more information, visit goblueraiders.com.
Uptown Talk – Oct. 6, 13, 20 and 27
Each Saturday morning from 9–11 a.m., Pa Bunk's hosts a podcast recording, Uptown Talk, focusing on Murfreesboro's social services, non-profits, faith-based ministries and a wide a wide variety of interesting topics. Local musicians also perform numerous selections during the two-hour program.

October programs include:
• Oct. 6 – Butch Vaughn – Headmaster, Providence Academy; music by P.A. Praise Team
• Oct. 13 – Calley Smith – Murfreesboro Housing Authority, R-Connection
• Oct. 20 – Juli Vice – The relationship between faith, health and healing; music by Steven Bradley Band
• Oct. 27 – David Coggin – Barnabas Vision; music by Drew Wilmesherr
For more information on the podcast, or if you'd like to appear as a guest or musician, contact Thom Christy at thomchristy@gmail.com or (615) 896-6288. To hear archives of past recordings, visit uptowntalk.com.
Informational Meeting Regarding New Immigration Status – Oct. 11
From 5:30–6:30 p.m. at Hobgood Elementary (307 South Baird Lane), the public is invited to an informational meeting regarding Deferred Action for Childhood Arrivals (DACA). DACA targets young people who came to the US as children and have pursued education or military service in the US. For more information call Murfreesboro City Schools at (615) 893-2313.
Brewsboro Festival – Oct. 13
Come out for a celebration of great beer! Sample brews from local, regional, national and imported breweries all in your handy souvenir mug. Admission includes all beer samples. Enjoy food from some of Murfreesboro and Nashville's best restaurants. Enjoy live music all day on the Music Stage. Learn from the experts on how to brew your own beer. This event will be from 2–7 p.m. at The Avenue (2615 Medical Center Parkway) and is a 21+ event only. Email candaceprice@clearchannel.com for more information. Tickets are $25 plus tax in advance and $35 plus tax at the door. Designated Driver Tickets are $20 plus tax. Visit brewsborofest.com for more information.
6th Annual Murfreesboro Half Marathon and Murph's Fun Run – Oct. 13
The 13.1 mile race starts at MTSU at 7 a.m., winds through historic downtown Murfreesboro and finishes on MTSU Dean Hayes Track and Soccer Stadium. Flat, fast and fun! Free for spectators. For more information, call Melinda Tate (615) 975-2286, or visit themiddlehalf.com.
Downtown Dwellers Host Gathering, Benefit – Oct. 14
Murfreesboro's Downtown Dwellers will host a social to have some fun and meet each other, and also to help out the folks who lost their home and possessions in the recent Maney Avenue fire. The gathering and potluck will be at 405 E. Bell St. (between Honey Bunny gifts and Dr. Evans' office) from 2–6 p.m. Sunday, Oct. 14. Uncle Don Clark and other musicians will perform, and fun activities for children will be offered. All are encouraged to donate a little something: clothing, food, monetary donations, gift cards, furniture, etc. Women's clothing needed includes size 18 black pants, XL shirts, size 11 and 4 shoes and size 10 slim. For more information on donations, contact Sarah Potter on Facebook.
Volunteer Day: Help us Plant Trees in Murfreesboro – Oct. 16
Tennessee Environmental Council is leading an effort to plant 20,000 trees in 2012. The Council will plant 150-250 trees in Murfreesboro on Tuesday, Oct. 16, from 9 a.m.–1 p.m. This work will support the Council´s Tennesssee Tree Project and our Watershed Support Center providing "tree-mendous" benefits for the water, land and air and the people and wildlife who enjoy them! Individuals, businesses and organizations are welcome! Bring shovels, gloves, boots and appropriate clothing, including rain gear! Meet at Big Creek (2050 Lascassas Pike, in Kroger parking lot; park close to the event tent with green flags). For more information, visit tectn.org/event/volunteer-day-help-us-plant-trees-in-murfreesboro.
Widows, Weepers and Wakes: Mourning Customs Exhibit – Oct. 19–31
Victorian mourning customs and superstitions will be explored when the mansion is placed in mourning at Oaklands Historic Museum (900 N. Maney Ave.). For more information, contact info@oaklandsmuseum.org. or (615) 893-0022, or visit oaklandsmuseum.org.
Calling all Animal Lovers – Oct. 19–20
Cynthia Jones Photography is having a Photo Shoot for Animal Rescue. No appointment needed, just drop in for Halloween and Christmas photos of you and your pets for a donation of $25 to Animal Rescue. Some costumes and props will be provided. Bring your whole family for Christmas cards, Facebook announcements, gifts, etc. 100 percent of all donations will go to SMB Animal Rescue. This event is from from 1–6 p.m. at Animal Medical Center (234 River Rock Blvd.) Friday, Oct. 19, and from 9 a.m.–2 p.m. at Barfield Animal Hospital (3155 S. Church St.) Saturday, Oct. 20. For more information, call (615) 804-6580 or visit cynthiajones.photoreflect.com.
Ghost Tours – Oct. 19–20, 26–27
Ghost Tours offers an answer to the commonly asked question: Is the Sam Davis Home haunted? This storytelling event gives visitors a chance to hear a different tour of the historic house and property. Visitors will first board a haunted hayride and hear tales of the property before being dropped off at the front walk of the historic Sam Davis Home. The event begins at 7 p.m and ends at 10 p.m. Admission is $5 per person and parental discretion is advised. This event is not recommended for children under the age of ten. Ghost Tours is a weather-dependent event.
A Frightful Night – Oct. 20
Saturday, Oct. 20, the Sam Davis Home invites guests to have a frightfully good time at A Frightful Night. The evening will begin with a catered dinner in the Creek House and continue into the movie theater within the museum where a frightful film will be shown. Following the film, guests will embark on a haunted hayride on their journey to the front of the Sam Davis Home. On the hayride as well as during the walking tour of the historic Sam Davis Home and outbuildings, guests will hear true haunting tales from the staff and volunteers who have experienced such things at the Sam Davis Home. Reservations are required with the admission charge of $25 per person. The event begins at 6 p.m. Please make reservations early, as this popular event fills quickly.
Middle Tennessee Christian School Annual Fall Festival – Oct. 20
MTCS will hold its annual fall festival Saturday, Oct. 20, from 9 a.m.–9 p.m. (held on the corner of 100 E. MTCS Road and Memorial Boulevard, across from Reeve-Sain Drug Store). This event is for all ages; there will be carnival games, Cougar Café, petting zoo, vendor and theme booths (crafts, fall & Christmas items, baked goods, school items, toys, gifts, etc.), and hayrides from 9 a.m.–3 p.m., BBQ lunch from 11 a.m.–2 p.m. and a fundraising auction 4–9 p.m. There is no admission fee; tickets for carnival games, petting zoo, and hayrides are sold on-site. No advance registration required. For additional information, contact patrons@mtcscougars.org or visit mtcscougars.org/patrons.htm.
Great Pumpkin Festival – Oct. 25
Wizards, and witches, and hobbits, oh my! Dress as your favorite fantasy literature character and join Discovery Center in a fun, family-friendly Halloween event (502 S.E. Broad St.)! For more information, call (615) 890-2300 or visit discoverycenteronline.org.
Fall Festival of Magic Returns to Murfreesboro – Oct. 26-27
The Middle Tennessee Magic Club in conjunction with the Murfreesboro Center for the Arts will present "The Fall Festival of MAGIC 2012" on Oct. 26 and 27, at 7:02 p.m. in the Center's theater (100 W. College St.). Professor Waldo McGillicuddy (aka Wayne Lovell) will serve as Master of Ceremonies for the shows which will feature six of the best magical entertainers the area has to offer. Featuring Twisted Mind Majik, Mayhem Magic (Jeff Mullins and Jim Hooten), Mongo the Magnificent (Rob Covert), and more. Tickets will be on sale at J. Mullins Jewelry & Gifts, (352 W. Northfield Blvd.) and at the Center for the Arts and boroarts.org/tickets. For more information, visit IBMring252.com.
The 39 Steps – Oct. 26–28
What do you think would happen if you took a classic Alfred Hitchcock thriller mystery and turned it over to Monty Python? Don't miss this wacky retelling of Hitchcock's masterpiece. It was wildly successful on Broadway and is sure to be in Smyrna as well. This will be at Lamplighter's Theater (14119 Old Nashville Hwy.). Admission for adults is $10, Seniors & Students: $8, Children 4-12: $6. For more information, please call (615) 852-8499 or go to lamplighterstheatre.com.
Pat Parelli Horse and Soul Tour – Oct. 27–28
Linda Parelli will present education, demonstrations and insight into both English and Western disciplines, Oct. 27–28, from 9 a.m.–4 p.m., at the Tennessee Miller Coliseum (304-B West Thompson Ln.). Participants will learn about the famous Seven Games, the foundation of Parelli Natural Horsemanship. You'll see Linda describing and performing the methods and exercises she's honed from years of education from the masters, Pat Parelli and Walter Zettl. For more information, call (855) 727-3554 or visit shop.parellinaturalhorsetraining.com.
Harvest Days at Cannonsburgh Village – Oct. 27
Come celebrate fall in true pioneer fashion with old time music and dance, hayrides, pottery demonstrations, broom making, blacksmithing, art and antique auto exhibits. Local crafters and food vendors from 10 a.m.–5 p.m. at Cannonsburgh Village (312 S. Front St.). Admission is free. For more information, please call (615) 890-0355.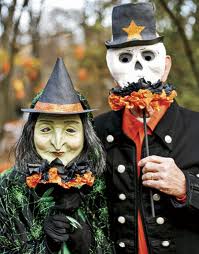 The Art Barn Vintage Halloween Fest – Oct. 27
The Art Barn in Rockvale, TN, will host the first annual Vintage Halloween Fest, Sat., Oct. 27, from 10 a.m. to 5 p.m., featuring arts and crafts vendors, food and family fun, including a pumpkin carving contest and vintage Halloween costume contest. Admission is free. For more information visit the theartbarntn.com or call (615) 722-1026.
MTSU Up 'til Dawn Letter Writing Party – Oct. 29
Become a part of the campus-wide effort, Monday, Oct. 29, from 6–10 p.m. at the James Union Building Tennessee Room, to support the life-saving treatment and research at the St. Jude Children't Research Hospital. Register your team to become a part of various fund-raising activities and the all-night finale event Up til' Dawn. Please return all completed registration forms to: MTSU Student Union Building, Room 330, Center for Student Involvement and Leadership. For more information, contact Michael Parks at cmp3w@mtmail.mtsu.edu.
Laugh Your Way to Success- Oct. 30
94FM The Fish (93.7 FM 94.1) presents A Night with Rita Davenport, Oct. 30, at 7 p.m. at Travecca Nazarene University, The Boone Business Building (333 Murfreesboro Pike, Nashville). Tickets are $30 for general admission, $50 for "Success Circle" and $99 for "Success Circle Experience." Tickets are available at 94fmthefish.net.
Free Food in the Woods
Hippie Hill is looking forward to expanding their stages and building an amphitheater across the road. They are also working on expanding their camping/parking areas and creating a more comfortable atmosphere for visitors. Please come and visit the "Free Food in the Woods" event during the week of Thanksgiving! It will consist of seven days of free food, music and camping! Anyone who is in need of food or available to donate, contact hippiehilltn@gmail.com. Helping Hungry Kids is always the mission here!
MTSU fall Honors College Lecture Series 'The City' begins
The start of the fall Honors Lecture Series, a 10-week series of MTSU and visiting faculty members' lectures to a class of junior and senior honors students has begun. This fall's theme is "The City." The class, which meets from 3–3:55 p.m. on Mondays, is held in Room 106 of the Paul W. Martin Sr. Honors Building. The public is invited. For a series schedule and list of presenters with their own takes on "The City," visit mtsu.edu/honors/fall_lecture_series.php. For more information, contact Dr. Philip Phillips at (615) 898-2699 or Philip.Phillips@mtsu.edu.