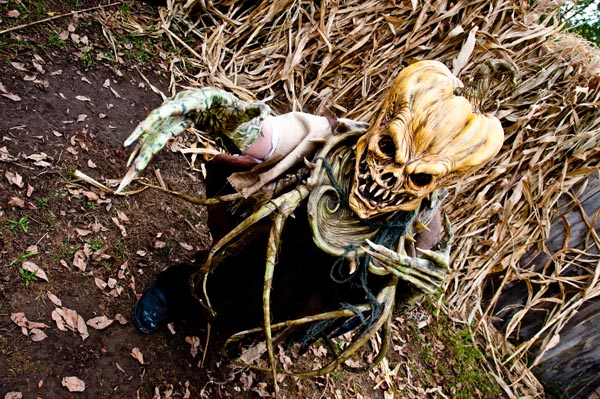 Haunted houses are really the only attraction that let you indulge in your own fear. Many places will provide you with a much-needed adrenaline surge, getting you away from your daily grind so that you can be reminded that you actually have a pulse, and that you're not just reading a copy of our paper (wait for it . . . it'll sink in). And with the season of pumpkin lattes, raking leaves and colder weather comes the most important decision to make in the fall: which haunted house do you go to?
Well, The Pulse put together a team of some of the biggest horror fans in the area to help you make your decision. Before you get to the blood and guts of our team's review, you must first take into consideration that none of the haunted houses were bad, and that every haunted house had its own scares. The haunted house industry is a very difficult thing of which to be a part, and much like the monsters there to scare you, can tear you apart at any moment. All of the haunted houses mentioned in the review are worth visiting, but we've put together a list from the haunted attractions that were honorable mentions to our favorites, which ultimately ended in a tie. For this review, we took into consideration music, lighting, atmosphere, waiting areas, the monsters, makeup, production design, and how these elements ultimately added to the sensations of panic and terror the group felt as a whole when we attended. Our team would like to thank all of these haunted attractions for their participation and friendliness. The team would also like to offer a special thank you to local horror-hound Dr. Gangrene for helping us set the event up.
And who knows? If our team survives, perhaps we'll check out more haunted houses as the season of fear progresses. To keep up, look for the late Justin Stokes on Facebook, well as the Murfreesboro Pulse's Facebook page. The haunted attractions listed in the review can be found on Facebook as well, along with the infamous Dr. Gangrene.
And now, for our reviews:
Honorable Mentions
Walking Horse Hotel
101 Spring St.
Wartrace, TN 37183
(931) 389-7050
walkinghorsehotel.com
Price: $15
Open: See website for schedule
The historic Walking Horse Hotel of Wartrace was already considered one of the more haunted places in the Middle Tennessee area, having been a beacon for paranormal investigators for years. The folks at Wartrace have decided to put their spooky history to use, in an effort to make sure that guests of the hotel check in, but don't check out. Each guest to the hotel is taken to a room to where they can actually view the reoccurring history of what happened in the hotel, and how each victim met their untimely demise. The most unfortunate part of this haunted house isn't the history, however, but the fact that the attraction is only limited to the third floor of the hotel (the portion that is actually haunted). This haunted house had a really neat concept, using actual scenes akin to a judgment house without the preachy nature, but feels a little short. That aside, the actors were really convincing, and the hotel itself has enough creepy charm to make you want to come back year round.
Gore House Haunted Attraction
118 Mid Town Ct.
Hendersonville, TN
(615) 530-4673
gorehouse.net
Price: $13
Open: See website for schedule
You'd think that with the local haunted house scene being populated by monsters threatening to consume your flesh that a little bit of controversy would be par for the course. In reality, most of the haunted houses in the area cater to a more conservative audience (as well as the occasional church group) so certain elements of horror are quite often left in the writing room. Enter Gore House, the engineers of terror that helped put together Nashville's own Devil's Dungeon. Having gone into the business of haunts, Gore House offers a no-apologies experience for the scare-goer, taking full advantage of its trap doors and secret passages. Also featuring one of the best hosts in the haunted house scene, Gore House is a blood-covered gem that you simply don't want to pass up. It's scary, funny, and offers a unique layout you won't see anywhere else.
Madhouse Haunted House
214 McCown Drive
Lebanon, TN 37087
(615) 504-8815
madhousehaunt.com
Price: $15
Open: See website for schedule
Donnie, the owner-turned-actor of Madhouse Haunted House, will show you at the front of the haunted house that he's not afraid to get his hands dirty. He'll also show you "his pet," which is itself a really neat trick. His love of performance and misdirection seem to be, in the team's opinion at least, what influenced the haunted house's creation. He can be creepy and funny one moment and down-to-business the next. His haunted house is the same way, evolving as it goes along. But Madhouse's goal is really just to reach out to the community, with offers to help high school students for fundraisers and to provide a concert venue for you. That is assuming anyone makes it out alive.
Death Valley Haunted Woods
769 West Main Street
Hendersonville, TN 37075
(615) 686-0876
deathvalleyhauntedwoods.com
Price: $15
Open: See website for schedule
It's a shame that after all of these years, Death Valley may be finally closing their doors. This particular haunted house always had a sentimental value to the team. Its two mazes are really fun. Absolutely the best use of any chainsaw, as the haunted house has you walk through cattle slots. This haunted house is outside for the majority of the walk, but does a decent job of keeping you trapped right where you are.
Death Row: Sanitarium of Slaughter
418 Harding Industrial Drive
Nashville, TN 37211
(615) 833-1433
deathrowhauntedhouse.com
Price: $12
Open: Fri./Sat. 7 p.m.–12 a.m.
Overall, not a bad haunt, but there are certain parts that do get repetitive, such as the constant movie posters. Having stated that, they do stick to their theme and put you in some uncomfortable areas. This is a haunted house that seems to be geared toward an older audience, so definitely don't bring your little brother unless mom just makes you. Also, if you're afraid of clowns, perhaps you should stop by this one and face your worst fears. Let's just say they're . . . killer.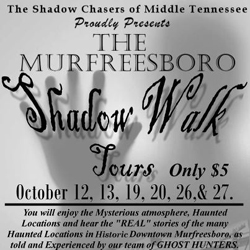 Other Activities:
Shadow Chasers of Middle Tennessee – Ghost Walks
Downtown Murfreesboro
Price: $5
Open: Friday/ Saturday Evenings (See Facebook for schedule)
The Shadow Chasers of Middle Tennessee are conducting ghost walks on the Square, recounting the haunted past of downtown Murfreesboro. The ghost walks are actually a part of a fundraiser to help the Shadow Chasers raise money for equipment. As the Shadow Chasers AND the Murfreesboro Storytellers are conducting downtown ghost walks, details are withheld. But, we can tell you that the Pulse had a great time and we HIGHLY recommend attending.
Blankenship Farm (Blankenship Pumpkins)
5658 Halls Hill Pike, Murfreesboro
Price: $10 Adults, $5 kids
Open: Thursday Evenings
There is a fun range of activities here for the whole family. There's a 10-acre corn maze, a 3-acre hay maze, pumpkin bowling, sheep feeding, and you can even pick out a pumpkin to carve from THE best selection in Murfreesboro that we've seen.
Dead Land Haunted Woods – 4TH Place
7040 Murfreesboro Rd.
Lebanon, TN 37090
(615) 519-3116
deadlandwoods.com
Price:  See website for rates (There are two separate trails.)
Open: Fri./Sat. 7 p.m.–12 a.m. (Also on Halloween)
The concept of an outdoor haunted house is nothing new. But the fine folks at Dead Land Haunted Woods actually make you walk through woods. With two trails spanning over a mile, the noises in the forest and the chills from the weather will keep you constantly on your toes for whatever may be lurking just beyond the trees. Pulling inspiration from both the already-twisted minds of the Grimm brothers, as well as the woods itself (which is rumored to be haunted), Dead Land Haunted Woods does an exceptional job psyching you up before the scares even start.
Devil's Dungeon – 3rd Place
510 Davidson St.
Nashville, TN 37213
(615) 256-0053
devilsdungeon.net
Price: $15
Open: Fri./Sat. 8 p.m.–1 a.m.
This haunted house in particular seems to have a great deal of controversy surrounding it. The Pulse team didn't really find anything that offensive. What we did find were some great scares and a sense of self-awareness, as well as humor. We weren't able to find that, however, until we got ourselves out of perhaps the MOST CONFUSING MAZE ANYONE ON THE TEAM HAD EVER SEEN, which is not a complaint, but rather a compliment, because it makes you feel that you'll truly never get out. The 3-D portion of the haunted house is underused, but there are still good scares to be had at the Devil's Dungeon. Also, for the record, the owners of the haunted house are extremely nice people, as was the entire staff for that matter. The only thing that our team found shocking was the vortex tunnel.
Slaughterhouse  –  2nd Place
423 6th Avenue South
Nashville, TN 37203
(615) 953-1608
slaughterfest.com
Price: See website for rates/deals
Open:See website for schedule
Touted as being Nashville's "longest running haunted attraction", this local favorite has had some pretty big endorsements from both respected members of the horror community as well as 102.9 The Buzz (which shows, their taste in music in the waiting line doesn't sound like a hokey Halloween compilation). Slaughterhouse capitalizes on its use of space, creating a feeling of claustrophobia when you're trapped in between dark corridors or avoiding the chainsaw blade by what feels like hairs. Not afraid to get in your face, this haunted house keeps you guessing what's around every corner, never really scaring you in a predictable or obvious way. It's raw, it's suspenseful, and it definitely moves to its own rhythm. Did we mention we really liked the music that they played?
And now . . . the tie for first place . . .
Nashville Nightmare  –  1st Place
1016 Madison Square Garden
Madison, TN 37115
(615) 752-5663
nashvillenightmare.com
Price: See website for rates/deals
Open: See website for schedule
It wasn't until this year that anyone on the team had heard about using smells as a fear tactic, let alone using 18 different scent combinations to unnerve unassuming patrons. Nashville Nightmare was kind enough to introduce us to this concept in a fashion that is subtle yet all-too-effective. Easily some of the best acting you'll find in a haunted house (they held four auditions before the season began) the monsters are found sliding and coming out of the floor. In addition to theater-level acting, the haunted house has some of the best scripting, as well as some of the most highly-detailed costumes. Nashville Nightmare is a classic example of what the haunted house should be. Ignoring themes entirely, the thrills flow seamlessly from one corridor to the next, much like the trap doors we're sure you'll encounter inside the nightmare.
Monster Mountain  –  1st Place
273 McMurtry Rd.
Hendersonville, TN 37075
(615) 338-4632
monstermountain.net
Price: $15 (see website for rates)
Open: Fri./Sat. 7:30 p.m.–11:30 p.m.
Splatterhaus Studios, the home of the demented horror-director Hackenstein von Splatterhaus, offers you a chance at fame as you walk through the sets of 16 aptly-titled film sets, ranging from movies like Blood Sucking Vampire Clowns from Mars to "Camp Nightmare" and "Zombie City", all of which look like movie-quality sets to which you are set to explore your every fear. The production design is top notch, the make-up effects are really good, and the haunted house actually takes a while to get through, taking full advantage of both the indoor and outdoor atmospheres. This is also, much to the surprise of The Pulse team, the only haunted house which uses pyrotechnics effects (you get a small taste just while waiting in line). Monster Mountain also makes sure to entertain you by providing the Silver Screams Drive-In and the Monster Midway, courtesy of the fine folks at "Death Yard Dark Amusement," letting you shoot a moving zombie with a paintball gun!