The Pulse team does love it's coffee. So much, that we consider ourselves coffee connoisseurs. So we decided to put out an ongoing review of coffee that will cover some of our favorites. Get out the french press, your bottle of Bailey's (no, the creamer) and your favorite coffee mug as we pour over our brew review. And do please excuse us if we get verklempt (Why do we drive in a parkway and park in a driveway? Talk amongst yourselves.).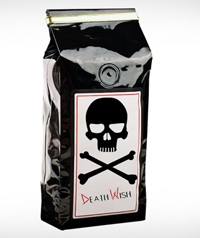 Death Wish Coffee Company:
New, and fresh outta New York, Death Wish Coffee Company has quickly become one of our favorites. Having only been on the market for less than a year, Death Wish Coffee introduces a brew that is 200 percent more caffeinated than the average cup of coffee (making it currently the strongest coffee on the American market). We are talking INSTANT caffeine. It has a great, full body flavor that's not too heavy on the ole tongue. No sugar or creamer is recommended for this bad boy (it is called "Death Wish" after all). An enjoyable, bold flavor that lends itself to more than just a gimmick and is guaranteed to wake you right the hell up. You may want to limit yourself to one cup, but the "Death Wish Challenge" is yours to take (special order coffee, only available at deathwishcoffee.com).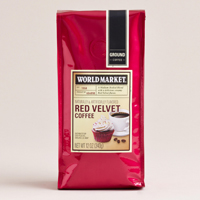 World Market's Red Velvet:
This coffee tastes EXACTLY as it sounds, like a piece of delicious red velvet cake. Another rich flavor that even lets you savor sweet hints of icing (that's not a joke or us being "artsy", you can almost taste the icing). Our worry is that people won't take this coffee seriously, but it's a strong holiday recommendation that works either as a breakfast or dessert blend.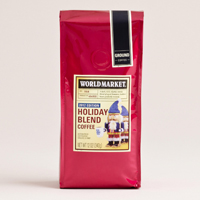 World Market's Holiday Blend (2012 Edition):
A new twist on the Sumatra Arabica blend that World Market has, which doesn't make for a bad cup of coffee. Having said that, the nutcracker on the bag doesn't justify foregoing Maxwell House.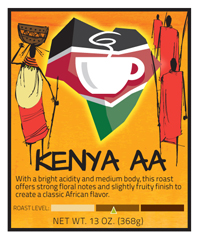 Just Love's Kenya AA:
As Just Love's dedication to it's "no frills" policy continues, they have brought us a classic Kenya AA roast, which boasts bright acidity but a hint of earthy freshness. It's a simple, organic coffee with tones so natural you can almost smell Kenyan soil.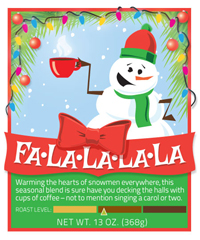 Just Love's Fa La La La La:
Much like it's year-round predecessor Kenya AA, Fa La La La La isn't playing to gimmicks. Saying that much, we feel that this coffee is a little too similar to the Kenya AA, albeit with hints of citrus at play with a more chocolate-based flavor.