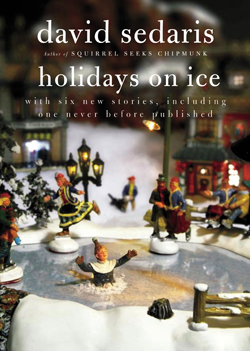 By Robert Lawrence
If you remember Crumpet from "The Santaland Diaries" or the clueless Thaddeus Bristol and his critique of a children's Christmas play, prepare for another shot of the holidays—David Sedaris style. Published three years after the original, the expanded version adds six more stories to an already cheeky look at Christmas. Readers already familiar with Sedaris can look forward to even more irreverent holiday humor in addition to his classics. Readers new to Sedaris will encounter him at his hilarious best—times two.
Holidays is not a mix-and-match affair, simply taking stories from several different beloved books. The publishers have added six new stories to complement six old ones. Since the holidays are times spent with family and old friends, readers who revisit this gem can wax nostalgic with classic Sedaris as Crumpet the Elf working in Macy's Santaland. And who has not shivered with horror at the families who give of themselves (literally) in "Christmas Means Giving"? However, Sedaris's wit is not all sharp edges. When his sister Lisa rescues a co-worker from an abusive boyfriend by bringing her to Christmas dinner, Sedaris shows us that a true Christmas spirit is found in the most unlikely places.
The next shot of Holidays gifts us with new vistas. First, readers are treated to an international Christmas. In "Jesus Shaves," Sedaris tries to explain The Easter Bunny—in French. We also learn the cultural ramifications of "Saint Nicholas" in the Netherlands from "Six to Eight Black Men." In "Let It Snow," locked out of their house on a cold winter day, the Sedaris children once again teach us that giving is not about material possessions. Perhaps, it is about taking care of the people who need it most, even if that person is our mother. The last story treats us to the internal politics of the barnyard as the animals engage in a not-so-secret Santa party between a turkey and a cow. In these additional stories, Sedaris has not lost his ability to simultaneously amuse and challenge us.
In true Sedaris style, the last story ends as abruptly as the first one began. Maybe it's Sedaris's witty cynicism that causes us to laugh at the folly of the holidays. Maybe. But the reason we return to Holidays on Ice is his discerning critique of our culture. Sedaris pokes fun at our polite, Hallmark card society, exposing its faults in a manner that would make Jane Austen proud. If simple humor was the only draw, Holidays would be abandoned among the detritus of Christmas presents returned, or worse, re-gifted. Sedaris also shows us that the true Christmas spirit can be found in the kindness of elves at Macy's, and that anyone is capable of it—even a turkey. Sedaris gives his readers a double shot of humor liberally sprinkled with cultural critique and human insight. And for those who wish another shot of Sedaris, the audio book version (read by the author) is readily available. So, listen responsibly.
Robert Lawrence is an instructor at Middle Tennessee State University, where he teaches Freshman English and reads obsessively in his spare time.