In the 2012 Boro Dash, a 4-miler held Thanksgiving morning, Keith Davis completed the course in just over 20 minutes.
Yes, that is four consecutive five-minute miles; the 20:37 top finishing time put the MTSU Track distance runner and Oakland High graduate at a mile pace of 5:10.
Taylor Cuneo, a 12-year-old from Lascassas and member of the Oakland Middle School team, posted the top time among females, finishing in 26:07, for a 6:32-per-mile pace.
Coming up, on Saturday, Dec. 8, the Stones River Country Club will host the annual Frosty Fun Run, benefiting C.A.S.A. and Bob Parks Christmas for the Children, providing Christmas gifts for Rutherford County children who otherwise would have nothing to open on Christmas morning.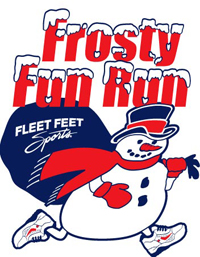 The course, just short of five miles, winds through the Country Club golf course, and this year also includes a two-mile option.
The run begins at 7 a.m. There is no timing system provided; it's just for fun!
For more information, visit nashvillesports.com/frostyfunrun.
Remember, the more you run, the easier it gets. The more days you take off, the harder it is to get back to your pace.
Don't let the holidays get you off of your routine; you lose lung capacity taking those days off. Take a long morning run on days of holiday feasts. Build up a ravenous appetite. Then eat well, reward yourself sensibly, but don't go totally crazy and eat entire pies and 4,000-calorie meals; enjoy some treats on Christmas, but don't live on leftover cake and sausage balls and candy for the next two weeks.
Stay focused on improving your body. Burning fat and improving lung capacity and cardiovascular health can be a Christmas present to yourself.
Run strong.