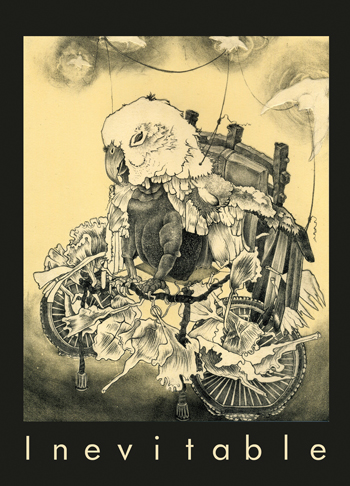 "Inevitable", recent works by Meghan O'Connor, is currently on display at Space Gallery, 44 Arcade Building, Nashville.
This exhibition includes recent lithographs and woodcuts by O'Connor, and is on display until Dec. 31. This event is free and open to the public.
O'Connor's work explores her social and cultural desires, fears and experiences that can be related to the larger whole of human existence. She depicts themes of conflict, struggle, and isolation in response to social and cultural power structures. The work is a revelation of external and self-induced deception. It is a representation, questioning, and critique of the state of today's human nature.
Many of Meghan's days consist of long hours in the printmaking studio getting her hands dirty (or obsessing over keeping them clean!). She loves listening to loud, fast music and collaborating with others. Currently, she is an assistant professor at Middle Tennessee State University, where she teaches foundations and printmaking courses. She also enjoys learning from and making art with folks at the Tennessee State Veteran's Home in Murfreesboro.
To preview her work, visit curlymeg88.com. For more information, contact her at curlymeg88@gmail.com.