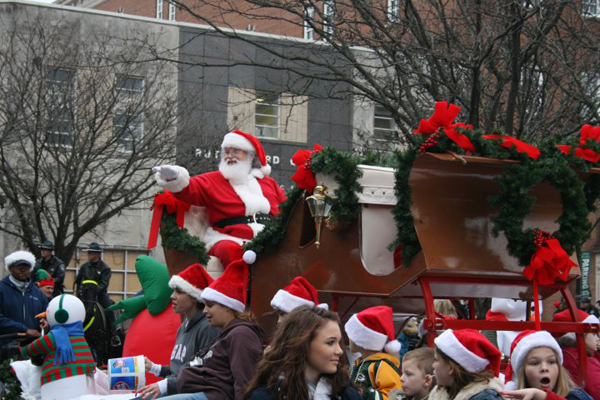 Each year, the Rutherford County Christmas Parade brings smiles and joy to hundreds of Middle Tennessee residents as it meanders throughout the heart of Murfreesboro. With candy, music, decked out floats from various organizations in the community and friends and family, who could ask for more?
Parade Coordinator Angela Walker has spent at least 15 years working with the Rutherford County Christmas Parade.
"My favorite part is just having fun and seeing all the different groups come together to build their floats. It is a great way to get the Christmas season started off right, and it is nice to see the community out together in one place and enjoying themselves," says Walker.
The Murfreesboro Christmas Parade is definitely known for its enthusiastic and supportive community as well as its wild and exciting themes. This year's theme will be the hit Christmas melody, "Jingle Bell Rock".
"Last year the theme was 'Bicentennial' in celebration of Murfreesboro's history," says Walker. "In the past we have had people such as the president of MTSU, Dr. Mcphee [as the grand marshall], because we wanted to honor and show thanks to MTSU for everything they do for our community and for allowing us to use their campus to stage floats and organize everything. We have represented Stones River, Oaklands Historic House Museum and more."
This year's Rutherford County Christmas Parade Grand Marshall will be no other than Murfreesboro native Colton Dixon, former American Idol finalist.
"We are super excited [about Dixon]!" exclaims Walker. "This year we started with the theme, 'Jingle Bell Rock'. We thought that Dixon, being our local 'rocker' from Murfreesboro, would be perfect. It took me about a month or so to get to his management, to get responses and to work out his schedule, so we are definitely appreciative for that. We just ventured out and crossed out fingers that Dixon could be our Grand Marshall, and I think that he is a very well known and recognizable figure here. I spoke with him recently, and he was really excited to be a part of the parade."
The people of Rutherford County sure do know how to get together and celebrate the most-beloved American holiday. With a growing city like this, there is no doubt the people involved make this parade come to life.
"We have all kinds of people in the parade who are a part of this community," says Walker. One of our participants, Walter Hale, has been in the parade for as long as I have been a part of it, and he always has his antique cars fixed up. The marching bands from all the high schools in the area are always a big part of the parade as well, and I believe we have six marching bands this year so far. Everyone also enjoys the fire truck and of course the Santa float, which our sponsor Atmos Energy puts together. The Sheriff's Department, the Murfreesboro Police Department, the City of Murfreesboro, Midsouth Bank and so many others such as the Murfreesboro Noon Exchange Club and the Stones River Amateur Radio Club are a huge part of this parade. We could not pull it off without all of our sponsors and volunteers."
It seems as though Walker and the community of Murfreesboro put a lot of hard work and dedication into the parade each year. There seems to be no question that the biggest payoff is the rewarding feeling of bringing joy to others and bringing the community together.
"Everyone who helps is a volunteer," Walker says. "Those of us who organize the parade do not get paid. Entry for the parade is only $10, and it has been for years. Parade Day Insurance is over $400, and we use it for supplies and donations to some to the non-profit sponsors who help volunteer."
Being born and raised in Murfreesboro, I can say the parade is something I have always looked forward to.
"We really encourage everyone to get into the Christmas theme and spirit, whatever that means to you, because we are out there to have fun and for the community. Children and families should bring something to put candy in because there will be lot of candy. Parents, please keep an eye on your kids, because not all the candy makes it to the edge of the sidewalk and we are always so scared of children running out into the street to get candy."
We hope to see you all there!
The Rutherford County Christmas Parade will be Dec. 9 starting at 2 p.m. at the intersection of Middle Tennessee Blvd. and East Main St. and ending around 3:30 or 4 p.m. at W. Main and Walnut St. after it goes around the north side of the square. For more information, please visit WGNSRadio.com, look for the parade on Facebook or email boroparade@live.com.
Parade award winners from 2011 included:
Bob Lamb/Exit Realty, Mayor's Cup
Smyrna Ready Mix, Float-Business or Industry
Patterson Park Community Center, Church or School
Cub Scout Pack 457, Float-Civic, Scout or Social Group
Scout GSA troop 235, Scouts
Dance Academy, Walking
Fred McDonald, Best Vehicle
Murfreesboro Parks & Recreation, Chamber of Commerce President's Award "Spirit of Community"