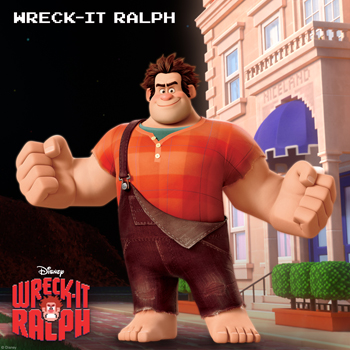 Easily another one of this year's best films, Wreck-It Ralph hits the ground running as another modern Disney classic, thanks to the fresh tone set for the film by Rich Moore (a director from Futurama and The Simpsons). It's a movie that hits on all levels, offering a world of bright colors and silly puns one minute, and hard-hitting emotions and theme the next.
The story is of a classic video game villain, named "Wreck-It" Ralph (voiced by John C. Reilly) who is sick of being a villain and longs for recognition for being a good person. Tired of his fellow video game characters taking advantage of his role as the bad guy, "Wreck-It" Ralph ventures outside of the world of his video game to earn a medal so he can be seen as an equal to his protagonist counterpart "Fix-It" Felix Jr. (30 Rock's Jack McBrayer). Unbeknownst to him, "Wreck-It" Ralph has jeopardized not only the other characters from his video game (as arcade-goers think his video game is broken without him) but also created a world of chaos for the other games in the arcade. Crash-landing in another arcade game called Sugar Rush, Ralph meets Vanellope von Schweetz, a friend in the video game who is actually a glitch. It is with her company as they evade the authorities in Sugar Rush that Ralph realizes that the real victory isn't in the medal, trophy or high score, but how the game is played.
This movie was a really cute, really fun movie that the whole family can not only have a great time with, but really appreciate. It creates an instant urge to revisit your nearest arcade and play some old-school video games. What's more, the movie offers some very clever twists and turns that you really don't see coming.
I highly recommend that everyone see this film, and I dare you not to love it. Without giving anything else away, just try to walk away from the film and not feel in a great mood.