It's that time again: Time to discuss our favorite beverages. Last month we had shared a review for tea, which gets us thinking of all of the wonderful drinks there are to be discussed. And the Pulse staff got to discussing the expansion of Coffee Talk, going beyond the realm of coffee and further into tea and beer.
The problem is that we can no longer call the article "Coffee Talk." As much as we like the name, it would only make sense for the title of the article to evolve if the article itself evolves. How about "The Brew Review"?
So, as members of our readership, would you like to see us handle more than just coffee? We're currently working on an article with the folks at Just Love Coffee Roasters on the process of holding a "cupping"—a coffee-tasting event that shows you the nuances of taste hidden within each sip of your favorite beverage. And as a matter of fact, we'd like to hold a coffee-tasting event in the month of February. We'll be sharing information on that as the event develops, via the Pulse's social media.
We'd also like to go over the processes of how your favorite beverages are made, as that's something members of the Pulse staff would like to share with the readership as well. E-mail your thoughts on what you'd like to see out of the article at justin@boropulse.com. We'd love to hear from you for a change.
Pull up a chair and get those cups ready!
Starbucks Blonde – the antithesis of earthy; very light and bright, easy to drink. Another coffee we've sampled where you can feel the caffeine of the beverage after your second or third sip. Not our favorite from Starbucks, but certainly not a bad product either. (Writer's note: Our team has noticed a recent popularity among lighter roast, and we think that this coffee may be the setter of that trend).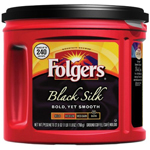 Folgers Black Silk – if you're looking for an extremely dark roast on the cheap, this Folgers brew may be just for you. It has so much of a charred taste, I don't really want to drink it without a little milk or cream, but it's an affordable dark roast with a deep taste. Its caffeine content did not feel overwhelming, so if you're looking for a quick boost that won't make you crash at the office, put this in your pot.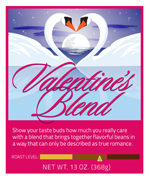 Just Love's "Valentine's Blend" – This particular roast was similar in tone to many other winter blends, though I found the taste of the Valentine's Blend to last a little longer. It also had another taste—a good taste—we couldn't quite put our finger on. Having been ground the same as the other samples, this one had a little more of a texture we found upon brewing it (perhaps making it more flavorful). We're told that this is an original blend, and not a "holiday repackage," so you will definitely notice a difference between this and, say, Just Love's flagship winter blend.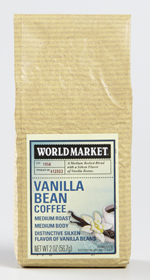 World Market's Vanilla Bean  – Many people don't like flavored coffees, describing them as "frou-frou." It's that same category of people, however, who don't drink their coffee black, and instead doctor it up with cream and sugar.
Disregard those people. This is a solid coffee blend that tastes great any way you serve it. It's the gourmet coffee for people who are looking for taste. It's a vanilla bean flavor, and not just a vanilla flavor, so it is the findings of our staff that this coffee has a much more natural taste than something you might find with a similar name in a department store. It's also one of World Market's most popular flavors, so don't be afraid of asking for a coffee with a rich, alternative taste.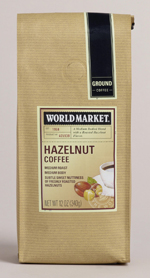 World Market's Hazelnut – A good, standard coffee. Way better than the complimentary coffees you might find at a function or a hotel. But don't look for a bold taste with anything labeled "hazelnut." That is a taste you really have to look for in a few sips, and not just your first venture. Still, a decent coffee.