An emerging trend is to watch an entire TV series in a few or less sittings. The convenience of renting an entire collection makes for these grand DIY marathons. If you are looking for some lighthearted fun, then these two selections are just the ticket for any vacant winter weekend.
Spaced (1999) is a British comedy show directed by Edgar Wright. The main stars and writers are Jessica Stevenson and Simon Pegg. Much of the troupe went on to create movies, such as Shaun of the Dead. Two friends pretend to be married in order to find a suitable flat. Their mismatched neighbors and friends help add to the comedic spots. Spaced is filled with witty homages, and the production work is used brilliantly for comedic effect.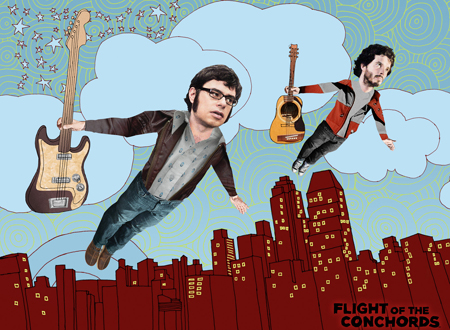 Flight of the Conchords (2007) is an HBO comedy show about a musical duo from New Zealand, mostly directed by James Bobin. It stars Jemaine Clement, along with compatriot Bret McKenzie. Plot sequences often morph into hilarious music videos. The two performers are constantly struggling for good gigs via band meetings with their equally misguided part-time manager.
You can also find Living Room Cinema on Facebook and Tumblr.