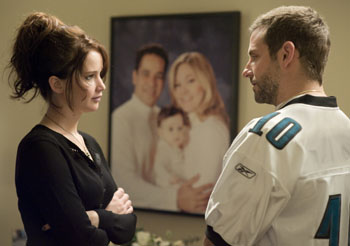 Silver Linings Playbook is a strange sell. On paper, this romantic comedy seems poised to be a box office behemoth of little substance, pitting People magazine's sexiest man alive of 2011 with the star of last year's huge hit The Hunger Games, in a film produced by the brothers Weinstein. But the source material (it's adapted from the novel by Matthew Quick) tackles the tough topics of mental illness and the death of a spouse, and there's also director David O. Russell's previous works, such as I Heart Huckabees, a cult hit, if not a financial one.
Here, director Russell imbues his film with the New England grit of The Fighter and the existential wit of I Heart Huckabees. Bradley Cooper, earning his first Oscar nod, plays Pat, a man starting over after a violent incident with his wife's lover landed him in a mental institution. Upon his return home, he takes to the tasks of self-improvement (both mental and physical), and getting his wife back, restraining order be damned. Threatening to shatter his newfound "silver lining" worldview are his Philadelphia Eagles-obsessed father (Robert DeNiro, at his late career best), and a newly made friend, the recently widowed and equally imbalanced Tiffany (Jennifer Lawrence). On top of these threats to his mental stability are his two best friends: one unhappy in his marriage, the other a serial escapist from the institution (Chris Tucker) . . .  and, oh yeah, a looming dance competition?!
As I said before, Silver Linings Playbook is a romantic comedy, from its stars to its plot. But thankfully, Russell and company eschew all clichés save the most superficial, telling a story about developed characters dealing with developed problems, real or imaginary—and halfway through, it becomes apparent that crazy is in the eyes of the beholder. We all have our things, from game-time superstitions to delusions of a love that isn't there. Silver Linings Playbook transcends its genre the way Django Unchained transcends its genre mash-up, the way Life of Pi transcends its label of "inspirational film." These are the last three movies I've reviewed for this publication, and I just noticed that all three are up for Best Picture. I haven't followed the Oscars since my rose-colored youth, when movies were magic and cynicism lay dormant, but I'd be happy to see any of these films win.