Hey Readers!
We're looking for new coffees to try, and still aren't hearing from enough people on what coffees they would recommend. Please send any recommendations to justin@boropulse.com. 'Nuff said.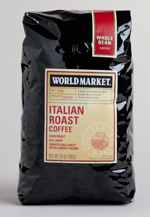 World Market "Italian Roast" – (4 stars) I was pleasantly surprised by this coffee. It comes out pitch black, but actually isn't that bitter. It's pretty well balanced, offering just enough smoke in the taste body to have a little something for everyone. It's got a low-key flavor that would be welcome in anyone's kitchen.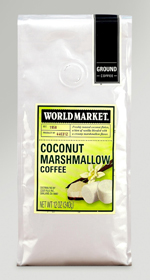 World Market "Coconut Marshmallow" – (5 stars) Easily one of my favorite coffees of the World Market collection, this seasonal blend was created for Easter, which appears to have come a little early this year. Someone once described this coffee to me as "a blend made to resemble the taste of a [Marshmallow] Peep, which couldn't be more accurate. I found this brew to be delicious, and have yet to meet anyone who did not like this coffee.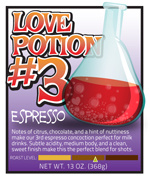 Just Love "Love Potion #3 Espresso" – (3½ stars) A very interesting espresso blend. The bag's label describes it as having notes of citrus, chocolate and nut, and while we liked the taste of this coffee, the chocolate and nut notes seem to overlap into the coffee, making them very hard to taste separately. We would also question the finish of this particular blend because the flavors are so complex. Having said that, this is a coffee we'd recommend to any espresso fan looking for something new and unique to try.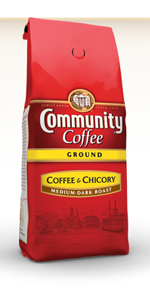 Community Coffee's "Coffee and Chicory" – (4 stars) This is the first coffee I've actually tried from Community Coffee. Oddly enough, this coffee tasted very similar to the "Italian Roast" listed above (with the Chicory sample being more bitter). Good enough to warrant a second cup.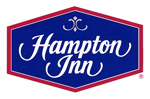 Hampton Inn Coffee (Regular and Decaf) – (2 stars) We recently heard that the Hampton Inn had its own coffee, and decided to procure a few sample of both their regular and decaf. Overall, the coffee is drinkable (it is hotel coffee, after all), but still very disappointing that a hotel chain would go to the trouble to package its own coffee and not do anything with it. A good pick-me-up if you happen to be staying at The Hampton.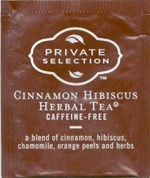 Special Guest: Private Selection's "Cinnamon Hibiscus" – (4 stars) Kroger's "Private Selection" brand has actually upped the quality of Kroger-brand food, bringing to the table some really good products, including their tea. The Cinnamon Hibiscus tea, which is a blend of chamomile, orange peels and herbs, is almost like a little taste of autumn any time of year. Simply enjoyable.