Despite having never been an avid follower of sports, I've always loved sports bars. They're fun places to hang out, they generally have a good beer selection, and they serve some great food. And while Fairways Golf & Grill is no exception, they do provide an exceptional dining option with unique food.
I've driven down Southeast Broad Street my fair share, but nothing in the Discovery Plaza ever really caught my eye, however, so that particular area of town remained off the radar for me for quite some time. I find that a lot of people generally neglect that area, but the fact that it's located on a busy street only adds to the charm of Fairways Golf & Grill, as the restaurant remains busy enough while allowing its patrons to be left alone while dining, not being disturbed. It's peaceful; kind of like being on a golf course. You're left alone to enjoy your surroundings and have a good time.
Their beer selection's not bad, carrying almost 20 beers on tap, comprehensively ranging from Angry Orchard to Yuengling. There's also an emphasis on local products, as Fairways proudly serves Murfreesboro's own Mayday Brewery beer, as well as moonshine from Short Mountain Distillery, "Belle Meade Bourbon" from Nelson's Green Brier Distillery and Heroes Vodka. Their drinks seem to have a Southern emphasis as well, mixing the likes of moonshine, sweet tea, etc. for some very interesting drink concoctions.
Speaking of interesting, Fairways has something rather unique for a 'Boro restaurant: a golf-themed atmosphere. It's quite often that you see paraphernalia of various athletic teams, like, for instance, sports jerseys, on the wall of a sports restaurant, but those restaurants are generally universal to sports as a whole. Fairways welcomes sports fans of all kinds, but has taken an exclusive shine to golf. The outside has a small golf area for kids, and adults, (on one of the nicest decks of any local restaurant), and a state-of-the-art golf simulator located in the back, where golfers can play on more than 80 different golf courses where you can—virtually, that is—stand on simulated turf, hit a golf ball with full force, and receive the exact distance you hit the ball, and many other ball flight details, within the game. I think Golden Tee is about to get a run for its money.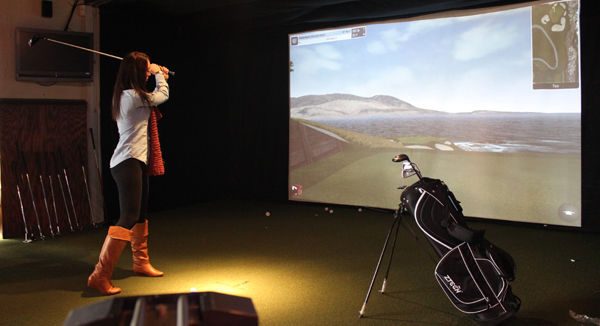 I've personally eaten at Fairways Golf & Grill five or six times, and feel that I've sampled enough from its menu to tell you that everything I've tried is really good. Fairways currently offers one of the better lunch specials in town, with a selection of not one but two different kinds of lunch specials. You can choose from their $3.99 daily lunch special, with choices ranging from a burger & fries, a chicken basket, a 7-inch pizza, nachos or a fish basket, depending on the day of the week, or you can select from their $5.99 lunch special, available any day of the week. This deal includes a larger selection of food, including their chicken wrap, shrimp basket or grilled chicken salad. Both options are available from 11 a.m.-3 p.m., and are guaranteed to make for a good lunch.
More impressive than their selection of lunch specials is their selection of appetizers. Fairways serves homemade and hand-breaded cheese sticks, pretzel bites with various sauces, fried pickles, bacon fries with jalapeños, onion rings and a few more tasty pre-meal options. Their appetizers are portioned generously, so sharing is recommended.
Moving on to the main course, the options are still available, only disguised under pun titles. Pizza would not have been the first thing to come to mind with Fairways, but after having both their Hawaiian and barbecue pizzas—two staples that any self-respecting pizza fan would appreciate—I can see why pizza is on the menu. Offering a decent variety and three different sizes, there's something in their "Par-fect Pizzas" for everyone. I also sampled several of their "sand-wedges," including their chicken wrap and "chip shot club," which were above par. But what golf main course is complete without its "greens"? (I can pun with the best of 'em). A welcome addition to the menu that Fairways provides is a selection of salads that are just as good as items on the rest of the menu.
Golf puns aside, Fairways Golf and Grill is a place I would highly recommend to diners of Murfreesboro looking to expand their horizons, especially during the weekday.
Fairways Golf & Grill
127 SE Broad St.
Mon. – Wed.: 11 a.m. – 12 a.m.; Thurs. – Sat: 11 a.m. – 1 a.m.; Sun.: 11 a.m. – 11 p.m.
Chip Shot Club: $7.99; 14″ Congressional pizza (chicken, mushrooms, onions, BBQ sauce and cheese): $12.99; Fairways Burger: $9.99; Daily lunch specials: $3.99
(615) 962-7853
facebook.com/fairwaysgolfandgrill