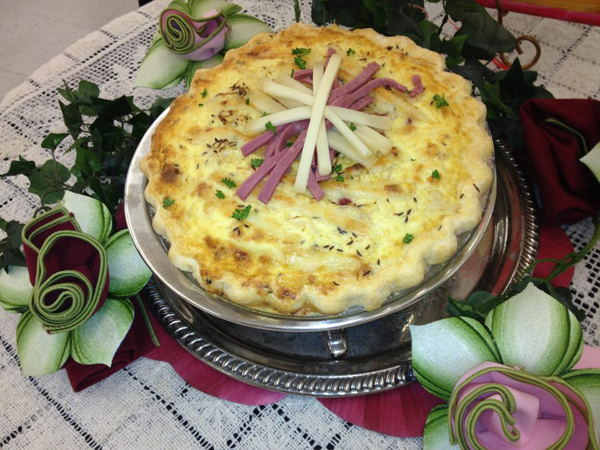 1 nine-inch deep-dish pie shell
1 tablespoon caraway seeds
pound deli corned beef, shredded
1 tablespoon Dijon mustard
¼ cup Thousand Island dressing
¾ cup sauerkraut, drained
1½ cups grated Gruyere cheese
3 eggs, beaten
1 cup half and half
1 tablespoon grated onion
½ teaspoon salt
¼ teaspoon dry mustard
Kosher dill spears for garnish
Preheat the oven to 425 degrees. Assemble ingredients. Sprinkle and press caraway seeds into unbaked deep-dish pie crust. With a fork, prick the crust and bake for 7 minutes. Remove the crust and reduce the oven to 350 degrees. Layer corned beef on top of crust. Combine mustard and dressing and spread over beef, then layer sauerkraut and cheese.
In a small bowl, mix eggs, half and half, onion salt and dry mustard. Pour evenly over the pie. Bake for 40 to 45 minutes. Remove from the oven and allow to set for 5 minutes. Serve while hot and garnish each plate with dill spears.
Yields: 6 Servings