Step 2 – We came to believe that a power greater than ourselves could restore us to sanity.
Busted! Caught right in front of the Old Main, barefoot, and darting through the grass by the New Classroom Building. My excuse: Only moments before, while driving around town, I was wooed, cooed, caressed by soft, wistful tones over the radio.
Look over yonder–what do you see?
The sun is a' rising, most definitely
A new day is coming, people are changing
Ain't it beautiful, crystal blue persuasion
For an MTSU coed, a sorority girl in the 1960s, running barefoot on campus was defiant, anti-conventional behavior. And there I was, confronted by a perplexed sorority sister with a baffled stare as she walked by going to class. After all, there were emerging paradigms in those days, a sense of newness, a fresh mindset. Certainly, running barefoot across MTSU campus was considered, as the Dean of Women would insist, "unlady-like." For a young woman in that era, who could resist the tone of the day? Many were compelled to protest the political and social unrest in their own way. My triumph and rebellion of choice was to freely walk across campus barefoot. Oh well, just as the warm sun was lifting life that spring day, the lyrics spurred my soul into a primitive gesture. Even now, 43 years later, I acknowledge that the incident was liberating, giving my spirit renewed brilliance.
How could I have known in those whimsical moments that the greatest storms of my life were in my future? Ahead were impossible situations that would leave me with deep levels of anger and depression, feelings of isolation, abandonment and guilt, followed by a victim mentality. I am writing this to help others to find internal peace. A peace beyond life experiences and circumstances, a kind of peace that, in those days, I did not think was possible.
Beyond the surfin', Motown, Beatles and bubblegum songs of the early '60s emerged a stream of innovative groups that were sympathetic and relevant. Without the aid of push-button synthesizers, these innovative bands with their distinctive melodies proclaimed the soundtrack of our lives, sounding out contemporary struggles and issues. One of pop music's great lesser-known heroes was Tommy James, with his band, the Shondells, who recorded an impressive and nearly seamless string of hit singles in the late '60s and early '70s. Often, the Shondells' hits climbed to the top of the charts, landing alongside such acts as The Beatles, The Beach Boys and The Rolling Stones.
An online interview* with Tommy James reveals details about the song. "'Crystal Blue' was interesting. First of all, I was becoming a Christian at that time, and we never thought a thing about it. We never thought that doing something semi-religious was any big deal. We didn't think of it as being politically incorrect or anything like that. We just did what felt right. I wrote 'Crystal Blue Persuasion' with Eddie Gray and Mike Vale. Eddie came up with the little guitar riff, and Mike and I did the lyrics. And it just felt very right as a sort of semi-religious poetic song, but it turned out to be one of the hardest records I've ever made." James goes on to explain that the arrangement took weeks to perfect. He painstakingly removed several instruments from the original recording, until the gentle, spacious sound he'd envisioned was accomplished.
Gaining the respect of his musical contemporaries, Tommy James and the Shondells hammered out hit after hit including 23 gold records in all—"Hanky Panky," "Crimson and Clover," "I Think We're Alone Now" and "Sweet Cherry Wine," just to name a few. But it was "Crystal Blue Persuasion," written as the band was converting to Christianity, that was birthed out of a "crisis of belief."
Plummeting into drug and alcohol abuse, a despondent James found himself alone in a hotel room, a victim of the greed and exploitation in the music industry. Rock 'n' roll was well on its way to derailing his life. He cried out, "God, talk to me somewhere!" opened a drawer and pulled out a Gideon Bible. He began reading the book of Ezekiel. At the time James was fascinated by the possibility of UFOs, so he was blown away with the celestial imagery.
In February 2010, an autobiography of James was published: Me, the Mob, and the Music. When the strong-armed Morris Levy of the mob-controlled Roulette Records refused to pay the band and all those who signed with Roulette, James fell into despair and hopelessness. He estimated the company owed him and the band between $30 and $40 million in royalties, which he never received. James describes this experience as "trying to take a bone from a Doberman." Trying to cope with the mob and coming up with pressure of the next hit, he did what many musicians do, filled his life with years of pills, booze and dysfunction.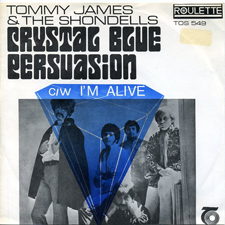 Now, here is the rest of the story. Just as "Crystal Blue Persuasion" was becoming a No. 1 hit in the late summer of 1969, James was asked if "Crystal Blue" is a reference to the Book of Revelation.  He replied, "Yes, it is. It's out of the Bible. The imagery was right out of chapter 19 of the Book of Revelation, about the lake of crystal, and just what John sees. The imagery was just right there. 'Crystal blue persuasion,' although those words aren't used together, it was what the image meant to me."
The lyrics, "It's a new vibration," are about James becoming Christian, but many listeners had their own interpretation. He explained: "Of course, everybody thinks if they don't understand what you're talking about it must be about drugs. But it wasn't. We were going through a real interesting time back then, and a very wonderful time. Everybody in the band, by the way, became Christian. And we're very proud of it. And 'Crystal Blue Persuasion' was sort of our way of saying that in a kind of pop-record way."
The song was peaking on the charts at the time now-legendary Woodstock festival was being organized. Tommy James and the Shondells were invited to appear, but, as Tommy explains, "Like dopes we turned it down. I gotta tell you what—we were in Hawaii at the foot of Diamond Head. This was in August of '69, and we played a date in Hilo, and then we had two weeks off and then we were gonna play in Honolulu. They put us at these gorgeous mansions at the foot of Diamond Head, right on the ocean. And our biggest decision of the day was, do I go in the ocean or in the swimming pool? We were sitting around drinking margaritas, and it was wonderful.
"And I get this call from JoAnn, my secretary, and she said, 'Artie Kornfeld was up.' Artie Kornfeld was one of the principals at Woodstock, and he was also a friend of mine. He produced The Cowsills and a whole bunch of other acts, and he was a very successful producer. And so she said, 'Artie was up and asked if you could play at this pig farm up in upstate New York.' And I said, 'Did I hear you right? Did you say would I leave paradise, fly 6,000 miles, and play a pig farm? Is that what you just asked me?' She said, 'Well, you could put it like that, but it's gonna be a big show. It's important.' I said, 'Well, I'll tell you what, if I'm not there, start without us, will you please?' And I hung up the phone. And they did. And by Thursday of that week we knew we messed up really bad."
In August of 1969, the Shondells and the soft, rhythmic strains of "Crystal Blue Persuasion" might have calmed the moments of restless paranoia lurking just under the surface of the seemingly groovy youth culture at Woodstock, which by most reports was largely a peaceful, if self-indulgent, gathering. An intermission from the jangling guitars would have made a great message for the festival and the nation. However, the song continues to be a national treasure inspired from that intuitive voice within.
Have you come to that place where your old ways just don't work anymore? Has life's insanity prompted you to create a fantasy based on magical thinking? Do "if onlys" and "shoulda/couldas" replace broken promises and dreams? In my days without God, anxiety dominated my thoughts, distorted my perceptions and paralyzed my actions. The insanity did not stop until I admitted I was powerless, realized that a power greater than myself could help me recover. Even the ability to form such beliefs is the mark of God's image in our life—"crystal blue persuasion."
Better get ready, gonna see the light
Love, love is the answer, and that's all right
So don't you give up now, so easy to find
Just look to your soul and open your mind
Interestingly, the universal aspects of the color blue—covering the blue skies above, the deep blue seas beneath and every shade in between—symbolizes God's Presence all around us. This Presence is total Love and only asks us to believe! Somehow, our physical senses are hushed! The earth is connected to true healing, and we are made alive and new!
Maybe tomorrow, when He looks down
On every green field and every town
All of his children, in every nation
There'll be peace and good, brotherhood . . .
Crystal blue persuasion
A song ahead of 40 years ahead of its time! If you have an old, dusty vinyl copy, pull it out, play it, or find a version on the Internet. PLAY IT LOUD! . . . and barefoot.
*Interview excerpts are from an original piece posted on songfacts.com.