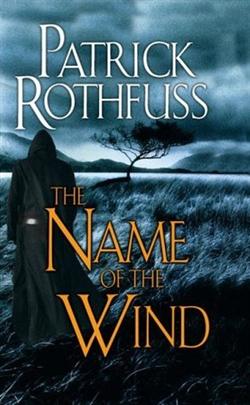 Review by Laura Beth Payne
When I sat down to begin this review, a huge gust of wind stormed the house and set the windows rattling with a howl. I suppose that's about as good a place to begin as any for this book.
The Name of the Wind is the first in Patrick Rothfuss' Kingkiller fantasy series. Though set in a world unto its own, its Medieval style rings with the voices of booming innkeepers, pale chroniclers, swarthy knights and cruel knaves. In this setting, education is a prize, not a right, songs and storytelling are the main entertainments, and the spirit world is interwoven with the physical.
The tale is narrated by Kvothe, the hero of mysterious legends who by all appearances has settled into the role of humble innkeeper of the Waystone Inn. A chronicler finds Kvothe and persuades him to share his stories. As the tales begin, a flicker comes back to the red-haired innkeeper's eyes.
Kvothe's story begins with his education by a tutor, Ben, who travels with Kvothe's troubadour family to teach him the classical subjects of logic, rhetoric, mathematics and alchemy. Their relationship is interrupted by Ben's sudden departure and the killing of Kvothe's family by the evil Chandrian, a demon race. Kvothe's only salvation is to escape to the University where he will learn the "name of things" and find a way to conquer the evil that destroyed his family.
He progresses quickly at the University, making him an object of suspicion by many of the teachers and of jealousy by many students yet a firm friend with others. His story is punctuated by his musical successes at the local inns where he is rewarded for his talents and swept into the path of the beautiful but mysterious Denna, who joins him in his search for the Chandrian.
Lest readers sense too many Potter-esque similarities (a young boy and Hogwarts . . . I mean University), rest assured that the stories are disparate. Whereas fantasy tales in the manner of Rowling and Tolkien concern themselves with the fate of all mankind, Rothfuss is concerned for Kvothe and the nature of legends and the making of stories. Kvothe himself is a legend, a story of stories, and like the chronicler, we must listen to them all in order to understand the one.
The story within a story setting is bewitching, lulling the reader into another age where stories are woven and sung in front of roaring fires and along dusty roads. Like Tolkien, Rothfuss' witty wordplay in double entendres and phonetic spellings (nods to Old English and Latin) create a game between author and reader. Just like Kvothe, the reader must learn to recognize the names of things too. Creative types will appreciate Rothfuss' view of the artist and muse throughout the book, and all lovers of a good story need only let Kvothe weave his yarn to revel in the words, the songs, and the wind.