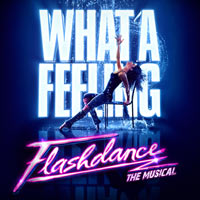 The '80s had a lot to offer: an undying sense of hope, a passion for music and a flashy and over-the-top sense of style.
Enter Flashdance, the adaptation of the iconic film that rounds out the Broadway showcase of the 2013 Broadway at TPAC year. We all know the story, but in case you've been living under your pet rock for the last few decades, Flashdance is the tale of Alex Owens, the untamable tomboy/working-class girl who welds with the men and dances with the ladies at night, all the while looking for love and wanting to follow her dreams by getting into a prestigious dance academy. While trying to find love, she finds romance in her boss, the person who symbolizes everything she stands against but loves her the most.
This play exudes energy, with big songs and dance numbers that exhibit a sexy boldness that later decades have yet to repeat. And since the '80s was a decade of "big," the energy is only complimented by the show's other components: sets that somehow replicate two sleazy men's clubs, a downtown set piece, Hurley Steel, Shipley Dance Academy and a retiree's home, thanks to lighting design that bring the magic of the drama to life. (I'd like to point out that audience members for every TPAC show comment on the sets, but this set really wowed fellow audience members and critics alike).
Emily Padgett gives a performance you can only see in live theater, every bit as endearing as you'd want from any leading character. And while the whole cast was on par, Padgett's presence fills the theater, demanding your attention.
The only real down point of the show was that the lyrics were a little hard to hear over the music (based on the performances), and there seemed to be one or two moments in the show that felt like they were going to lead to big musical numbers, but were actually reserved. But those are minor flaws in an otherwise wonderful production that manages to embrace the 1980s while maintaining an identity still relevant to the present.
Oh, and the infamous "water bucket" scene was actually topped with a scene bigger and better than the movie. Seriously, I think some people in the back row got splashed.
Tickets for this show as well as additional information can be found at tpac.org. This show runs through March 24, and is a lot of fun, so see it while you can.
Also, TPAC will be hosting an event on April 16 to announce its showcase for the 2013-14 Broadway season. Come join the party to celebrate!