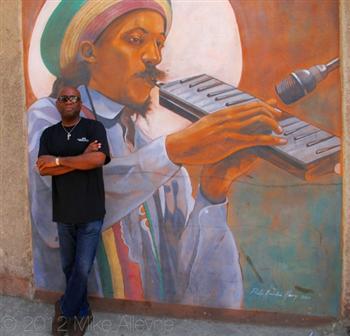 Released in November 2012 by Sterling Publishing, The Encyclopedia of Reggae: The Golden Age of Roots Reggae is the new work of Dr. Mike Alleyne. An MTSU professor in the Recording Industry department for the past 13 years, Alleyne spent the past two researching and writing the encyclopedia using his background as a music journalist and experiences teaching in the Caribbean, England, Sweden and Germany in addition to MTSU. Here, he discusses the book and how his intercultural experiences fed into its writing.
What inspired you to write this encyclopedia?
I wanted a volume that has most of the information condensed into one book. It's not the first attempt to write an encyclopedia of reggae, but other publications are way out of date. This coincided with a publisher who had the same idea and was looking for an author to fulfill the project. Without the publisher, it would have been difficult to make it happen in full color the way it has, using the most crucial reggae archives.
What did you want this encyclopedia to have that other publications lacked?
Accuracy. I understand it's very difficult for anyone, myself included, to get everything right. Also, many of those publications had been outsourced to a number of different writers with one central editor. Because of that, there were a number of historical contradictions, so I wanted to make something with one author. In addition, the other volumes didn't have the visual landscape that helps to communicate the nature of reggae culture. It's very difficult to get the full flavor of the music just reading print as opposed to having photos of the artist or the studios in which they recorded or anything that represents their world. I had the desire to create something I hoped would be more fully formed and more effective in communicating aspects of reggae culture. I would say there's an academic perspective, but this was not written to be a purely academic text. The intent was to have that kind of analysis, but communicate the ideas in a more accessible way.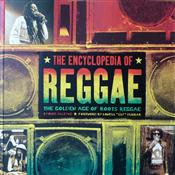 How is the encyclopedia arranged?
The entries are alphabetical. However, it also includes a number of sidebars that deal with larger issues associated with reggae. There's a segment on Jamaican politics, which has a lot to do with reggae. A segment on Rastafarianism. One that deals with Dub. There's a segment in the book on album cover designers.
Tell me about the research process. How did you collect your information?
I was not personally responsible for sourcing photos. Sterling hired a production company, Sideshow Books, who were responsible for going through extensive archives and licensing material and designing layout. It is a very daunting task to try and write an encyclopedia. While I was able to use some print sources, one has to bear in mind that a lot of those conflict on historical details and dates. You really have a problem finding any single source that has all the information you need. There was a lot of cross-referencing. Over the years, I've conducted a lot of interviews with musicians and producers, and I was able to draw on my own research. I also had to use newspapers, magazines and other books and try to extrapolate something that appeared to be the truth.
How long did you work on this book?
The agreement between the publisher and myself was made in 2010. In theory, it took two years to put together. The reality is you can probably add at least 40 years to that two years, because in that time I was accumulating data I never knew would be used. You have to go back to the late '60s, when I was growing up in London and reggae first debuted. It's been through several phases. By '68, it was a primary form of Jamaican pop music and established a national foothold in the UK.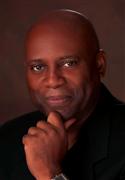 How have your teaching experiences and previous writing experiences influenced the writing of this book?
A lot of what I've written on reggae was about its commercialization. The normal cycle in pop music generally is that in order to make a type of music a mass commodity, it usually has to be diluted in some way. It doesn't have to be that way, but it usually does become diluted. So I wanted to explore that process by having what I guess you'd call case studies of particular artists and what happened over the course of their careers as they became more associated with major labels and how that seemed to parallel a creative decline. I would say that that phase of writing had a great deal to do with the angle I took on reggae in this book, which is not necessarily the angle that other writers have taken. As for the teaching aspect, that influenced the book, too. So did the writings about reggae I've had published in academic journals. I used to work in radio before falling into the academic world, so there are lots of different aspects that have led me to form a perspective on reggae music.
What draws you to that particular genre?
Reggae is more than just a music. It represents a whole culture. When you look at the lyrical and sonic content of reggae in the golden age, which was in the '70s, that material is very cultural, very spiritual and extremely creative. There are a lot of intangible elements that fit into it. You can teach someone the mechanics of a musical style, but they still have to feel it, and part of that feeling comes from a connection with the culture out of which the music arises. So the musicians have to have some experience of the world they're representing in the music. You can't teach someone that; they have to live it. I also say that I think the reggae subgenre of Dub is one of the most important music forms ever. That established a lot of precedence for electronic ambient music with its textures and use of space, long before we had digital synthesizers and it was trendy to have ambient music; before regular use of the term "remix," which comes out of Dub itself. This music style was many decades ahead of itself then, and it still is. That, for me, is the most appealing dimension of reggae, because it's just so progressive and done on very limited equipment compared to what was the norm in British and American studios in the early '70s.
The Encyclopedia of Reggae is available at Barnes & Noble and many other online retailers.