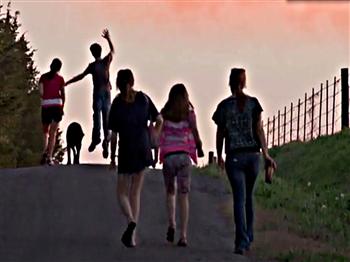 The Children Next Door by Lynda Hansen
Showing at 5:15 p.m., Wednesday, April 24, as part of the 2013 Nashville Film Festival Tennessee First Shorts program
How would you describe your film?
The film, told through the eyes of a child, takes us on a family's journey to overcome years of experiencing domestic violence and the atrocity of one horrific incident that shattered their world. The Children Next Door opens five-and-a-half years later as the family continues to struggle with the impact of the violence that shaped their lives. Within three short months, we witness an astonishing turn of events.
What challenges did you/your crew encounter while making the movie?
Penny Waldroup and her children were simply wonderful to work with. It took a day for Chelsea to warm up to the camera, but when she did, she was with us all the way. Our director, Doug Block, and I were constantly amazed by how smoothly our shoots were going. But, then, suddenly, we had a huge surprise from within the family. Although surprises are at the core of documentary filmmaking, this one jolted us. Without giving the story away, we were stymied as to how to move forward. We met the challenge head on allowing the Waldroup's story to reveal itself as it continued to take its natural course. Thanks to the "jolt," we believe the film is stronger than it would have been as we envisioned it early on. We consider ourselves fortunate that over the course of the five months of shooting (five three-day shoots in all), we experienced an unusual number of twists and turns with the Waldroup family. These shifts are expected in working over several years or more on a feature length documentary but are unusual in a short doc with a short shooting time.
What attracts you to the medium of film, as opposed to other forms of art?
Discovery and knowledge serve as counterpoints to great on-camera subjects who are essential to a doc. I love working with visuals and real people who have great stories to tell.
I produced, directed, shot and edited a half-hour documentary when I was starting out and then became involved in other aspects of independent film that grabbed me. I've worked with the Berlin Festival, with the Hamptons Film Festival as Program Director. I launched and co-chaired an essential and popular screening series, First Look, with Tribeca, Kodak and NYFA. It ran until the Tribeca Entreprises started the Tribeca Film Festival. I've worked as an adviser on hundreds of award-winning films, with some of our great filmmakers of this era (Errol Morris, Joe Berlinger, Jennifer Fox, to name a few), and continue to advise today. As well, I co-produced the multiple award winning film Ruthie and Connie: Every Room in the House, which premiered in at the Berlinale. In producing The Children Next Door, I felt  as though I had hardly skipped a beat between my first film and this one. Film-making is an exhilarating medium for me to work in  I'm now developing several projects and will continue to produce. It's my passion.
I reach many high points (and a few low ones) in working on The Children Next Door. my high points began first with the pleasure of working with Doug Block, a consummate filmmaker, and with our entire team. Federico Rosensvit, our editor was a find for us. Our music and sound design beautifully underscore the feelings of family members and our thematic structure. Taylor Deupree created the original score, and Taylor and Marc Weidenbaum created the sound design. Without The Waldroups, we'd have no film. They've become family. I honor their bravery, their humanity, and am deeply grateful they agreed to open themselves up on camera—and that they did! Perfection. You can't get this in writing at home.
What inspires/influences you?
Great art whether music, film, theater, literature or the fine arts. Great people and great minds. Make me think, and I'm a new person every single day. A great novel, painting, film, the beauty of a sunset, sunrise, dew, romance, bravery, beauty.
In the process of film-making, how much of the creativity is found in production? How much improvisation do you find on set?
As our film is a doc, we began with some ideas in mind, but we followed the flow. Every moment of shooting was a creative one. Improv is a hallmark of doc making.
How did you learn your craft?
My degrees are in comparative literature and theater. Then I learned story structure. How did I learn my craft? By doing it.
How long have you been working in motion pictures?
Twenty-five years.
What advice do you have to aspiring filmmakers?
Work on your film until you are sure it's the best it can be. Have others (professionals and non professionals) see it as a rough cut. Listen to their comments. Take what you believe works for your film and let the rest go. Do not submit a rough cut to festivals.
If your first film isn't invited to festivals, but you believe in it, try alternative routes. Above all, move on to your next film and the next. Surround yourself with a talented crew that you can count on to support your work.