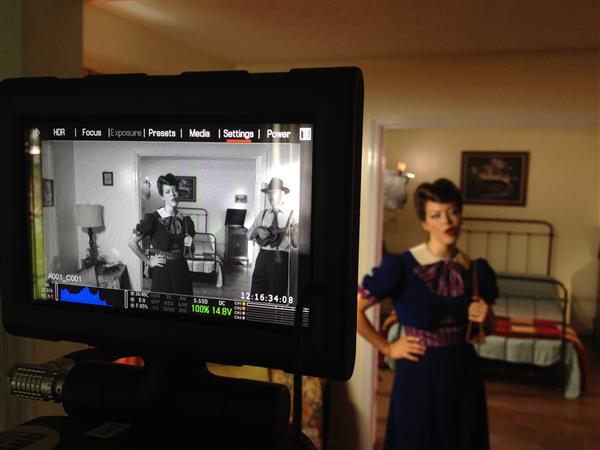 Whether You Like It Or Not by Wes Edwards
Showing at 5 p.m., Wednesday, April 24, as part of the 2013 Nashville Film Festival Tennessee First Shorts program
How would you describe your film?
Whether You Like It Or Not is a 1940s-era musical comedy short. The lead character, Charlotte (Marin Miller) is almost like a female version of Pepe Le Pew. She's determined to win the heart of Alexander (Matt Lindahl) after he picks up her handkerchief for her on the street.
What challenges did you/your crew encounter while making the movie?
A shoot is always challenging. If you're comfortable on set, something is probably wrong. We shot this film in August, so the heat was definitely a challenge to deal with. We shot a tap-dance sequence in the film and it was so hot that by the time we wrapped, our poor lead Matt Lindahl was dripping sweat. He looked like he had taken a shower in his suit. It's amazing how much black and white hides though. Everyone looks comfortable in grayscale, but we were melting on set. It was also a 1940s period piece so we had several great takes that were blown when a modern car would drive through the background. All in all though, the experience on set was very collaborative and happy. It didn't feel like too much of a struggle.
What attracts you to the medium of film, as opposed to other forms of art?
It's difficult for me to pin down exactly why I was initially attracted to the medium of film, but I know that movies were an important part of my childhood. I also love that one of the cardinal rules in film is simply not to be boring. I also love the collaborative aspect of film and the interaction with other artists. For me, film is not something entirely separate from other forms of art, but a blend of writing, performance, photography and music. I'm also a bit of a nerd, so I'm drawn to the technical aspects of film-making.
What inspires/influences you?
I love well-told stories, so I'm always inspired when I get to experience a story that draws me in and hits me on an emotional level, whether it's an article, short story, news story, book or film. It's very inspiring because that's the essence of what I'm trying to accomplish.
Are there any particular genres you favor over others?
Lately I find myself drawn to stories that evoke suspense: mysteries, thrillers, heist films, conspiracy films. I also love coming-of-age stories and comedies.
In the process of film-making, how much of the creativity is found in production? How much improvisation do you find on set?
I usually have a definite shot list or storyboard going into a short film, but on Whether You Like It Or Not, I didn't have any of that, so it really all came together on set. It was extremely refreshing to work that way. I would rehearse and block the scenes with the actors, making notes on where camera positions should be as the actors worked out the details of their performance. Marin and Matt are such pros and extremely responsive to suggestions, so during filming I would sometimes adjust the camera for their performance and sometimes they would adjust their performance for the camera. Making this film was an exhilarating creative experience. But just like any production we were limited by time and money. I think film-making is a bit like surfing, you have to ride the wave or you'll get crushed by it. It's important to know when you have a take, what you can fix in post, and what you really don't need to begin with.
How did you learn your craft?
I studied Mass Communications at MTSU, and I took a summer course in music video production at The University of Southern California, but learning my craft began at age 12 when I started making videos with my friends and never stopped. I continue to learn my craft every day.
On what projects are you currently working?
I work out of a production company called Ruckus Film in Nashville and they keep me busy with music videos and commercial directing work throughout the year. I've written a film about bullying called Takedown that I intend to get made as soon as possible.
What would you say of the place motion pictures have in our culture?
I think film is a powerful medium and has the ability to change lives. That said, I think motion pictures in our culture are primarily a form of entertainment and escape, and important for that very reason.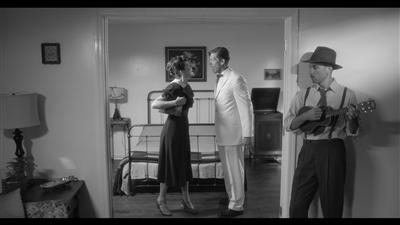 In terms of motion picture production, what would you like to see from the state of Tennessee? What advantages does the state currently have, and how do you think it could improve?
I know that there is an incentive plan in Tennessee for productions that meet the guidelines, but right now from what little I know about it, states like Louisiana and Georgia are much more economically attractive in terms of how the tax credits and incentives are structured. Production seems healthy in Tennessee. The show Nashville shoots here, and quite a few features were shot here last year, including The Identical with Ashley Judd and Ray Liotta. Of course I'd love to see Tennessee become more competitive in terms of their film incentives. We have fantastic crew and locations here.
How long have you been working in motion pictures?
I've been involved in the Nashville film community for about 10 years.
What themes do you like to explore in film?
I like universal themes: love, friendship, sacrifice.
What advice do you have to aspiring filmmakers?
Start making things. You don't need anyone's permission to be a filmmaker. Just go make amazing films. Show them. Make more. Keep learning. Eventually, you'll get good and make money doing it.
What do you see as the future of film?
On the independent side, I'm excited by some of the new cameras that will make it more economically feasible for independent filmmakers to tell their stories with extremely high production quality. I also think the internet will continue to grow as a distribution platform. In the blockbuster realm, technology has already made it possible to create literally anything with photo-realism, and often in 3D. This will only get better and more immersive as an experience. So I think technology will change the way people make and consume movies, but I think the future of film, at it's core will be the same as it's been for the last 100 years: a good story, well told.