We made a decision to turn our lives and our wills over to the care of God.
Against a turbulent background of a country going wild—the assassination of John F. Kennedy, racial violence and Vietnam—emerged some of the most thought-driven music ever recorded. In 1964, Roger McGuinn (lead guitar and vocals), Gene Clark, (tambourine and vocals), David Crosby (rhythm guitar and vocals), Chris Hillman (bass guitar and vocals) and Michael Clarke (drums) formed The Byrds, arguably one of the most influential bands of that era.
The hysteria surrounding the Beatles and the subsequent void of suitable U.S. counterparts knocked the American music industry for a loop. In early 1965, Beatlemania and the British Invasion resulted in the Top 5 records in the U.S. being recorded in Britain. The songs were so energized that it put an end to the folk music craze in place at the time. Something had to give. So refugee folk artists like Roger McGuinn, Gene Clark and David Crosby surfaced from their acoustic roots, grabbed electric guitars, let their hair grow, and unintentionally began a transformative effort to reclaim significance in the American music scene. It became apparent that if music was going to have importance and meaning again, there had to be change. Left to its own devices, it risked becoming merely an imitation  of the Beatles' sound.
Although session musicians were used on their landmark debut hit, with only Roger McGuinn allowed to play on the recording, The Byrds were well on their way with their debut album and its Bob Dylan-penned title track, "Mr. Tambourine Man" Topping the charts in the summer of 1965, "Mr. Tambourine Man," ornamented with McGuinn's jangling 12-string Rickenbacker guitar, was clearly distinctive and identifiable. No doubt the folk-rock genre had been born melding the influences of folk and rock 'n' roll.
By the mid-'60s, trapped in old paradigms, American rock 'n' roll had become more playful than substantive. Serious musicians considered it to be dismissible. The Byrds, in a not-so-typical rock style, blended soft, rhythm-fueled tones with intense and purposeful lyrics, becoming America's most dominant band and inspiring such future bands as Jefferson Airplane, Tom Petty and the Heartbreakers, The Pretenders  and R.E.M. Coming from the California folk scene, The Byrds could scarcely help but create a new sub-genre with each new original song,  including raga-flavored psychedelic rock ("Eight Miles High"). The Byrds had become America's answer to Beatlemania, defining groundbreaking new sounds and energizing America's music scene.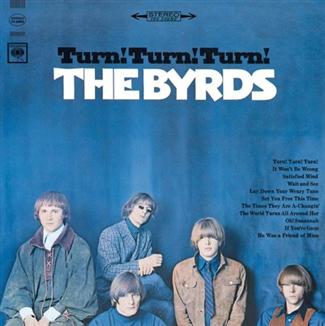 In the United States, amid an emerging counterculture, the year 1965 became characterized by great social tumult. In October of that year, alongside the backdrop of race riots and war demonstrations,  came The Byrds' third single, "Turn, Turn, Turn" ("To Everything There Is a Season"). The song's plea for peace and tolerance was in keeping with the sentiment at the time. This slightly simplistic folk song was adapted from a song by prominent folk musician Pete Seeger. With its angelic harmonies and jangling guitar riffs, the song was inspired entirely from the book of Ecclesiastes in the Bible with the exception of the last line, which was added by Seeger. Sounding like a folk/rock hybrid, The Byrds began having a wider appeal, validating the disposition of the day. Crossing the demographic lines, "Turn, Turn, Turn" and its passionate message became an anthem for peace.
Although few of their contemporaries can claim to have made a greater impact on pop culture than The Byrds, these one-time rock gurus turned to drugs, not God, despite their Biblical lyrical references, and were destined to descend from their lofty pop-music perch. As McGuinn would tell People magazine in 1979, musical success made it all too easy to feel like part of an elite cult. So The Byrds, along with many of their devoted followers, fell into decadence and superficiality. Songs like "Eight Miles High" became drug-culture anthems and transformed The Byrds into drug-culture folk heroes. The consequences were death and destruction for founding members Gene Clark (dead at 46) and Michael Clarke (dead at 47). Transitional Byrds member and country-rock pioneer Gram Parsons died at 26, ending his soaring career.  All three met their premature demise due to health complications linked to either alcohol or drug abuse.
McGuinn, presently a devoted, practicing Christian, recalled his experience in his 1979 interview with People: "In the bad old days those rituals were 20 acid trips, daily pints of booze, breakfast of potent grass, and eventually, a frightening reliance on cocaine."
Most of the original band members' energies, including Roger, David, Gene, Michael, to some extent Chris and eventually Gram, were consumed with the next score and a life dominated by tormenting paranoia. All of their personal lives were strewn with broken relationships and turmoil. So, by the end of the decade, most of The Byrds had flown the coop with the band's characteristic genius in shambles. The founding members had created such a unique band and probably could've gone onto much greater heights and garnered far more success as The Byrds,  had addictions not caused the band to prematurely implode.
In a 2008 interview, founding Byrds member Chris Hillman, said, "I don't know if God put me in that position to be a voice of reason. I don't know to this day. I often wonder how I didn't end up a statistic 30 years ago."
An Up-Close and Personal Epilogue:
Blurry eyed from lack of sleep, the storm clouds of life have converged on the horizon, leaving one battered and bruised soul. With defiant, willful determination, still you fight, hoping for a better day, yet your thoughts are as black as midnight. Visible are billowy gray clouds, dark as coal blending into a blazoned sky of orange and reds streaked with blue. Exhausted, you rock and roll, reeling from life, hoping against hope weary-eyed as you stare into a fierce wind. For so long your destiny has been determined by wrong decisions, one after another. You need meaning and purpose as you fearfully grit your teeth and huddle, waiting for the next struggle. Time passes; days melt into weeks, months into years. Will help ever arrive? Your thoughts begin to turn to images of a different life. If that is to happen, there must be change and perhaps that change is indeed a "turn." Finally comes the revelation, "My destiny is determined by my decisions, one choice at a time."
So, you turn—turn to a Power greater than yourself who can help you make sense out of all this. Moments later, the storm subsides and the clouds dissipate, leaving your mind in peace. Although there are many life-storms ahead, the clouds begin to break forth and in bright sunlight, you see and welcome the many veterans that have passed this way. They are there to surround you and show you the way to the calm and tranquil.
My friends, let God's love surround you and unveil a new life filled with significance! In my experience, I have found that my relationship with the One and Only Higher Power, Jesus Christ, has lifted me up and above my life circumstances. This paradigm shift continues to revolutionize my focus from the nagging and gnawing of my obsessions and compulsions. Everyone has a life-or-death decision. All of us have been created with the supreme privilege of "free will"—the right to choose. In fact, God will protect and respect our right to choose. The decision to turn my will and life over to the care to God was overwhelming yet assuring. There is only One who can help us recover from life's hurts, habits and hang-ups. As I have learned to turn my will over to God one step at a time, I have found Him trustworthy, a shelter, a refuge from the storms of life. Stop the struggle! I highly recommend that you "turn, turn, turn" your life over to His care!
In 2004, my desire to increase my knowledge of God and his ways led me to a group at Belle Aire Baptist Church called Celebrate Recovery. The purpose of Celebrate Recovery is to encourage fellowship and to celebrate God's healing power in our lives as we work our way along the road to recovery. Celebrate Recovery is an amazing spiritual adventure that provides a safe place to share. Amazingly enough, by working through the program and applying the principles, one begins to understand the power of God and is changed, spiritually freed from life's hurts, habits and hang-ups.
Celebrate Recovery is that safe-place where people can remove the mask of denial and be open and honest. If you are interested in finally dealing with the pain of your past, there are people who will stand with you as the truth becomes a way of life. In Celebrate Recovery, where anonymity and confidentiality are basic requirements, one can address life's hurts, habits and hang-ups utilizing biblical truths. One can find change in a personal relationship with Jesus Christ, the one and only Higher Power. There are now three Celebrate Recovery meetings in Murfreesboro, one every Monday at North Boulevard Church of Christ, 1112 Rutherford Blvd. at 7 p.m.; one every Tuesday at 7 p.m. at Belle Aire Baptist Church, 1307 Rutherford Blvd.; and another every Thursday at 7 p.m. at New Vision Baptist Church, 1750 Thompson Lane. For more information about the ministry call Tom Christy at (615) 896-6288.