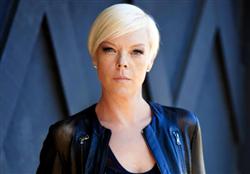 One local barber shop will be featured on a national television show, Tabatha Takes Over. Nexgen Barber Shop on Old Fort Parkway received a renovation in an episode of the show, and the shop is already reaping the benefits.
Tabatha Takes Over, a reality television show on Bravo, features Tabatha Coffey taking over small, struggling businesses. She assesses the problems, renovates and gives advice before leaving. This season of Tabatha Takes Over will begin April 4, and the episode featuring Nexgen will air on April 25.
The change has made a visible difference at the barber shop. The new paint, floors, chairs and paintings make the place seem new.
"They came in and revamped everything, but still kept us looking similar to what we were," said Nexgen owner Michael Garcia.
After a rough year, which included leaving the business for nine months to help tornado victims in Alabama, Michael and Layla Garcia lost their entire staff and manager.
"We're going to be okay," Layla said after the renovation. "It kind of changed everything."
"We're picking up," said Michael. "It brings that buzz back in."
It began while sitting at the dining room table one day. The couple received a phone call from L.A.
"Who do we know from L.A.?" Mike said. "Nobody," Layla replied. "Just answer it and see." And that was the call that would start the long process of filming a national television show.
"You never think this is something you're going to be doing," Layla said.
The television crew was there for five weeks before the actual filming, watching and studying them. "Everything about it is just different," Michael said. "It's very stressful," Layla added.
The actual filming took about a week.
"It takes some time getting used to," Mike said, "having cameras all in your face."
Despite the stress, the change brought a lot of confidence back into the shop and the barbers. The change made Nexgen unlike a regular barber shop.
"We feel like we're a higher class, upscale barbershop. We're tradition meeting modern man," Michael said. All the guys at the shop wear a dress shirt, tie and vest "to bring a more upscale feel to Murfreesboro with the barber shop," Michael said.
Nexgen will also be carrying a lot of high-class shaving creams like Dreadnought, Truefitt & Hill and D.R. Harris.
"Our exposure to the show actually gave us the favor to do that," Layla said. "We never would have been able to do that without the show."
Nexgen's signature nine-step shave uses seven hot towels, each with different oils. The relaxing shave takes anywhere from 30 to 45 minutes. The shaving brushes, razors, and other products will be available for sale as well.
"We call it an experience, not just a haircut," Michael said. "A dad and son can come in, have a root beer together, have a haircut and have those memories."
Nexgen is located at 2705-B Old Fort Parkway, Murfreesboro. They are open Monday-Friday 9 a.m.-7 p.m. and Saturday 8 a.m.-4 p.m. They can be reached at (615) 907-4006.