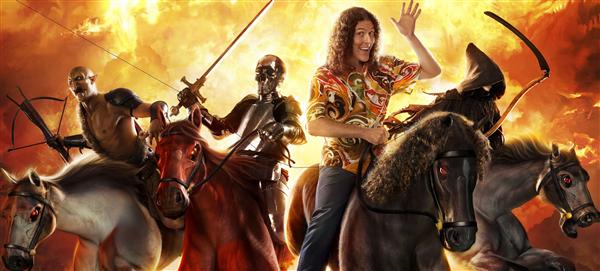 Weird Al Yankovic, now in his fourth decade of making music fans laugh and the highest-selling comedy artist of all time, will appear in Middle Tennessee twice over the next couple of months: at Nashville's TPAC April 18 (view images from that performance here:)
and at Manchester's Bonnaroo in June.
Pulse reader Cody Moffit recently complimented Yankovic highly, calling him "the gateway drug to good music for young listeners." Since the early 1980s, the artist has touched on hundreds of popular songs through his parodies and polkas, causing many to seek out the original material.
The Murfreesboro Pulse recently spoke to Alfred about his upcoming performances in Middle Tennessee and his career in comedy.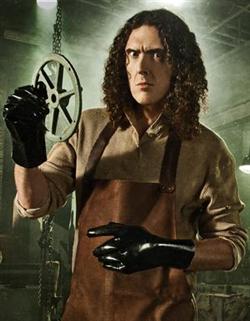 Pulse Publisher Bracken Mayo: Is it difficult to get the music industry and the average American to take you seriously as the accordion virtuoso you are, when so many simply perceive you as a sex symbol, just another pretty boy trying to get by on his good looks and cash in on his appearance?
Weird Al Yankovic: Yes, my stunning good looks have been a curse through my career. No one wants to laugh at my material because they're all so spellbound by my natural attractiveness. It's a curse I've had to live with, and I'm dealing with it in my own special way.
Justin Stokes: The world of music has evolved tremendously since you first started, from the days of Frank Zappa to now. Who in the world of comedy music do you currently follow? Are you an Epic Rap Battles of History fan? Is there someone you're really actively listening to?
Al: I try and keep my finger on the pulse, I listen to a lot of comedy, and there's a lot of stuff online. You mentioned Epic Rap Battles, Key of Awesome does some great stuff, I'm a big fan of The Lonely Island, and Tenacious D and Flight of the Conchords; there's a lot of really great stuff out there that I find very intellectual.
Justin: You mentioned Tenacious D, which brings me to my next question. You've been a part of several TV shows, Tenacious D was on Comedy Bang! Bang! with you. Are there any video projects you are working on? Could we expect a sequel to UHF anytime soon, a second sip from the fire hose?
Al: I wouldn't hold my breath on a UHF sequel. Although it has a rabid cult following it didn't do well at the box office in 1989. So I don't anticipate any major motion picture studio green-lighting a sequel on that. I've got several projects in various stages of development, but I'm unfortunately not at liberty to talk about them, because in Hollywood things can dry up and disappear. But hopefully there will be some things coming up in the not-too-distant future.
Justin: Tell us a little about the Alpocalypse Tour. What level of weirdness are you bringing to the Nashville area.
Al: I think the level of weirdness is going to be Code Orange. We're bring in some pretty severe weirdness to the area. There's going to be a ton of costume changes, I think we've got a few more than Lady Gaga at this point. A lot of production. We have some video bits going on on big LED screens. There's going to be a lot going on. There's never a dull moment.
Justin: We are just outside the capitol of country music; here in Murfreesboro we're just a stone's throw away from Music City. Can your fans expect a full country album anytime soon? When are we going to see you put on the chaps?
Al: I've done the occasional country homage. I've done the Achy Breaky Heart parody a number of years ago. I probably wouldn't do any full-on concept album like that because I like to keep things as eclectic as possible. I go from like a gangster rap song to a polka song to a reggae song to a zydeco song. Country is going to a part of the mix, but I don't think I'll ever do a full country album.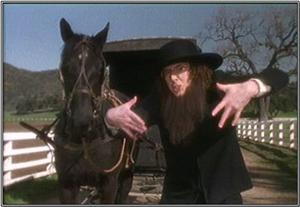 Bracken: And that's sort of the concept behind Bonnaroo, where you'll be appearing later this summer, and other festivals like that, where people can hear the Wu-Tang Clan and then Paul McCartney and then Weird Al all at the same location. It seems like you're a fan of nearly every genre out there and enjoy music of all types, and don't get hung up on one style of music.
Al: That's right, I feel very fortunate because a lot of artists are trapped in a very narrow genre and they're not even allowed by their fans to go outside of that. Where I can literally do any style of music that I feel like. I can be very impulsive and try a lot of different things. I feel very free that way.
Justin: Do you find yourself doing more digital stuff now? Where do you see yourself in a few years with your comedy albums, and how do you think music is progressing?
Al: I think we're in a cycle with a lot of pop music these days where we're doing a lot of synthesized music, and sequenced and heavily auto-tuned [music]. It's not my favorite, I mean, I appreciate it, but I like the music of the '70s and the '90s when it was more like musicians playing real instruments and the garage rock and indie scene and all that. A lot of the parodies we do now, my band doesn't even come with instruments, they come with discs, and say "I did this on the computer at home, here's my part." So that's probably going to go for a while longer. Hopefully it will revert back sometime in the future to a different style of music. That's the thing about pop culture, it's always changing and if you wait long enough it will be something different.
Bracken: Who is your favorite person who has sought legal action against you?
Al: Ha! Hmm, I can't think of anybody who's sought legal action against me. I always get permission before I do a parody, so there's never a reason for anyone to seek legal action.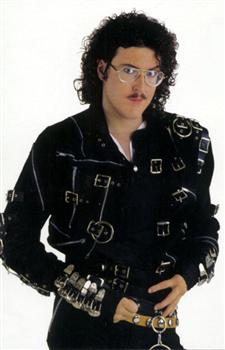 Bracken: So if you don't get permission, you just kind of drop it and say, "Well, I can't do that one" and move on to the next person rather than risking any sort of costly lawsuit?
Al: Yeah, that's exactly right. Because of fair use, and since the Supreme Court has ruled in favor of parody artists, ostensibly I could get away with doing whatever I wanted to do, but it's been a personal policy of mine that if the artist does not want me to do a parody I'll just back off because I don't want that kind of drama, I don't want those ill feelings. I think one of the reasons I've been able to hang around as long as I have in the industry is that I don't like to step on people's toes. I want to make sure everybody's OK and gets the joke. As it turns out it's very rare these days that an artist will say no, because most artists actually look at it as an homage, as a tribute.
Bracken: It seems like throughout your career you want to laugh with people, you're kind of a nice guy, you don't want to be hurtful with your comedy. You make fun of everyone in the world pretty much, but it's all about laughter and having a good time, rather than being hurtful. It seems like collaboration and working with the artists are important to you.
Al: I've had critics take me to task because my parody isn't all that biting, it's not like really hard satire. It's not about taking somebody down a few notches. I think it's more of a challenge to be funny and to laugh without cutting somebody off at the knees. I like to think of my humor as more a poke in the ribs than a kick in the butt.
Justin: Are there any genres with which you feel uncomfortable doing a parody?
Al: I'll try anything. I'm pretty shameless. I know my band is very talented and they can do anything I throw at them. I never thought I was a rapper until I tried rapping. I'm willing to try anything and give it my best shot. And sometimes that's where the humor comes from. I think when a lot of people responded to the Eat It video in 1984, here's this lanky white guy trying to dance like Michael Jackson. And I was really trying! I wasn't trying to look goofy, that was me trying the best I could.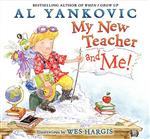 Justin: Is there anything else you'd like to plug or promote? What would you like to say to our readers?
Al: Oh, well, the album's been out for a while. The one thing I'd have to say is that I have a kids book coming out on June 25 called My New Teacher and Me from Harper Collins, it's available for pre-order on Amazon or wherever you like to buy your stuff. And I'm very excited about it, it's my second kids book and I'm very proud of it and hopefully some kid will be able to relate to that.
~~
Weird Al recently performed at the Tennessee Performing Arts Center on Thursday, April 18, but you can still catch him at the 2013 Bonnaroo festival, joining Tom Petty and the Heartbreakers, Paul McCartney, Nas, Edward Sharpe and the Magnetic Zeros, Wu-Tang Clan, The Polyphonic Spree, Bjork and many more. View the full lineup here.
Also, if you haven't seen it, check out Yankovic's appearance with Huey Lewis in this Funny or Die clip