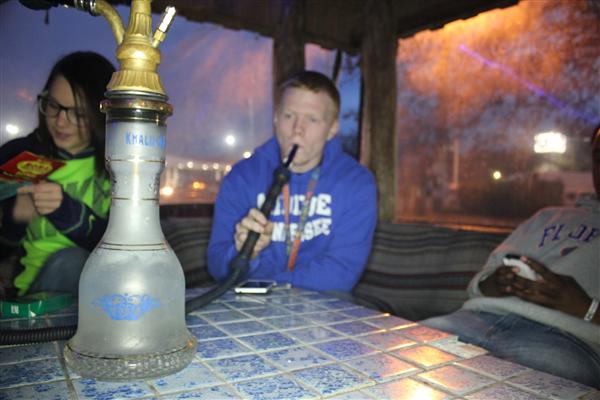 with Alex Richey
With the presence of MTSU, Murfreesboro's identity has largely transformed into that of a college town. Many of the 'Boro's inhabitants are young men and women looking to broaden their minds, expand their horizons and experience new things. It is this quest for identity that's helped shape Murfreesboro, diversifying many of the community's local restaurants from what we'd typically expect to an eclectic palette with tastes for almost everyone. The "meat and three" and "burger joints" from previous decades now share customers who also enjoy flavors of Latino, Asian and Italian cuisine. But what of the tastes from the Middle East? Many of Middle Tennessee's residents hail from Arab descent, with Nashville having a particularly large population of Kurdish immigrants. Their rich culture and heritage offer foods unlike any other, but many restaurants that serve their food still feel a bit "Americanized," like a fast-food version of the real thing. Where can one go if they're wanting the whole experience of the Middle East?
Mousa Abuqyas offers more than an answer to the question; he offers a solution. Formerly the proprietor of 'Boro favorite Tarboosh, Mousa has accomplished what many in a college town are looking to do: find a new identity. His restaurant, now called House of Hummus, offers a great late-night place (open until 5 a.m.) for college students to dine in and chill out.
The experience of House of Hummus starts in the parking lot, as soon as you get out of your car. The outside mural on the windows, the conversations in progress on the patio and the music feel like a hidden pocket of the 'Boro. Once inside, the establishment has a very informal nature. It's dark, with a run-down charm like your favorite pair of sneakers, or an older hang-out spot you'd expect to see in East Nashville. As much as the Pulse staff has frequented Mousa's restaurant, we've always been pleased with the service; the service and the atmosphere create a feeling that you're not dining at a business, but eating at a friend's house. You feel really welcome.
Beverages in the restaurant world are something to which many people don't pay attention, and even fewer are willing to venture beyond their areas of familiarity. Our staff is the opposite, always wanting to try the next new taste, which we were able to find in Turkish coffee. Many people claim they can make it, but it is the conclusion of our team that only the House of Hummus serves the real deal. It's a dark, sludgy delicacy and its warm sweetness will betray you if you drink too quickly, as the heat can turn your tastebuds into tar (a plight our entire team almost suffered). If you haven't had their Turkish and consider yourself a coffee fan, then you've sorely robbed yourself. Their tea—a very sweet, minty medley of jasmine and sage—is just as refreshing as the coffee, and is a special something we've only found at the House of Hummus. Their beverage selection is an all-star cast, only missing the beer of your choice (which you can provide yourself for a small container fee).
But what of the food? Our selection for appetizers was once again adventurous, as we collectively wanted to taste something different.
With the name like House of Hummus we had high expectations for the real thing. The expectations were met and passed tenfold. We couldn't help but notice how nicely the platter of hummus was decorated with drizzled olive oil and spices to garnish the edges. We took a few seconds to simply enjoy the sight, then we all grabbed a handful of nice, warm pita bread and dove right in. The warmness of the bread contrasted nicely with the coolness of the hummus and left a clean aftertaste that almost begged you to have more.
Next, we ordered a plate of grape leaves. Sometimes served hot, our order was served cold and wrapped over rice. Our feelings over this dish were mixed, as those who preferred the texture of seaweed salad, for instance, liked the cold tartness of the grape leaves. They had a pickly, vinegar taste and the texture of a Chinese dumpling. Other members were on the fence, not disapproving of the grape leaves but unable to recommend them.
We moved onward to the next item, from the Roma's Pizza portion of the menu.
To slide back into our comfort zone, we moved on to the main entrees. First we opted for the Philly Steak Pizza. We couldn't help but immediately notice the onions and bell peppers. Funny how the simple ingredients can be cooked so well to where just the right amount of bite enhances the taste and flavor and yet is so subtle it sparks your curiosity to take another bite. With the added garlic butter and pepperoncini peppers, this little touch only added to the already delicious pizza. Although slightly disappointed with the steak (or lack thereof) on the pizza, the vegetables kept us satisfied enough to recommend it to anyone looking for a good pizza. The shishkabob platter turned out to be my favorite of the night. A generous portion of meat grilled perfectly to a greasy finish was served over a bed of rice with a side bowl of tomatoes, onions and other vegetables to complement the meat with an almost sweet flavor and crunchy textures.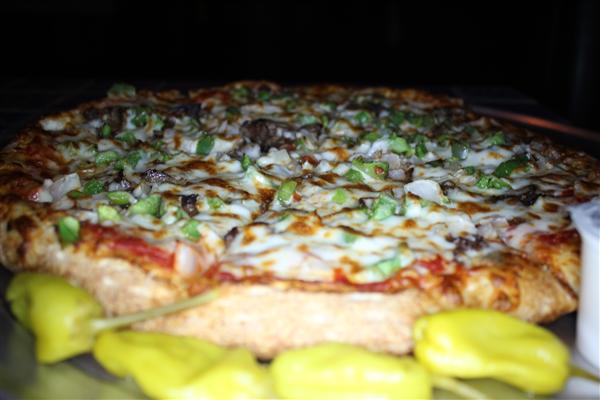 To cap off the meal, our server suggested we try the rose, jasmine and honey flavored hookah. The whole excitement starts with the basket of coals being brought to your table and watching the server light the hookah. Taking turns, we all tried the hookah and enjoyed it immensely. Breathing in the smoke feels very smooth, and you can barely notice, but once you breathe out the flavor slowly creeps to your senses and before you know it, it is buzzing around your head. As the hookah was passed back and forth, our demeanor changed to a more relaxed and social one. It helped leave the meal, service and overall experience with a nice resolution by feeling neither overly stuffed nor still hungry. A remedy to the common "food coma" you can get after feasting on a great meal.
We felt very pleased with our experience at the House of Hummus and walked out comfortable in the fact that Murfreesboro's identity of exploring new things and broadening horizons is thoroughly exemplified in the restaurants the city offers. House of Hummus is a great place to be immersed in different cultures, and the numerous food choices and beverages offer varying levels of boldness for those still new or others wanting to branch out.
The Dish
House of Hummus/Roma Pizza
1621 Middle Tennessee Blvd.
4 p.m. to 5 a.m., 7 days a week
Hummus: $4.99; Pot of tea: $4.99; Large gourmet pizza: $14.99; Hookah for 2: $9.99
(615) 890-0615
houseofhummusmtsu.com