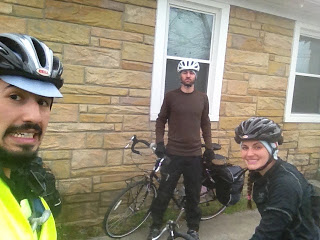 The adventurous and inspirational biking team comprised of Israel Valdes, Jordan Taylor and Natalee Lewis hit the road this summer in Viva La Vagabond, an estimated three-month-long bike ride from Tillamook, Ore., to Yorktown, Va., via the TransAmerica Trail. Their mission is to spread the word about Ride for Reading—a non-profit organization, founded in Nashville, which promotes literacy and a healthy lifestyle for children and adults by activities such as biking donated books to low-income families. Pretty cool! According to team Viva la Vagabond's blog, "Our plan is to inspire more people to take up cycling and make it a part of their lifestyle. Therefore, even if we only inspire one person to pick up a bike, then we will be able to call our ride a success."
Having had this trip is the back of his mind for the past three years, Israel Valdes (AKA Papa Iz), an MTSU graduate and a "part-time geographer, barista and dreamer," is more than excited for this epic journey. Valdes has worked at small cycling programs, been a part of local cycling groups (MFBN) and ridden RAGBRAI (Register's Annual Great Bicycle Ride Across Iowa) as well as others. The TransAmerica Trail that the group will be traveling is a commonly traveled trail which has been around since the '70s.
"We definitely don't expect it to be a walk in the park," says Valdes. "There will be days that will really hurt, but as a team we will make the best of it."
The team will be riding self-sufficient, meaning they will be staying in motels, camping and couch surfing along the way.
"Couch surfing has becoming very popular," says Valdes, "and 'Warm Showers' is the same concept geared towards traveling cyclists."
Beginning May 22, the team's trip is estimated to take about 85 days and seems like quite a responsibility to take on.
"I believe the hardest part will be mentally adjusting to the lifestyle we will be living," says Valdes. "I am very close to the people around me. Luckily, I am riding with two already-great friends and we will be each others' close family for the time. We know that the mental challenge will prove to be the most rewarding!"
This being the group's first big biking trip together, the TransAmerica Trail seemed to be the most fitting. By using Adventure Cycling Association maps providing local spots such as hotels, bike shops, campgrounds, hotels, etc., the group will travel through Missoula, Mo., Eugene, Ore., Pueblo Colo., Yellowstone National Park and Carbondale, Ill.
"We are really looking forward to just being in the middle of the mountains and in and out of national parks," Valdes exclaims. "We are also looking forward to meeting people along the way and taking on any adventure that we may find."
So how does one find the dedication within themselves for something like this? Taking on such a mission does not seem to be for the faint at heart. For these bikers, it seems the "inner peace" and fulfillment of accomplishing this task will be the most rewarding.
"We have all spent extensive time living out of tents and in the back country," Valdes explains. "My personal source of encouragement is the desire to accomplish something great beyond the realm of academia. I have been in and out of school for over 20 years, and I am ready for a test that books won't offer."
Born and raised in Middle Tennessee, team member Jordan Taylor (AKA Sloppy Joe) has spent most of his recent time in or around the Appalachian Mountains backpacking, bouldering, climbing, boating, biking, exploring and doing some schooling in music and biology.
"I'm doing this to escape my comfort zone and experience new things," says Taylor. "I want to meet new people, see new places, learn new things and get healthy!"
So, why a bike ride to raise awareness for reading?
"In my opinion cycling is a perfect way to encourage a healthy lifestyle," says Valdes. "It provides the right cardio (exercise), while having fun! It also encourages alternative and more green ways of transportation. As far as literacy, it goes without saying it is the most pivotal skill that everyone should possess. Without the power of books and literacy in the hands of our youth our society has no future."
Team member Natalee Lewis (AKA Snatty) is a Murfreesboro native and currently a Nutrition and Food Science Major in the Pre-Physical Therapy Program at MTSU. Most recently a yoga instructor, Lewis is also a bike mechanic for the newly developed bike program and a trip leader for Middle Tennessee Outdoor Pursuits (MTOP). With her love for traveling, adventures and being active, she cannot be more excited to bring all of these things together in one big venture across the country on a bicycle.
Those interested in supporting Viva la Vagabond can help the team by spreading the word about this mission for Ride for Reading, filling the group in on any friends or family who might be interested in showing hospitality along the way and by donating any touring gear or bike parts. Much support has already come from the group's friends and families, including Murfreesboro's very own MOAB bike shop, and any support is appreciated. All donations made online or in person will go towards the group's effort at making this trip possible. Every dollar helps!
Unique cycling posters created by Caitlin Rozell at The Write Impression (120 S. Maple St.) will be sold to support Viva la Vagabond at Boro Fundo (April 20), Murfreesboro's Earth Day Festival (April 27) and Murfreesboro's JazzFest (May 3-4).
Anyone who wants to join in riding portions of the trail along the way or is interested in more info can follow the progress of the group via their blog. For more information or to donate, contact 3borobikers@gmail.com.
For more information on Ride for Reading, visit rideforreading.org.
(Biographies and photos courtesy vlvagabond.blogspot.com)