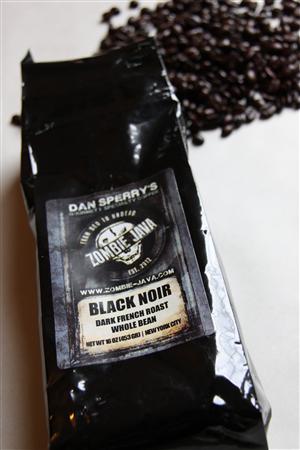 Dan Sperry's no stranger to re-invention. Calling himself an "anti-conjuror," Sperry changed the way we look at magic with a world-famous stage act described as "Copperfield meets Marilyn Manson." Previously appearing on stages and channels all over the globe, the shock illusionist is now adding his own dark flavor to coffee in a monstrous brew called Zombie Java.
Slick packaging, cool name, and a badass logo. But how's the coffee?
Well, Mr. Sperry currently has three flavors of his gourmet blend out on the market. Let me acknowledge first that for $12.95 + S/H, I do not feel that Zombie Java's Original Blend is something customers are going to want. There are simply too many coffees of comparable value on the market.
Stating the above, I'd also like to recommend his other blends. The Black Noir (Dark French Roast) is a decent brew. The star of the show, however, would be his Cinnamon Toasted Pecan blend, as its unique, tasty flavor stands out of the crowd. It is definitely worth the purchase, and his "double up" offer for two coffees at a 20 percent discount is a good deal.
I'd also like to add that he's got some of the coolest coffee mugs out there as well.