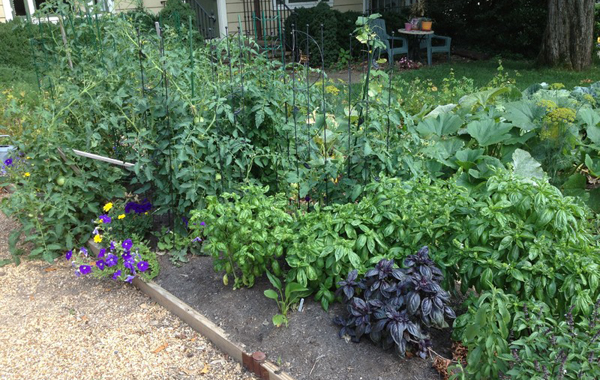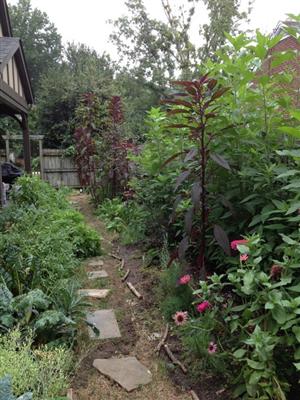 In the June 2012 Green Living article "Reclaiming the Yard: The Rich Rewards of Growing Your Own Food," we put the ubiquitous modern landscaping norm into an historical perspective. The U.S. Golf Association, taking a cue from the landed aristocracy in England, created a style worthy of emulation by upwardly mobile Americans. We haven't always poured 67 million pounds of synthetic pesticides onto our yards annually, or squandered 30-60 percent (depending on the city) of urban freshwater on grasses created for golf clubs, or burned 580 million gallons of unfiltered hydrocarbons to keep a fast-growing herbaceous plant at a particular height and angle.
Luckily there is an emerging trend that aims to correct this absurdity, and with a style that puts the conventional to shame. Enterprising individuals across the country are beginning to forgo the Stepford look and are taking a more feral approach. Fescue is giving way to clover, the purely aesthetic arrangement to aesthetic and functional designs. Companion plants are being introduced to invite beneficial insects back to the city, which is in turn benefiting other urban wildlife. The 2,000-mile average delivery footprint of grocery store items is being eliminated, while food security is being improved. And in our area a company called Nashville Foodscapes is as hot as ever, helping Nashvillians turn their yards into an urban paradise. Company founder Jeremy Lekich has taken a few minutes out of his busy spring schedule to answer a few questions for the Pulse.
Is a foodscape, as compared to a landscape, a lot of work? Does it require a lot of water?
It depends. Multiple raised beds with veggies are more work than appropriately chosen perennials. An edible landscape is certainly no more work than mowing every week, and can actually require less effort if planned that way. We design yards to capture every drop of rain, which contributes to both drought and flood prevention, when applied to a city scale.
Does a foodscape look untidy? Will it look like a vegetable garden in my front yard?
This also depends. If you want a manicured foodscape, we can do that. More wild and natural styles are also possible.
Is there a size limit? What if I have a large front yard?
More space opens up more possibilities as well as more diversity. Nut trees, for example, can grow much larger than fruit trees. Grass can be replaced by a combination of native plants and perennial white clover, which only grows to about 6 inches. The end goal is to mimic a natural forest. Trees are heavily mulched in rings, which can be expanded. Eventually you will have a shaded edible landscape with paths among beautiful flowers and herbs.
Will a lush and functional front yard attract more snakes, rodents and other pests?
Yes, of course a more natural environment will attract animals. We should ask ourselves if this is a bad thing. A change is perspective is what is needed.
Is this something cutting edge, or is it a return to a lost time?
At some point the ancestors of all of us lived among greens, herbs, root plants, trees, pretty much everything that sustains us. It is a recent development that we are no longer active participants in the cultivation of our food. We aren't really "going back"; we are integrating a new concept in the suburbs. Nothing is determined; experimentation and exploration are a big part of what we do. Customers give us great feedback, and experience a huge quality of life improvement as they tap into something ancient, from the surroundings that they are used to.
How did you get started doing this?
The area in front of my dorm at Warren Wilson College was an edible landscape consisting of edible and medicinal herbs, as well as fruit. This eliminated the need to mow. I had the opportunity to maintain and learn from the plot. Visitors were excited to see the project; it was really a great experience!
___
Check out what you could do at nashvillefoodscapes.com. (Murfreesboro too!)