Well, it's August, and another Bonnaroo is behind us here in Middle Tennessee. Many, though, would contend that this year's event wasn't just another Bonnaroo. Amid all the hipness, hoo-hah and bands-of-the-moment, the festival's biggest news was the appearance of former Beatle Paul McCartney. Even now, a half-century since The Beatles began to shake the very foundations of popular music and culture, earthlings of all ages and creeds still pledge allegiance to the Fabs. Those who are musically inclined may wave the Beatle banner by purposely emulating aspects of their sound (and there are many ways to accomplish that, given the scope of the group's innovations). Others have taken to the tribute trail, wielding everything from Vox amps, wigs and Liverpudlian accents in an attempt to quench a seemingly endless Beatle thirst.
Nashville's own The WannaBeatles, though, are treading upon the Abbey Road less taken among tribute bands. They have a fervent local following and are fast becoming established throughout the Southeast, based on their winning way with the repertoire of the Fab Four, but they've recently released an album of all-original songs, titled We're Still Rockin'. It may seem an unusual move for a band built around cover tunes, but The WannaBeatles were a bit different even from the beginning.
As an initially nameless band in 2007, entertaining diners at Mexicali Grill in Cool Springs (a location that inspired the comic pseudonyms Juan, Pablo, Jorge and . . . wait for it . . . Gringo), the quartet began to do more than simply serve refried Beatles. Dennis Scott, the band's leader and resident funnyman, began adding song parodies, Ed Sullivan impersonations and schtick that engaged and delighted the crowd. Meanwhile, Scott's bandmates brought their distinct skills and personalities to the stage. For instance, hyper-jovial guitarist Bryan Cumming could whip out a sax or trumpet when called for, and Cuban-born drummer David Toledo (besides playing the meanest version of the Fabs' Latin-inspired "I Feel Fine" you'll likely ever hear) had the vocal chops to sing soaring McCartney-penned melodies. Classically trained organist and composer Nathan Burbank, who came along a bit later, ably covered left-hand bass on the keys, but actually began teaching himself to play bass guitar—a more dynamic and sonically superior alternative when the band tackles basic, four-piece Beatles arrangements.
Though hardly a slouch himself, Toledo (a music instructor by day) raves about the collective potential he recognized early on in Scott and Cumming, who are both songwriters and experienced producers. "Dennis is a Grammy winner and Bryan is amazing with his gifts, so I started thinking, 'Why are we spending all this time just recreating the songs that we grew up with? What did The Beatles do? They created music! So that's what we do," he says in reference to the band's own creative efforts, now made available on We're Still Rockin'.
"The new album," says Scott, "bridges the gap between our continuing desire to play the Beatles music we love, and follow in their steps as songwriters and creators."
Adds Cumming, "Our mentors, as we call them, are loaded with these complexities—their music is their music, but it didn't happen in a vacuum. It came out of their influences. And so we're coming out of them and we're happy to reveal these influences, and for us, The Beatles are just one influence." (To hear samples from We're Still Rockin', click here.)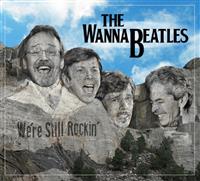 "I don't want to sound presumptuous," begins keyboardist Burbank, "but what if John and Paul were still together, writing in a band? We can't experience that, because they're not. The WannaBeatles are a second chance for baby boomers to experience a band writing its own music in a collaborative way." Not surprisingly, though, the boomer-aged band—just like its namesake—has admirers ranging across generations. As Cumming recalls it, it was a 5-year-old fan who really drove home the broad appeal of what he and his mates were doing. "A few years ago we had a little girl come up and dance with us, and Dennis said, 'You can win a free T-shirt if you name the four Beatles.'" Scott picks up the thread: "And she thought about it for a second and then she said, 'David, Dennis, Nathan and Bryan.'" Says Toledo, laughing, 'The house came down!'"
Despite the innocent charm of that moment, though, Cumming remembers it as being "a revelation, because it was so accidental and natural, but it made me realize, gosh, here we are at this time in history and this 5-year-old girl will come listen to the Beatles' songs and listen to our songs and it's all the same thing to her! It's all one piece of cloth woven with threads of music. What naturally came out of The Beatles," he continues, "is what I hope naturally comes out of us, which is great music that connects with all generations." The Beatles, the grey-haired musician affirms, "set the dream in motion that you can be a band, you can be creative, you can have a lot of fun doing this and you can create great songs. So, we're continuing the dream."
The WannaBeatles will perform at the Capitol Theatre in Lebanon on Thursday, Aug. 8. For updates and more information, visit thewannabeatles.com.