We are entirely ready to have God remove all these character defects
The wind and rain batter the sides of the grand vessel, tossing it as if it were a small toy in a great battle to seize the existence of all life aboard. Over and over again the ship, powerless over nature's wrath, plunges into the raging, storm-tossed sea. In your insanity cycle, you have pretended all is well for years. You're in control, the captain of your vessel, attempting to steer your life's ship through the violent storm on your own. Dimly, you begin to acknowledge that your life isn't working anymore.
You hover helplessly in the hurling vessel, waiting for it all to end. Frightened and alone, you feel a single tear fall from your eye and drop silently onto a ragged wooden slat. Quietly, as you crouch in terror with the reality of the situation surrounding you, you began to ponder your life. On the surface, you have been in command. Only now there is nowhere else to go. As you are tossed into the turbulent waters, a revelation occurs within your tempestuous soul while menacing denial only lengthens the pain, forcing the truth farther and farther away from the safe shore.
It's at this critical point in the recovery process that we need to come alongside another human being, "God with skin on," as soon as possible. Otherwise, old destructive patterns will resurface and you will be like a rudderless ship being tossed to and fro. Finding safe people to share with is a critical part of the recovery process. As the storms of life press against your earthly vessel, these selected individuals can be a safe harbor, a place of encouragement and rest as you grow and progress.
Life was simple in 1926. In a rustic cabin  complete with dirty wooden floors, windowless walls, and a stony fireplace shaping the one-room dwelling, folks huddled around one of the only two radio sets in Rutherford County. They had come from miles around, swarming into the house as the word got around that one of their own—Uncle Dave Macon, "King of the Hillbillies!"—was about to perform on the WSM Barn Dance (soon to be renamed the Grand Ole Opry).
He began with a playful song, one they had heard at every barn dance: "Sail Away Ladies," a familiar tune passed on from their migrating pioneer ancestors. This lively tune had made its way from oral tradition to a mainstream audience. The fun continued as the syncopated rhythm unfurled. The congregated crowd laughed, danced and clapped loudly, stomping their feet to the rhythmic, nonsensical phrases: Don't she rock, die-dee-oh. Don't she rock, die-dee-oh!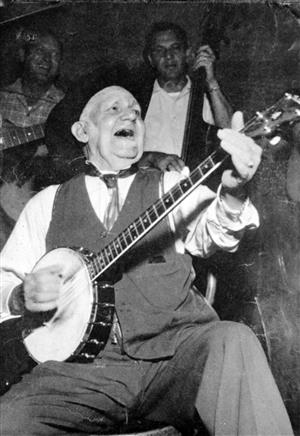 Uncle Dave Macon, the "Dixie Dew Drop," was one of their own, a folk hero preserving an elusive and rare heritage. Before the early 1920s and the birth of the Grand Ole Opry, Macon, with his banjo-playing antics, singing, dancing and comedy, had enjoyed popularity as a professional entertainer on the vaudeville circuit. Then it happened: The old-time phase was sweeping the nation and Uncle Dave Macon, with his wealth of experience from vaudeville and burlesque, was at the right place at the right time. His wild, flamboyant style of comedic entertainment was something to behold. In those early days of the Opry, Uncle Dave has come to symbolize the untamed spirit. As an established entertainer on the circuit, Uncle Dave was needed by the Opry more than he needed it.
Uncle Dave had become extraordinarily popular by word of mouth through his stage appearances and records, most of these recorded in New York City. Early string-band artists like Kirk and Sam McGee and Fiddlin' Sid Harkreader would tour around the South with an old-fashioned "word of mouth" advertising approach. They would go into a town and put on a sample show, and let the grapevine do the rest. In a raucous fit, Macon and his musical magicians created one of the most dynamic string bands ever, sending hundreds in the audience to their feet dancing and stomping.
By the 1930s, as the country spiraled deeper into the Depression, Uncle Dave Macon's music had become a joyful relief from those turbulent times. However, Macon's musical profession also fell on hard times, with fewer tour dates and record deals. Uncle Dave pontificated on the state of affairs, declaring that music and morality go together and that the decline in both had made hard times harder. He told a reporter, "A man who can't enjoy music has no heart and very little soul. People today are drifting away from the old tunes, the real music, and at the same time they are drifting away from morals—one is the cause of the other."
Jesse Messick, a prominent downtown businessman, owned Messick Family Pharmacy, which had been a fixture on the Public Square. Jesse was devoted to his community, particularly the downtown area. He loved those old tunes and the comedy made famous by Uncle Dave Macon. In 1977, Jesse had an inspiration to create a family-friendly musical event featuring the music of those early Opry days and that of its first superstar, Uncle Dave Macon.
In 1984, when the festival was seven years old, Jesse Messick asked me to direct Uncle Dave Macon Days. In those days, I was grieving from a broken marriage, overwhelmed with shattered dreams and plans. I, too, had drifted away from the safety of truth and had sailed into troubling waters. My self-determination and desire were being avenged by feelings of inadequacy and failure. Somehow, Jesse's wisdom persuaded me to look beyond my circumstances and rely on God for the results in every facet of my life. This included the way that a festival was to be developed and directed.
Jesse's life-path of sacrificial faith was an eye-opener, the likes of which I had never experienced. Being a "control freak," I found this kind of behavior unsettling. How could one surrender everything to God, including a music festival? He always reassured me that God was like a kind father who really cared about the assignments that were given to us. "Total surrender to God" seemed so unrealistic, even irresponsible, like a pious evasion of personal responsibility. Jesse came alongside, became that "God with skin," and guided me to a safe harbor.
For this, I am eternally grateful.
For 36 years, the Uncle Dave Macon Days festival has proven to be a formidable cultural heritage event in the region and across America. It has received numerous awards and recommendations from tourism media including Tennessee Best Festival and Top 20 Events for July in 2013 by the Southeastern Tourism Society. Every July, more than 30,000 people gather at Cannonsburgh Village in Murfreesboro to celebrate old-time music with singing, dance, music, storytelling, and historical preservation. The Uncle Dave Macon Days festival is a dynamic, nonprofit organization dedicated to the preservation and promotion of old-time music.
With only a $5 admission (children 12 and under FREE), this year's event begins on July 12 at 10 a.m. with the new Matilda Macon Artisan's Village and The Dave Macon Daze Band performing live on the main stage. At 6 p.m. on Friday, the festival will posthumously honor the legendary duo Kirk and Sam McGee, the 2013 Trail Blazer winners with performances paying tribute to the string-band tradition. On Saturday, July 13, Ricky Skaggs and Sharon White will be featured in the parade at 10 a.m. and, at 7 p.m., will perform and receive the 2013 Heritage Award. On July 14, a Community Worship Service will be held at 11 a.m. and then the Community Service Fair and Gospel Showcase will end the festival. On Sunday, no admission is charged at the gate.
Thank you, Jesse, for teaching us faith in the context of an old-time music festival. If you have not experienced Uncle Dave Macon Days, come, take a break from your routine, and enjoy. Guaranteed, you will feel the enthusiasm, revive old friendships, and make new ones. You will be changed by the warm sounds of traditional music on the banks of Lytle Creek.

"Sail Away Ladies" by Uncle Dave Macon

The promo video for Uncle Dave Days