We humbly asked him to remove our shortcomings
It was 1983—30 years ago. I had wandered through the woods alongside a river bank. There under a scorching August sun with my head in my hands, I sat alone, crouched and weeping. Somehow, the space between recognition and willingness to change filled me with fear. Like a powerful invisible force, my fear triggered a heightened sense that I must control the situation—do better and things will get better. I can fix this!
Within six weeks' time, there had been an impregnable net of evil over our family sowing seeds of derision and destruction. My husband's lifestyle had been reckless, yet up until now it was hidden from plain view from family and friends. For so long, my dreams and future had been linked to him. My tearful eyes were an expression of loss, grief and abandonment. With no place to hide, I was beginning to realize the irrevocable magnitude of my situation. There were unseen forces facilitating every thought and action. In my 10 years of marriage, I had pretended that they were not affecting me, but they were now too strong to ignore, and they had become poised to destroy my family's existence. My invisible mask of well-being was torn away. I could not minimize or sustain the delusional dream any longer by simply pretending that things were normal. While a blazing August sun beat down on my head, I sobbed and sobbed helplessly until I felt faint and weak. With determined resolve, I thought, "I will just love him more. My love for him will conquer the evil that is destroying our love. I will do whatever it takes to save our little family!"
Only now, 30 years later, I am able to acknowledge that my resolve was audacious and irrational, a symptom of my shortcomings—character defects that had sabotaged my life. In those days, my self-determination and self-sufficiency was my greatest enemy. Being trapped by my own self-will, how could I work on anyone else? Seeing the need for change and allowing that change to occur in my life was a transitional moment that led to healing. Accepting God's help in this transitional moment allowed Him to begin to transform my mind and way of thinking. That's the ultimate surrender! In 1983, I came to the point where I said, "I don't want to live like this anymore." I just wasn't sure how to do it. The good news was I didn't have to do it! If you find yourself there, you are ready for real change.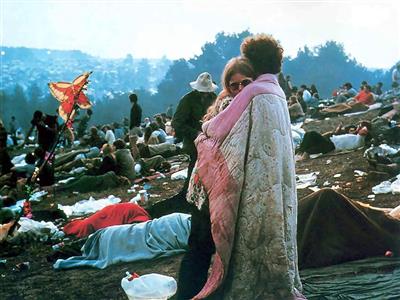 In a different August—in 1969, nestled in the Catskills—the Woodstock Music & Art Fair, the iconic event of the hippie counterculture, was an expression of a resolve for change from the America's youth. It was a frightening time of chaos, a shaking of American's sensibilities both politically, culturally and socially. From against a turbulent background of a country going wild—the previous assassinations of John F. Kennedy, Martin Luther King and Robert Kennedy, racial violence, the Cold War, and of course, the Vietnam War—emerged some of the most thought-driven music ever recorded, and Woodstock became its summit-meeting place. Promoters Michael Land, John Roberts, Joel Rosenman and Artie Kornfeld billed the Woodstock Music & Art Fair as a music festival, "An Aquarian Exposition: 3 Days of Peace & Music." It was held at Max Yasgur's 600-acre dairy farm in the Catskills near the hamlet of White Lake in the town of Bethel, N.Y. (43 miles southwest of the town of Woodstock), on Aug. 15, 16 and 17, 1969. During the sometimes-rainy weekend, 32 acts performed outdoors in front of an estimated 400,000-plus concertgoers. Some of the most famous of the day performed at Woodstock including Richie Havens, Joan Baez, Janis Joplin, The Who, Jimi Hendrix, Crosby, Stills, Nash & Young, and Creedence Clearwater Revival. It is widely regarded as a pivotal moment in popular music history. Rolling Stone listed it as one of the 50 Moments That Changed the History of Rock and Roll.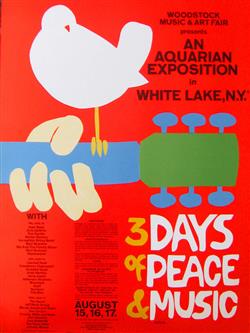 We were ready to rock out and we waited and waited and finally it was our turn . . . there were a half-million people asleep. These people were out. It was sort of like a painting of a Dante scene, just bodies from hell, all intertwined and asleep, covered with mud. And this is the moment I will never forget as long as I live: a quarter mile away in the darkness, on the other edge of this bowl, there was some guy flicking his Bic, and in the night I hear, 'Don't worry about it John. We're with you.' I played the rest of the show for that guy.
—John Fogerty, recalling Creedence Clearwater Revival's 3:30 a.m. start time at Woodstock.
Children of the 1960s, emboldened with self-determination, believed we could change the world with our mesmerizing, bewitching mantras in song. Just like the ghostly masses on a darkened hillside at Woodstock at 3:30 a.m., we find ourselves bewildered and exhausted, beset by our own shortcomings and inadequacies, unable to change anything ourselves.
From heaven, somewhere in the midst of the drenched and exhausted, a single Light encourages us and declares, "Do not fear! I am with you! Do not be dismayed, for I am your God. I will strengthen you and help you; I will uphold you with my righteous right hand."
The year after the Woodstock festival, 1970, Credence Clearwater Revival released its classic album Cosmo's Factory. The album, which climbed to No. 1 on the US charts, closed with the song "Long as I Can See the Light." Could this song have been inspired by, or related to, Fogerty's Woodstock experience?
Put a candle in the window, 'cause I feel I've got to move/
Though I'm going, going, I'll be coming home soon/
Long as I can see the light
Pack my bag and let's get movin', cause I'm bound to drift a while/
When I'm gone, gone, you don't have to worry long/
Long as I can see the light
~~~~~~
Celebrate Recovery is that safe-place where people can remove the mask of denial and be open and honest. If you are interested in finally dealing with the pain of your past, there are people who will stand with you as the truth becomes a way of life. In Celebrate Recovery, where anonymity and confidentiality are basic requirements, one can address life's hurts, habits and hang-ups utilizing biblical truths. One can find change in a personal relationship with Jesus Christ, the one and only Higher Power. There are now three Celebrate Recovery meetings in Murfreesboro, one every Monday at North Boulevard Church of Christ, 1112 Rutherford Blvd. at 7 p.m.; one every Tuesday at 7 p.m. at Belle Aire Baptist Church, 1307 N. Rutherford Blvd.; and another every Thursday at 7 p.m. at New Vision Baptist Church, 1750 Thompson Lane. For more information about the ministry call Tom Christy at (615) 896-6288.