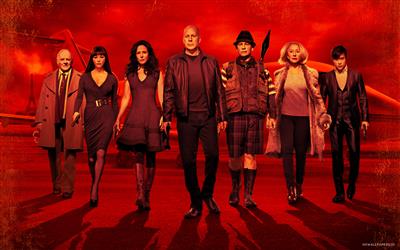 I'm a big fan of humility in movies. I feel it adds to the charm of the movie when you're given an honest picture of what you're getting into. It lets you have more fun with the film while in the theater.
That was kind of the appeal of RED 2. The sequel to the 2010 Bruce Willis action vehicle sees Willis reprise his role as Frank Moses, the "retired, extremely dangerous" CIA agent who has now begun to enjoy domesticated life with his girlfriend, Sarah Ross (Parker). When his best friend, Marvin Boggs (Malkovich), resurfaces to tell Moses of a leaked document that associates them with Cold War-era secret project "Nightshade," which may be one of the deadliest secrets of the last few decades, Moses and company are pulled back into the world of silent kills, doublecrossers and cover-ups that define black operations.
This movie has a great cast, great action, and a pretty healthy amount of black humor for a summer movie. But there are several elements that could have been smoothed over. This movie touts itself as being based on a comic book, "which from what I understand, the comic is nothing like the movie." It has these animated transitions, which, much like those in the Guy Richie film Revolver, don't really fit the story that well. There are also one or two scenes in the film where you may find the music selection doesn't really fit what the film could have been.
My biggest problem with the film was with the last 20 minutes, which feel extremely rushed. Without giving anything away, the resolution of the film seemed to "settle."
Still, it's a fun movie, and you should know exactly what you're getting into. It surpasses the original at certain points, and ultimately, it's worth a view.