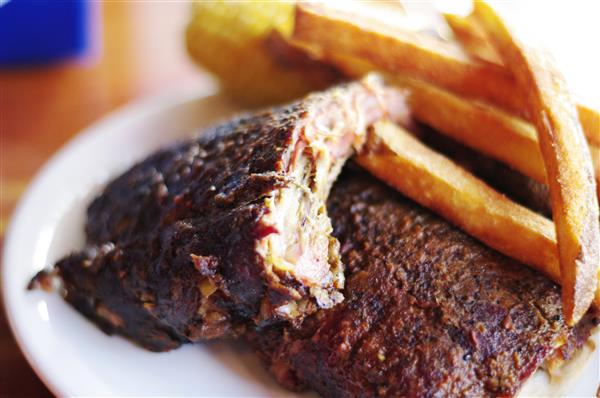 Editor's Note: Like many a Murfreesboro restaurant, Rooster's Lone Star BBQ closed its doors in August 2014 and its owners relocated back to Texas. We'll sure miss their hospitality and their Texas Sushi, and we wish them all the best in their future endeavors.
If you've noticed the air around the Murfreesboro Public Square has become just a little smokier, a little meatier, then you are noticing some of the stars of Rooster and Lori Beane's new restaurant, Rooster's Lone Star BBQ and Steakhouse.
The site, located at 223 W. Main St., has served as home to a variety of restaurants over the years, most recently 3 Brothers Deli & Brewhouse (which is still going strong across the Square at 114 N. Church St.).
But now the smell of smoked brisket, chicken, pork and all of the barbecue house standards draw in barbecue fans to Rooster's. Ribs, wings, sausage and bologna also appear on the menu.
Upon entering the eatery, the decor is as bold as the scent of the smoked meat. Large wooden tables fill the room and a conglomeration of antlers, turkeys and lots of neon beer signs, as well as a large Texas flag, adorn the black-painted walls.
Rooster's may, first and foremost, be a spot for the carnivore to feast, but the side dishes absolutely hold their own. A delicious mac and cheese, hot and hearty cowboy beans (almost as filling as a chili), very long, perfectly fried, hand-cut fries with bits of crispy skin of the end of each one and wonderful thin, flavorful, crispy onion straws (finely cut onion rings) make selecting your side a challenge.
If one can't choose between the brisket, ribs, chicken and sausage, the Texas Two Step allows diners to select two of those items, plus two sides, for $13 (and likewise the pick-three Trio for $15).
The menu will soon include filet, strip and ribeye steaks, and Beane plans to bring his Big Roost challenge to the 'Boro as well. If you can polish off a 72-oz. sirloin, plus potato, salad and toast, in one hour, your meal is free. If you can't, it's $72. Or just order the Big Rooster for your group and split the giant slab among the whole party or family.
Rooster and his brother, Aubrey, can now claim a bona fide Middle Tennessee family barbecue pedigree; Rooster has had his spurs in both Mickey Roos and Rooster's Texas Style BBQ and Steakhouse in Nashville (which has since closed now that his Murfreesboro location is up and running) and Aubrey was behind Judge Bean's BBQ.
Rooster's doesn't have a huge menu, but certainly offers some uncommon items for Murfreesboro.
If calf fries are you thing, Rooster's may just be the place for you; if you are unsure exactly what they are, they are pieces of bull balls, which the menu is very straightforward about.
"We sell about 40 pounds a week now," Rooster said. "And they are to die for."
Another nontraditional must-try item offered is the Texas sushi, which consists of a jalapeño pepper stuffed with mozzarella cheese, placed next to a piece of smoked sausage and wrapped in brisket, then smoked and sliced as a sushi roll would be—spicy, meaty and filling.
"We smoke everything; even our green beans," Rooster said.
Literally, everything in the house, other than a few deep-fried items like okra or a new Texas-sized cheesestick they have recently added, hits the smoker.
Some have commented that the prices are slightly above average for Murfreesboro, but Lori and Rooster stand behind the quality and portions of their food, and point out that they have already earned a number of loyal regular customers, who can't stay away from Rooster's welcoming dining room and meaty menu.
"And we're not Ruth's Chris," Lori points out. "We're for working people."
To try out Rooster's fare at a great value, drop in on Taco Tuesdays, when pulled pork, beef brisket or fried catfish tacos are all $2 apiece. These are served with a tangy salsa with a unique sweet, almost fruity, flavor I couldn't quite put my finger on.
"We smoke the tomatoes," Lori said.
Makes sense.
I like the fact these are served in corn tortillas, with lots of shredded cheese on top.
The bologna sandwich is also becoming a hit with a lot of locals as well.
"We smoke it, then fry it," Rooster said of the bologna.
The Beanes say the Murfreesboro community has been so supportive to them over the past few months, they want to return the favor and help to see that the local economy, and restaurant scene, thrives over the coming years.
"We want to be part of helping everybody. We want to help Slick Pig, we want to help Jim 'N Nick's. We want 3 Brothers to do well. We want everyone on the Square to do well. We want to be team players," Lori said. "Mike at Maple Street Grill, Eric at 3 Brothers, Rooster, they all have different styles of cooking. Everybody cooks differently. We love going to find new places to eat."
The Rooster's Lone Star BBQ dining room is available for large parties and reunions at no additional charge, and they also offer catering services. The restaurant will be closed on Sundays through the summer, but will reopen on Sundays when football season begins.
Like them on Facebook for upcoming music performances and updates.
Rooster's Lone Star BBQ & Steakhouse
223 W. Main St.
(615) 867-1836
Brisket or pork plate, with two sides: $11; Texas sushi (three pieces): $10; 16 oz. strip: $22
facebook.com/pages/Roosters-Lone-Star-BBQ-and-Steakhouse