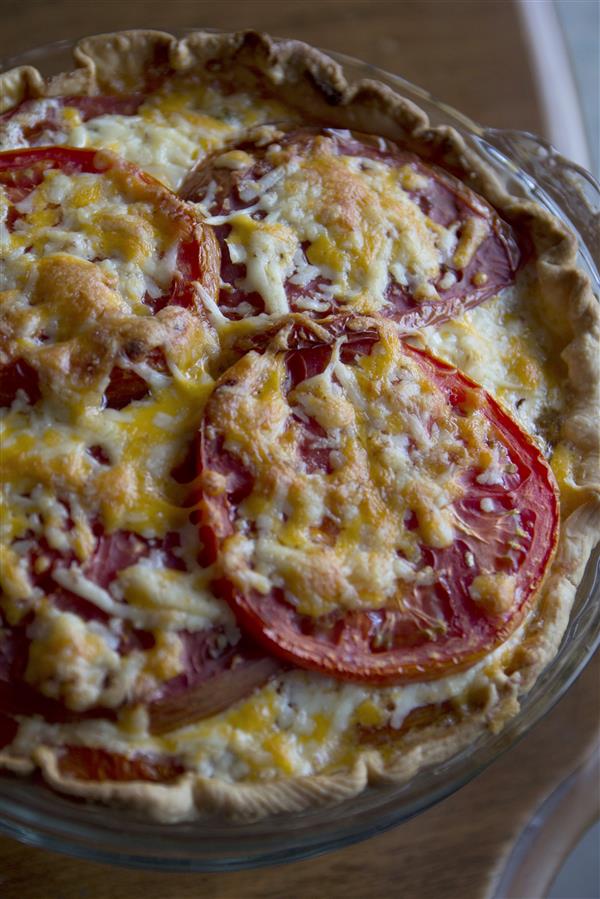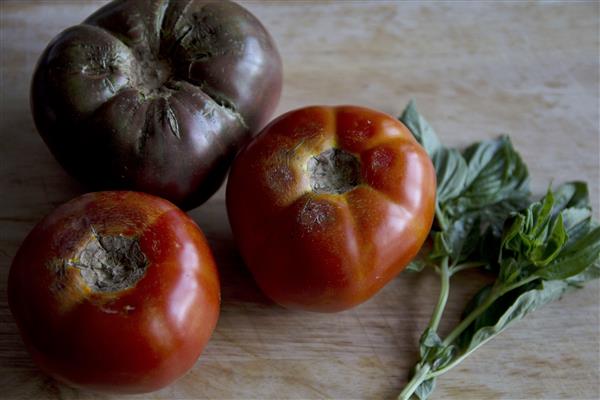 2 lbs. of fresh tomatoes (heirlooms have the best flavor, such as these pictured from Happy Harvest CSA)
3 cups of freshly grated sharp cheddar (I use a mixture of yellow and white)
4 oz. softened cream cheese
2 tbsp. chopped fresh basil
⅓ cup mayo
Salt and fresh ground pepper
1 egg, beaten
Your favorite savory pie crust recipe or a refrigerated, store-bought crust
Core and slice tomatoes into ¼-inch slices. Lay tomatoes on a cookie sheet covered in a double layer of paper towels. Sprinkle with salt and cover with another double layer of paper towels. Let stand for 30 minutes to drain the moisture out of the tomatoes.
Whisk together the cream cheese, mayo, basil and salt and pepper to taste.
Place crust into pie plate and crimp edges. Brush bottom and sides of crust with beaten egg. Sprinkle crust with ½ cup of cheese. Layer tomatoes over cheese, overlapping slightly. Spread half of cream cheese mixture over tomatoes. Continue layering in this manner and sprinkle remaining cheese on top. Bake in a 425-degree oven for 30-40 minutes. Tent with foil if crust gets too dark.
Remove from oven and let rest for 1-2 hours or it will be too soupy to cut. Best served lukewarm. I serve this with a simple green salad.
(Adapted from Bon Appetit)