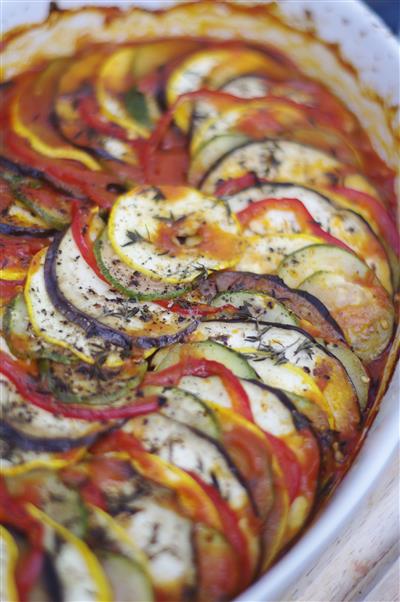 1 medium onion, finely diced
2 tbsp. butter
1 large tomato or 2 medium tomatoes, chopped
½ tsp. kosher salt
2 cloves of garlic, minced
1 eight-ounce can of tomato sauce
Pinch of sugar
1 medium yellow squash
1 medium zucchini
1 red bell pepper
1 small eggplant
Kosher salt
Fresh ground pepper
A few sprigs of fresh thyme
Preheat oven to 375 degrees. Sauté the onion in butter over medium heat until translucent. Add chopped tomato and raise heat to medium high. Sprinkle with ½ tsp. salt to allow the tomatoes to fully release their juices. Add garlic, tomato sauce and sugar (optional; I add it to all my tomato sauces to help cut down on the acidity). Simmer, stirring occasionally, until sauce is slightly reduced, about 6-7 minutes. Pour into bottom of casserole dish.
Thinly slice the squash, zucchini, pepper and eggplant. (I use a mandolin slicer, which is a great investment if you like thin, uniform slices. You could just as easily use a sharp knife and the patience of a Jedi Knight.) Arrange the slices of vegetables on top of the tomato mixture, overlapping slightly. Sprinkle evenly with salt, pepper and thyme leaves. (Strip the leaves off the thyme stems by holding the stem at the top and running your fingers down to the bottom.)
Cut a piece of parchment paper so that it fits just inside the dish you are using. Cover with the parchment and bake for 45-55 minutes, until the vegetables are cooked through, but are still retaining their shape. They should not be browned and you should be able to see the tomato juice bubbling up on the sides.
This can be served as a side dish to any meat, or you can serve it as a main dish, like I do, by serving it on top of a thick, toasted slice of crusty bread, spread with soft goat cheese and topped with a perfectly poached local farm egg, sprinkled with salt and fresh ground pepper.
(Adapted from Thomas Keller/The French Laundry)
Find locally grown veggies from Happy Harvest CSA