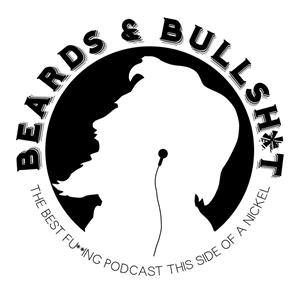 Contrary to the fact that billions of people use language every single day, many people don't seem to be good at holding a conversation. Between the facets of talking clearly, listening well and keeping the energy going, many people find themselves in situations where they can't maintain a dialogue. Being human means that we've all been in situations where we're having a really fun conversation, and then suddenly we just lose steam.
In situations like this, you need someone to facilitate the conversation. You need an honest person who can pick up what you're putting down while chewing the fat and shooting the breeze. You need a bullshitter.
Jack Heikle II is one such person. A stay-at-home father who loves his wife and son. A fan of politics, movies and generally just "shooting the shit," Jack is also one of the most fearless people you could meet. A movie buff, a political junkie, and overall a good listener who can throw the conversation right back at you. Back in January of 2012, Jack decided to take his love for entertainment and his sterling ability to converse and turn them into a podcast called Beards and Bullshit.
Heikle says, "My disdain for FM radio, and the ability to sit and listen to something . . . and actually feel like I'm a part of it" as the major reason why he got into podcasting in the first place. The original focus of the podcast was on the political news, which then developed into an appreciation for music and comedy, finally forming into a podcast which dealt mostly with comedy. It was around the time Heikle made comedy a focal point for the podcast that he became a player in the comedy circuit of Middle Tennessee, making appearances at venues ranging from local favorite Out Front on Main to places like Nashville's The High Watt and Zanies Comedy Club.
"There's a bias in the talk radio realm. People have to pander to the people who pay for advertising. So, you've got people like Rush Limbaugh—you've got people like Imus that have all these agendas and sponsors, and all that other shit. With my podcast, I'm not under anybody's thumb. I'm not under the FCC. If somebody wants to talk to me about their last bowel movement, we can sit there and talk about it and not have to worry about it being edited."
Jack later went on to share that the Beards and Bullshit podcast "only has three simple rules for what we do. One, no hate speech. We're not going to tolerate going after someone publicly. Two is not being a dick. And three," he says, "is just be yourself."
"That's why so many comedians love doing the show. It's different. When a comedian comes into town, they have to go do radio station appearances, and act this part. They have to be energetic at 4:30 in the morning. Who do you know who is really energetic at 4:30 in the morning, other than people on the news?"
The appeal of the podcast is that it allows the guest to discuss with the hosts (Heikle and co-host Lee Roy Diggler) topics that aren't necessarily "radio-friendly." That is not to say that the topics are vulgar, offensive or don't have intellectual merit, but that the podcast is not simply plugging the guest's appearance at a venue.
"It's just a conversation with grown folk. We always want to make it feel like you're sittin' in the room with us. Just sittin' there, listening and enjoying yourself. Whether you're at your nine-to-five job that's awesome, or your three-to-eleven job that sucks ass. We want to try and make that day better for people."
With the scope of comedy podcasts, bigger shows such as Adam Carolla's or Marc Maron's average over 200,000 downloads a week. Beards and Bullshit does 20,000 on average, which is still pretty respectable. Considering that Heikle neither has the level of celebrity of other hosts nor considers himself a comedian, I would say that the podcast is certainly in the top tier for programs such as his in the area.
Heikle says that the ultimate "make or break" factor of a podcast would be longevity. According to him, many people quit the game because of egos, financial issues or content. And while he admits that it's a tough game, he has yet to let the aforementioned factors slow him down, which makes for a more seasoned program.
His guests have included Jay Mohr, Doug Stanhope, Marc Maron, Greg Proops, and a slew of other highly talented comics. You may not be familiar with every guest, but you'll certainly be glad you listened, as it's almost like having three very funny people in your living room while you sit on your couch and have a beer. He's also got a few show-stoppers lined up for later this year, and you'll definitely want to tune in.
To get a taste for all the yuk-yuks you're missing, check out the Beards and Bullshit website or follow them via Facebook or Twitter. Be sure to keep up with his latest listening exploits. Otherwise, you won't know Jack . . .