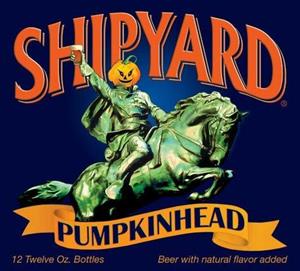 October is crowned by many as the month of the pumpkin. Its flavors certainly make it one of the more interesting months for brewed beverages. As the leaves drop and the harvests brown, our tastes anticipate the gourds that we'll soon be tasting. There's nothing like enjoying a fall chill with your favorite coffee.
This month, we tried to round up as many flavors as we could. Please join the discussion and represent your favorite brewed beverage. We'd love to do a poll to see whose suggestions are the most popular…
October Beers:
UFO Pumpkin – (2.5 stars) Not sweet, a bit bitter. Not a bad beer, but with the option of pumpkin beers available, there are better choices available.
Starr Hill Boxcar Pumpkin Porter –  (1.5 stars) I love pumpkin beers. I love porters and stouts. Together, the two tastes are at each other's throats. It's a little too bitter for my tastes, and though I've had a wonderfully made bar milkshake using this beer, I cannot recommend this beer to anyone. The fact that the label promises "The Gift of Great Beers" is misleading to say the least.
Post Road Pumpkin Ale:  ( 2.5 stars) Meh. It's got a pumpkin taste, sure. But just like with UFO Pumpkin, this seems to be too basic of a pumpkin beer to really stand out. It's drinkable, but really doesn't offer a full body or anything of interest.
Red Hook Out of Your Gourd Pumpkin Porter: (3 stars) I'm not really a fan of Red Hook. I've been continuously disappointed in their selection. But, looking at the Starr Hill Boxcar pumpkin porter, and then trying Red Hook's answer to Starr Hill's interesting question, I have to say that this beer surprised me. No, it's not a beer that I like. But I can certainly see the appeal, with the pumpkin and porter tastes this time around working together instead of feeling like separate elements that should be homogenized. This is really a porter with pumpkin hint/aftertaste, which I think works much better as a beer.
Angry Orchard's Cinnful Apple (Hard Cider): (4.5 stars) Beats Woodchuck, hands down. It's cinnamon and apple, two flavors that complement each other greatly without overlapping or being too distant. It wins points for being a cider instead of a beer, as it's a light, sweet, soda-esque body that offers invigoration in lieu of an aftertaste.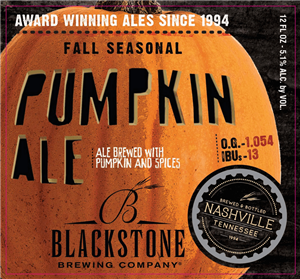 Shipyard Pumpkinhead: (4 stars) This used to be one of my favorite beers in fall's past. I actually felt that it tasted more like pumpkin pie in the years before. This is a good beer, that is certainly one of the better pumpkin beers out there. But it seems to have changed its recipe over the last few years, and seems to not taste as sweet as it once did in, say, 2011. It's a beer that I like, though, because once again it doesn't add too much to the concoction.
Blackstone Pumpkin Ale: (4.5 stars) The first time I had this beer I had a few reservations. But the taste actually grew on me. You hear a lot of people talking about how this beer tastes like pumpkin pie, which I noticed the second third time around. I feel that Shipyard Pumpkinhead tastes more like pumpkin pie, but between the lack of intrusive aftertaste, the true sweetness of the beer, and it being both tasty and not too heavy. I respect this beer more and more.
Abita Pecan Harvest Ale: – (4.5 stars) I think this may be the best pecan beer I've ever had. Abita has yet to disappoint me. Good show, Abita.
October Teas (from PositiffiTEA)
Falling Up: (4 stars) Named after the classic Shel Silverstein book, this tea is the mystery flavor of the Tiny Tea Factory. It's got a fruity taste that I can't quite name, but the aroma and flavor (without giving anything away) should be a novel blend that help you refine the meaning of the fall beverage. Good stuff.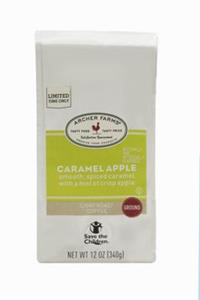 October Coffees
Organic Grounds Pumpkin Spice: (3.5 stars) What you would expect from a good pumpkin coffee.
Organic Grounds Fall Festival: (4 stars) You can't say something like "this tasted like fall" without sounding like some sort of hokey marketing gimmick. But with just the right bitterness in a swirl of white chocolate, pumpkin spice, and caramel, I think any drinker will see where I'm coming from.
Archer Farms Candy Corn: (3.5 stars) I have always hated candy corn. But this flavor actually makes a whole lot of sense in a coffee without being some wacky seasonal gimmick. It's a decent drink doctored up with creamer, but it loses points for having that waxy after-taste you get with candy corn.
Archer Farms Caramel Apple: (4 stars) Sometimes experimentation with coffee pays off, especially if you can come up with a novelty blend that no one else seems to selling. Caramel apple flavor in a coffee is not a bad idea, and for those of you curious as to just how it will play out, I would equate this coffee to a spicy, peppermint blend you would find around the winter season.
Archer Farms Autumn Roast: (2.5 stars) It's a comparable roast to other coffees you've had, but why not get something that's not pre-ground? You'll have something more fresh.
Archer Farms Pumpkin Spice: (3 stars) A decent, fairly simple pumpkin coffee.
October coffeehouse recommendations include Starbucks' Pumpkin Spice Latte and Hasting's Autumn Harvest Breve (for those who want something truly sweet).